BRNO 4NTS FROM £288/€324 pp (INCL FLIGHTS!)

Many of you will know our flagship event is Brno, where we have nearly 500 hotel rooms, a fleet of coaches, about 25 staff, 2 hospitality options, and several huge parties...
This is still the best value event in Europe. Beer is <£1! Here's how to do it 'on the cheap' from the UK (similar costs from other origins):

Thu
13/8
Buy a WizzAir flight Luton - Prague, per person return no bags
£34
Thu
Tell us your flight, we will organise a coach t/f from Prague airport to Brno
£14
Thu
Check our "Economy' package 2* accommodation for 4 nights B&B (based on 2 sharing)
£151
Fri
OPTIONAL add our opening trackside party - 400+ people pig roast, unlimited beer, live music, special guests
£35
Fri
General admission (outfield) 3 day tickets
£40
Sat/ Sun
Track transfers from hotel (incl in package)
0
Mon
Return coach to Prague airport
£14
Mon
Return flight (included in outbound flight)
0
TOTAL per person
£288
€324
Here's the steps to take:
1. Book your package online here. Choose the package (Economy is quoted above) and the tickets you wish (A/B/D/E/G standing are quoted. We recommend you upgrade from these). choose start date (we have suggested Thu for 4 nights). If you book the opening party online (near bottom of options) then it is CHEAPER than booking it separately. You also save our handling fee by booking online.
Your credit card ONLY guarantees the booking - we won't charge you until you confirm.
2. Book your flights. Here's the link I used for the WizzAir flights. (Your numbers may differ owing to time) We can book flights for you but there is a service charge.
3. Email us (quote your booking reference number, PPCS-) with your flight information and ask for us to arrange airport transfer. If you wish any alterations to your booking, this is the time to request!
This is also a good time to stop for a day or two in PRAGUE. We can organise all this as well including tours and transfers. Just tell us what you'd like.
4. We will give you a final itinerary with invoice; it is ONLY THEN that you pay us.
5/ Get on the plane. Go to Brno. Enjoy lots of beer, wine, food and utterly fantastic racing!
More on www.brnograndprix.com
A comment...
With over 1200 package customers a year, we would consider it a bad year in which we had even 2 complaints leading to refund/compensation - that's how committed we are to providing quality service.
Sometimes however the loyalty and appreciation of our customers surprises even us; and in this case I will quote verbatim an email from Gillian, a customer who came to Jerez with us and was the first to experience the full ClubGP Team Experience day with San Carlo Honda Gresini.
Well Gordon, what can we say! Every weekend we go away with you we say it's been the best ever, and then the next one comes along and it's even better again! Thank you so much for Jerez - it was absolutely amazing.
The day with the San Carlo Gresini Honda Team was one of the most fantastic things we've ever done. From the friendliness of the team, to the opportunity to meet riders and wander round the paddock, to visiting the garage and then the icing on the cake of watching the start of practice from pit wall. The whole thing was like a dream, and I still can't believe it happened! When we were told about the pit wall trip I thought I was going to cry with excitement. The team must have thought I was a bit odd, as I was shaking with adrenaline and unable to communicate! However, nothing can ever match standing on that wall watching the bikes leave the garages, then coming round on the first lap. What a buzz!
But even without that. the weekend was amazing. The Antigua Estacion has to be one of the most beautiful places we've ever stayed, and Thomas and the staff were so friendly that it felt like home by the time we left! Add to that them showing us how to make paella in their kitchen, and letting us go to a local fiesta in the grounds of the hotel made it even more special. The Hacienda on the Friday night, set in stunning grounds and with Julian Ryder as the speaker, was also fantastic - and was superb for meeting our fellow bike fans. I've got to say the people in our group were fabulous and, as well as meeting existing friends, we've made some great new friends as a result of this weekend. And finally, our Sunday X1 grandstand was outstanding, with brilliant views and one of the best atmospheres we've ever experienced. Your recommendations never fail us!
And finally, there's yourself and your team of staff. Nothing is ever too much bother for any of you, and although no-one ever says it we all know how hard all of you work to make sure everyone's weekend is fantastic. The help, organisation and laughs provided by yourself, Hana and Elisa over the weekend really did make the trip very special. All we can say is thank you so much, it really is appreciated and we love our weekends away with you guys!
Thank you very much Gillian, you have reminded our very hard working team just why we do this! And here's a picture of you guys ON the pit wall. (You couldn't hear my shouts to turn around. There may have been some loud motorcycles nearby! :-)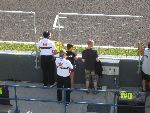 Find us on Facebook! (here)

Skype: polepositiontravel
Check out our movie! (7 mins)
Jerez : First of the Summer Wine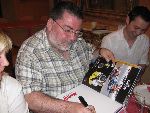 The return of MotoGP racing to Europe is always an extra reason to party! We had a blast in Jerez, with many customers, the MotoGP Red Bull Rookies, an opening party with the spellbinding Julian Ryder launching our limited edition of his MotoGP 2008 Season Review; and liquid farewells to Jerez on Sunday; all surrounding fantastic racing! We also introduced our first loyal customers to a taste of living inside the MotoGP paddock with our new partner San Carlo Honda Gresini (more below). What a weekend! We're still exhausted! Read all about it and see the cool pics on the gallery section of our Jerez page.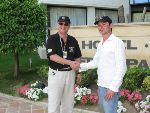 Also congratulations to Ben Shore who won our sponsored 2008 Fantasy League for Charity and came to Jerez with us as his prize.
Motegi : The Liquid Rising Sun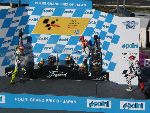 Small but perfectly formed as always. Those that make it with us to Motegi usually end up friends for life! Just 15 in our package, but with our experienced staff and local Japanese Superbike racer guide Shinichi to hand, there was no reason to put the brakes on an all-action weekend! See some of the photos and our report on our gallery
CLUBGP : rewarding our customers
We are delighted to announce the formation of our ClubGP 'frequent flyer' programme. This year especially we are seeing a large percent of our customers coming from repeat business; and we would are delighted to be able to reward these loyal customers for staying with us, and recommending us to friends.
The star reward is the opportunity to spend a day or weekend in the pits & paddock as a guest of one of our sponsors teams in 125cc, 250cc and MotoGP classes!
Even better: existing members who recommend a friend to book a package with us will earn a 50 point bounty! (Enough for a free upgrade from 125/250 to MotoGP paddock; or if you recommend 4 new customers you can claim a Team Experience day!
To find out more or join read here...
SPONSORSHIPS : SAN CARLO HONDA GRESINI
Many of you will know of our loyal support of Italian team Matteoni and British Rider Danny Webb riding for the Dutch team de Graaf Molenaar Racing. We are proud of our association with them and our faith looks like it will be rewarded this year with unprecedented results! Matteoni rider Jules Cluzel took the team's first ever podium at Qatar (now 5th in the 250cc tournament); and Danny Webb is performing consistently in the top 10 (now 9th in the 125cc)
We are delighted to announce that in the MotoGP paddock, we are working with San Carlo Honda Gresini. Honoured customers of ours under the ClubGP programme above will have the opportunity to spend a day or weekend in the paddock as team guests of any of the above 3 teams. Meet the riders, enjoy the hospitality, tour the pits, and generally have the run of the paddock.
Is this fun? I have taken the rare step of quoting one of our customers (the first to enjoy the Gresini experience) verbatim in full. See sidebar...
EVENT UPDATE
Le Mans - sold out. Call if have any need. You may come separately to our opening party with Neil Spalding and friends.
Mugello - only one room in our 3* left a few in our 4* (where you will be with the Red Bull Rookies). Book NOW! Opening party with top MotoGP photographer Andrew Northcott.
Catalunya - last few in our great value 4* Beach package. Last we looked you could still fly to Gerona for about £30 return from UK! New Hospitality suite with stunning views and services; guests. Book a Barcelona package to meet Julian Ryder at our opening presentation.
Assen - Bike down and stay in our incredibly good value bungalow park. Also with Rookies, and guest speaker Dave Emmet ('Kropotkin' of MotoGPMatters.com)
Laguna Seca - A few rooms left in our 3* 'Economy' package and awesome Pole Position Club on the finish line. Parties!!! NOW QUOTING AND ACCEPTING $USD
Sachsenring - A surprise hit - our 3* sold out (but the 4* is only a little dearer and a very nice hotel indeed)
Special combo: Do Sachsenring and the Brno WSBK the following weekend, we will organise the entire week for you, including a great stop in Prague!
Donington - A little space left in both our nearby 4* and slightly further 3*. We have LOWERED VIP VILLAGE prices for this - do the last year VIP! Randy Mamola rides available.
Brno - The best event, the best value in Europe. Book a cheap flight to Prague (or Brno) and we will do the rest for you. See sidebar for more...
Indianapolis - The best VIP in MotoGP. We have space in our 3* and 5* packages.
San Marino - one of our best sellers - our 3* nearly sold out. Meet Team Matteoni at our opening party.
Portugal - Another popular event - strong sales in our 3*, VIP selling very well. New 5* 'all inclusive' package (at nearer our 4* prices) in incredible town of Sintra.
Phillip Island - Our Special all-inclusive package is the best available for this amazing event. Private pit row VIP suite with paddock access and special guests a must!
Sepang - One of the few events in which we have ADDED hotels - new package in 5* Pan Pacific at track.
Special combo: Do Phillip Island and then Sepang - we will organise the entire week including a stay either in Australia or Malaysia (recommended: the island of Penang). From Europe, suggest booking a through flight to Melbourne with a stop at Kuala Lumpur, you can do a free layover on return! Great value!
Valencia - Huge opening charity party, private VIP Suite! Always an end of season blow-out; our 'Classic' package always sells out
Congratulations for reading this far! As a reward, you may use code PPTX03 to take 5% off any package booking until the end of May. You may use this online or reference it when speaking/emailing us.
Looking forward to a thrilling season!
Gordon Howell, Founder & Managing Director.
Pole Position Travel is a trading name of Pole Position Travel SE; a European joint-stock company with seat in Czech Republic and subsidiary office in UK.
Kaprova 13, Prague 1, 110 00 Czech Republic.
t: +44 (0)191 406 6260 f: +44 (0)870 130 9207 help@polepositiontravel.com
Representatives in UK, USA, Italy, Australia, Russia, Greece.
also find us...
We have just started sharing our experiences with our customers. Here's how to tag along:
Check our our new

video

of the 'Pole Position Travel' experience

Follow us on

Twitter

(just started!)

Check our some of our videos on

YouTube

Our professional contacts are on

LinkedIn

(Pole Position Travel group)
More to come...!
Our web sites:
www.polepositiontravel.com - all MotoGP travel
www.polepositionvip.com - VIP and Corporate Hospitality
www.brnograndprix.com - um... The Brno GP!
www.qatar-grandprix.com