To our north american customers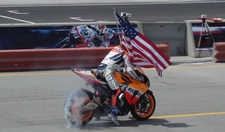 Many of you will be aware that I (Gordon Howell, Managing Director & founder) am an American living in Prague & Scotland (and privileged to have lived in Canada for a year!). I have also been fortunate enough to spend a lot of time in the SF Bay Area which perhaps accounts for my passion for Laguna Seca!
I would like to extend my personal invitation to all our North American customers to join us at a motogp event, either in the USA or abroad. We are experienced at organsing flights and travel from the USA; and of course all ground arrangements at the destination. We would be delighted to help you plan an entire holiday centered on a MotoGP (or 2!)
To make it easier for you we have implemented some recent changes to the way we do business:
We now will quote and accept US $ for ANY booking. No more worries about guessing exchange rate movements! We can take credit card, PayPal, USD checks or bank transfers to our USA bank account.
For the US events, we are now pricing IN USD. You may still of course book in EUR, GBP (and now AUD) if you prefer.
Our USA Phone number; +1 541 255 3236 will now ring through to our European office if not collected in the USA: so please feel free to call any time.
The global recession affects us all - it is my promise that we will always strive to deliver the best value for money we can; although without compromise to our total committment to quality and service.
It is the greatest sport on the planet, I hope to see you at an event sometime soon!
BENNY SOLIS & the american rookies
We are travel partners for the Red Bull MotoGP Rookies Cup. Last year you may know this was WON by an American, J D Beach. This year there are THREE Americans doing the rounds of Europe chasing the coveted prize:
Jake Gagne, #32 from Ramona CA. 4th in the AMA Rookies cup last year with 2 wins.
Hayden Gillim, #69. 2nd in the AMA Rookies Cup last year with 2 wins (and cousin of Nicky Hayden!)
Benny Solis, #35, Champion of the US AMA Rookies cup last year with 4 wins.
We are proud to be helping all attend the 2009 European rounds; and jointly with Roadracing World we are supporting Benny Solis (catch his column every month in the magazine!) Come see these guys at one of the European rounds! The racing is fantastic! More...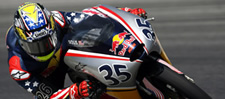 Look for us...
We are very pleased to be working with some excellent publications on- and off-line. To name a few of interest to North Americans:
Roadracing World. Apart from America's best read for true racer-heads; we are pleased to work with them to jointly sponsor American young gun Benny Solis in the Red Bull Rookies (see right). We are doing a joint promotion to win 2 tickets and a VIP entry to our Friday opening party at Indianapolis. More...


Ultimate Motorcycling. The top VIP motorcycling publication in the world. We are jointly offering a unique opportunity to win 2 VIP tickets for Indianapolis - the top MotoGP VIP in the world. See their article about us here


MotoGPod - Motorcycle racing podcast. This is a really different and refreshing way to get an alternate slant on what's happening in the MotoGP world. Its a bit like listening in to a pub conversation between two guys who are fanatic followers (Bob & Jules) and various interesting people they wangle into talking about their experiences. Of course, I WOULD say that, considering I feature onthe next show, airing Fri 29/May! More...

motogpmatters.com - Simply a great website giving another insightful and non-official angle into MotoGP. We talk a lot. More...
Please note: if you are going to book any of our products online, please do so via either motogpod.com or motogpmatters.com -- if you do we pay a commission to the guys, which helps support these excellent publications! (Just click on the link to Pole Position Travel fromthese web sites, or simply click the URLs in this paragraph!)
North American Special edition
This is a rare special edition of our newsletter targeted specifically:
To our North American customers
To anyone considering attending either USA MotoGP
Apologies if neither pertain to you - you can delete this; should you wish to view later it is of course on our web site.
If you have looked at us in connection to one of the USA events, we urge you to look again - programmes have been updated, and prices have been significantly reduced on many products thanks to changing economic conditions.
Laguna Seca 3-5 July
With Mugello around the corner and 1 point separating the top three in MotoGP; there is NO CHANCE that Laguna Seca won't be an important and thrilling race.
And that's before we factor in Nicky, Colin and all the fun we are going to have!
You can get all the info and place a NON-BINDING reservation online at: http://www.polepositiontravel.com/lagunaseca/2009/
The quick news of our changes:
All pricing is now in USD; and we can accept USD payments.
The VIP Village has been moved to an even better location, and the price down slightly
Our iconic Pole Position Club on the finish line has had a price decrease and now includes a reserved grandstand seat, golf cart tours and expert guides (NOT just 'staff') on hand
We have lowered our price on the Power Sport Dynamic Turn 5 club, and now adjacent motorcycle parking is available
We have cut our Economy package to $599 per person (was $700)
Our 5* Deluxe package has been reduced by OVER $400
Special offer for readers of this newsletter (and the Podcast) ONLY: If you book our Superior (4*) package we will give you a FREE UPGRADE to our 5* Hotel on Cannery Row while rooms last. This is simply the best special offer we have ever made - our motivation is to get as many customers togeher as possible literally on the door step of our Saturday night Beach Party! (You still need to pay for this, but at a reduced cost; and itis INCLUDED in the above-mentioned slashed price Deluxe package)
To claim this, place a reservation online and then followup with an email requesting the free upgrade. That simple. Reserve it here (you can select whichever tickets you like)
Here's our Laguna programme in short: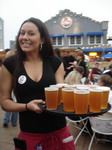 Thursday Riders for Health day at track. Evening 'happy hours'.
Friday optional practice day at track, evening opening party as a private screening of The Doctor, the Tornado and the Kentucky Kid, with the director Mark Neale.
Saturday (USA Independence Day!) qualifying day at the track and evening madcap Power Sport Dynamic VIP Beach Party ON Cannery Row. Absolutely do not miss this if you want to really feel like a star!
Sunday Race Day; in the evening we "wind down" with a local microbrewery.
All of our packages include 3 nights bed and breakfast, attentions of our expert tour leaders, transfers, and our Friday opening party. Most of all you have someone there looking after you; and you are in the always-great company of fellow motogp fans! A lot of friendships are forged on Pole Position packages!
Laguna on a budget
Laguna Seca for $699 per person! If you want to have a great weekend, all the hard bits planned for you, with local support; and get it all sorted in a few minutes why not book our Economy package ($599) with 3 day general admission ($100). You can reserve this here.
Of course we recommend you upgrade the track experience to Grandstand Turn 11 with Paddock (add $110); Turn 5 club (add $160); or Pole Position Club (adds $375, but this gets you great location, paddock access, expert guides, food and drink, and much more!) or even VIP Village (add $1000).
The package gets you into our Friday reception; but you'd be mad to miss our Saturday Beach party ($140 for all package/hospitality customers)
Laguna for groups & families
If you have a club or other group (>6 people) you want to bring along to Laguna, contact us for a tailored quotation - we can offer group (and Military) discounts and help you collect from your members by taking payments directly. We also cater to families, just let us know your needs (mine is a bike-crazed 18 month old!)
Laguna for VIPs
This is a real VIP event for us - apart from the top hospitality at the track (the VIP Village) we offer the top hotel in the region, and our top guide (..er.. me!) will be on hand personally to look after you. Of course we encourage you to book online to help speed things along, but please get in touch so we can tailor-craft your experience! See our VIP page for more.
And some other cool stuff that is happening at Laguna Seca...
Thursday join the ride-in for Riders for Health, meet MotoGP stars and personalities, get a tour of the MotoGP pits and paddock, do some parade laps. Wow!
Do a 15 day USA West motorcycle tour (bikes provided on landing in California if you need) ending at the MotoGP. Already over 20 on this tour...
Or simply book one of our parties independently
See http://www.polepositiontravel.com/lagunaseca/2009/parties.htm for more on these options.
Indianapolis 28-30 August
Will say less about this event just now...! Here are some highlights:
We have 3 great packages (3*/4*/5*) all based in Indy; with our usual total care.
Friday opening party to be confirmed, but is expected to be charity gala with several star guests. Whatever we do, it will be great!
The BEST VIP Village in MotoGP. Open paddock access; pit lane walks, superb catering and viewing. Our private suite (WITH professional bar man!) was just about the Yamaha garage...
New hospitality option! Corner 9 chalet; about half the price of VIP Village
We have hand-selected choice grandstand tickets.
WIN a pair of VIP Village tickets ($2200 value!) - will be published in the next issue of Ultimate Motorcycling Magazine. Buy a copy.
WIN a pair of top grandstand tickets and our opening party ($400 value). Jointly with Roadracing World.
More information and stress-free reservations on our Indy pages.
Thinking about a European MotoGP?

What better excuse do you need to visit Europe?
We can help you make a holiday out of your trip. Just contact us. Some pointers however worth mentioning:
We can always book extra nights at the destination, and of course do airport collections and internal transfers. For many events we also have speciality tours (Catalunya, Brno, Valencia) and are always happy to share our experiences...
When looking at flights, look at options first to anywhere in Europe. There are a lot of cheap airlines (similar to SkyBlue, Southwest) operating in Europe; and the train system is generally great. So find the best deal across the Atlantic and then take it from there. Look at skyscanner.net for some useful help; and don't hestitate to ask us for advice.
Can you make it a double-header? One great option is Sachsenring - Donington which are back to back (19/Jul, 26/Jul) We have some Americans flying in to London, then catching a cheap flight to Prague, driving to Sachsenring with us, then back to Prague for a few days, then a very cheap flight to Donington. Very cool... Sadly with the loss of Hungary this year, this is the best European 'double' remaining to you. But also think about this plan for 2010...
HOWEVER don't neglect the other direction! You might find it surprisingly inexpensive to hit both Phillip Island and Sepang -- book a through flight to Melbourne, via Kuala Lumpur; and you can get a free 'stopover' on the way back! What a holiday!
Want a few suggestions? Brno is the best value for money, especially for Americans where the dollar against the Czech Koruna has not fared quite as badly as it has against the Euro. (It is also our flagship and the biggest motogp!) Portugal may be the best destination - absolutely beautiful and also good value. San Marino is always huge fun and a very cool location; and the atmosphere and 'indian summer' of Valencia is always a huge hit! (our video was mostly filmed at Valencia)
Wanna ride? We have associations with several bike hire outfits for a great fly-and-ride option; not to mention guided tours, and some of the best hotels in the Alps and similar.