coming to donington? drop in on us!

If you are at the Day Of Champions THURSDAY* please come to our booth and say hi to the team and talk about your plans for the rest of this season and 2010... Giving away some cool posters and stuff.
*we still have 2 pit/paddock passes for this; phone us if you want them
See our practical guide for programme & maps
Want to experience the final MotoGP at Donington in top style? Owing to cancellation, we have a couple VIP Village passes for Sunday (may be upgraded to include Saturday). Includes pit lane walks, paddock tours, top food, open bar, and our private expert guide/host. Reduced 15% to £699 - book here or phone +44 7973 748591
We also are selling our last General Admission tickets at a discounted rate (cheaper than you will get at the door). Just £60 for 3 days/ £49 for one. Book here
FRIDAY we have an informal reception and buffet at the nearby East Midlands Airport Thistle Hotel. Apart from drinks and food, this will feature British 'Young Gun' riders DANNY WEBB and SCOTT REDDING; plus several of the young Rookies are expected to drop in. Great fun. Pre-booking essential call or book online before the end of Thursday.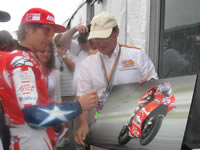 BRNO TOP ECONOMY
4 nights with flights & tickets for well under £400 per person!
If you want to keep costs to the absolute minimum and still enjoy a great race weekend, heres what to do.
Based on return flights London Stansted - Brno Friday - Tuesday
| | |
| --- | --- |
| FRI 14/8 | Fly in. We take you to hotel then to huge evening trackside opening party with pig roast, unlimited beer, live music, special guests! |
| SAT 15/8 | We take you to track and back for qualifying action. First Rookies Cup race. Evening huge charity event at the brewery with guests including Niall MacKenzie and Julian Ryder. |
| SUN 16/8 | We take you to the largest race day in MotoGP. Rookies Cup final race! Evening optional Moravian party at oldest wine cellar in Eastern Europe. |
| MON 17/8 | Stick around and we will take you to the track for the official tests! Always a fascinating day out! |
| TUE | Fly home. |
Cost for this programme (per person)
fly Ryanair Stansted - Brno: £159 out Fri 14/Aug; return Tue 18/Aug**
4 night economy/2* package (hotel, breakfast, sat/sun transfers): £145
general admission tickets: £41
TOTAL: £345 per person based on 2 sharing
Recommended options:
Friday party: £34 (special price to Economy package customers. Other packages party is free)
Saturday charity party: £43
Sunday Moravian evening: £43
Monday test day: FREE! (beer about £1) or if you come with us on our 'paddock tour' package, then add £47
.
**cost at time of publication, your cost may vary. We do not book flights - you do directly and inform us of arrangements. You may also fly to Prague, and we can transfer you to Brno for a small fee
Brno best value
Here's how WE would do Brno from the UK if you want the best value for money without spending too much on the hotel.
Do the above, EXCEPT take the CASTLE PACKAGE. A great hotel and a great weekend which INCLUDES dinner on Fri/Sat/Sun and of course much more attention from guides, cool merchandise, more.
Extra £211 per person; well worth it!!
Book this online here

Find us on Facebook! (here)

Skype: polepositiontravel
Check out our movie! (7 mins)
motogp mid-season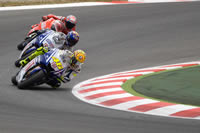 Wow! What a season! In the midst of the summer madness it has been hard to get time for a newsletter, much less update all the event reports and photo galleries of the cool times we have had so far... These will be done in the relatively 'calm' period in September.
Suffice it to say that this may be the most exciting tournament we have seen in years - with still a 4-way contention for the crown! We had a weird but fun race in Le Mans (Melandri on the podium! Who'd have thought?). Mugello saw the end of Rossi's 'guaranteed' victory there - and we are still laughing about an even madder-than-usual track invasion! What can one say about Catalunya? A perfect race weekend crowned by about the most exciting duel in MotoGP history. Assen reminded us of the thrills of the 125 and 250 classes (and let us not forget the always-exciting Rookies Cup!); and Laguna Seca, always one of our best events, we saw the return of the 'dark horse' of the 4 leaders, Dani Pedrosa, to form! We are just back from Sachsenring high from another thrilling set of races (with the beer and several special guests adding to the atmosphere); and packing for the last Donington MotoGP.
While Dani still has an uphill climb, just 28 points separate the top 3 Rossi, Lorenzo and Stoner; every race will count!
BRNO MOTOGP 14-16 AUGUST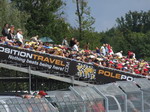 If you can make only one event this year, make it BRNO!
Complete packages: guide + accommodation + transfers + tickets from £142/€165/$207 per person (see side bar)
Flights from about £100 return to Prague (we can organise Brno transfer) £150 return to Brno (we run free airport collection service Thursday and Friday from Brno airport)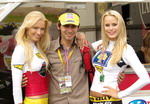 Brno is our flagship event, and we modestly consider the best of the season! For the past two years it has been the largest MotoGP in terms of Sunday attendance, and the event won the IRTA 'best event of 2007' award; the third time Brno has secured this honour! We have 12 hotels, a fleet of coaches, about 20 staff; and all you need for a brilliant worry-free weekend!
In addition to the great action - 5 races including the finale of the Red Bull Rookies Cup, we have a few further treats: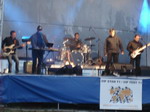 - Friday night trackside opening bash with live music, unlimited beer, pig roast and special guests
- Saturday night gala in benefit of Riders for Health with JULIAN RYDER and NIALL MACKENZIE as our special guests, and a great auction of MotoGP memorabilia. (More unlimited beer, food, etc!)
- Monday is the official IRTA Test! Stick around and see the first test under the new rules, with the actual riders! Will be fascinating and it is FREE!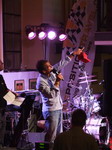 ALL* tour packages includes the Friday night party (this is an optional discounted extra for the Economy package)
Packages also include 2-3 nights B&B, transfers, our expert guides on hand and lots of fun!
We have no fewer than 8 packages at Brno to cover all needs and budgets; from 2 nights to as many as you want. Here are some highlights. Prices are per person, based on 2 sharing, and do not include flights or tickets.
You add whichever ticket you like to the package for your total tour price. Tickets range from £45 for general admission (outfield, not recommended) to top VIP Village Hospitality at £770. All ticket info is here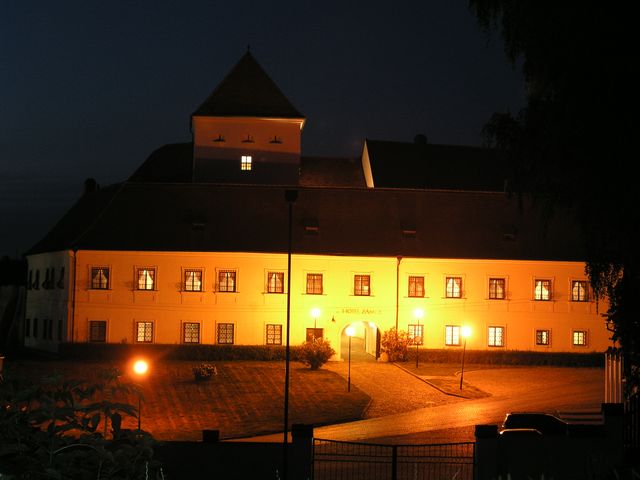 For all package information and booking see the web site.
Castle Package: Stay in a 14th century Knights Templar castle! Super value 3 nights with dinner, bed and breakfast; expert guide and incredibly atmospheric local wine festival (the castle itself has the largest wine cellar in Moravia!); this is just £341/€395 per person! More...

Resort package: Stay in a fantastic resort hotel near the lake, quite close to the track; with pools, bowling, billiards, and a great restaurant with about the best Czech Budweiser beer around! Friday party, transfers, guide just £462/€535 for 3 nights. More...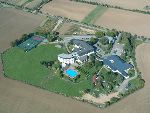 Grand package: Stay in one of the top hotels in Brno, home to many teams £458/€530 for 2 nights with party, transfers and guide. More...
Economy package: Very popular this year! Stay 2 nights B&B with transfers; just £103/€119 per person! Hotel is converted dorm; all rooms have 2 single beds and a WC with shower. More...
If you have already purchased tickets (from us or other source) we can upgrade you to a full package; just email or phone!
All Brno info and booking is on www.brno.gp
INDIANAPOLIS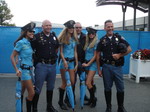 Just a very quick note on Indy 2009...
The Indy VIP VIllage is the best in MotoGP. It is nearly SOLD OUT. Apart from great food, location, bar, guides, etc; the Indy GP has OPEN PADDOCK ACCESS so you will meet all your favourite riders! Please book soon to avoid disappointment.
We are currently doing a very special offer on our Deluxe/5* package staying in the heart of Indy: Book a 3 night package and the 4th night is free!
Saturday night we go to the awesome Indy Mile dirt track race -- American style motorsports at its best!
See all on www.indy.gp
Looking forward to a thrilling season!
Gordon Howell, Founder & Managing Director.
Pole Position Travel is a trading name of Pole Position Travel SE; a European joint-stock company with seat in Czech Republic and subsidiary office in UK.
Kaprova 13, Prague 1, 110 00 Czech Republic.
t: +44 (0)191 406 6260 f: +44 (0)870 130 9207 help@polepositiontravel.com
Representatives in UK, USA, Italy, Australia, Russia, Greece.
also find us...
We have just started sharing our experiences with our customers. Here's how to tag along:
Check our our new

video

of the 'Pole Position Travel' experience

Follow us on

Twitter

(just started!)

Check our some of our videos on

YouTube

Our professional contacts are on

LinkedIn

(Pole Position Travel group)
More to come...!
Our web sites:
www.polepositiontravel.com - all MotoGP travel
www.polepositionvip.com - VIP and Corporate Hospitality
www.brnograndprix.com - um... The Brno GP!
www.qatar-grandprix.com