Brno 2010 programme
Brno is our flagship event - we have been bringing people here since 2002. With hundreds of hotel rooms, a small fleet of coaches, two hospitality options and an army of multi-lingual guides on hand, you are sure to get the top treatment from the Brno experts!
See also our specialty website www.brnograndprix.com
THURSDAY 12/AUG
Evening 'Happy Hours' at Starobrno Brewery. Get a beer on us!
FRIDAY 13/AUG
Morning pit lane walk for all ticket holders
Afternoon practice sessions
Free track transfers from Mendlovo namesti.
Meet riders and tour pits for our very exclusive Team Experience customers. CALL for more info.
VIP dinner inside the MotoGP Paddock with team Gresini. Meet riders, tour pit, more...Afterwards we join the...
Evening trackside opening party - unlimited beer, pig roast, live band, bikes, babes and a LOT more! more...
SATURDAY 14/AUG
Qualifying day at the track. Red Bull Rookies race #1
Track transfers virtually door-to-door for our package customers.
Paddock tours for our Hospitality and VIP customers. More on these...
Evening Charity.GP gala for Riders for Health at the Brewery. Guest speakers, riders, endless beer, greaet food, charity auction. More...
SUNDAY 15/AUG
RACE DAY! Races in 125cc, Moto2, MotoGP and Red Bull Rookies.
Track transfers for our package customers
Moravian Evening in oldest wine cellar in Eastern Europe. Very cool way to 'wind down'. More info and booking...
MONDAY 16/AUG
We run a very special VIP excursion to this crucial MotoGP test. As guests of team San Carlo Honda Gresini we see it all: full paddock access. tour the pits, hospitality, lunch with guest speaker. Transport up and back. More info and booking....
Getting there
There are still reasonably-priced flights direct to Brno from London Stansted on RyanAir. Currently we are seeing about £200 return! We do a free hotel transfer from the RyanAir Friday flight for all package customers!
Or fly to PRAGUE - we can organise inexpensive (c. £20) transfers to Brno. Seeing flights from about £90 return from UK! Stay a few nights in our home town or Prague and we can set you up...
Whatever you do:
Let us know your travel plans so we can advise or organise pickups, etc.
Hurry! With news of the Rossi return, flights and packages are selling quickly!

Skype: polepositiontravel
Check out our movie! (7 mins)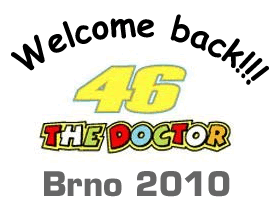 Rossi is Back!!!
Come to Brno to see the most famous motorcycle racer in history make his historic comeback!
Brno was the scene of Rossi's first ever GP victory - can he prove he is still a player after his career-threatening injury?
Brno is normally about the largest and one of the most exciting events on the MotoGP calendar, this year the atmosphere will be thermonuclear!
SPECIAL OFFER: 4.6% off ANY booking!
Book a single general admission ticket or a 5* VIP package and we will give you 4.6% off the total price of your booking. Just use the code BRNO46 when booking online or via email or phone.
FREE "WELCOME BACK ROSSI" T-SHIRT
Anyone booking a PACKAGE with us using the BRNO46 code will also get a FREE T-shirt with 'Welcome Back Rossi, Brno 2010'. Just send us an email after your booking with the sizes of each person in your booking (S/M/L/XL/XXL)
COMPLETE PACKAGES FROM €184/£153 pp
We offer 6 packages from Economy/2* to Deluxe/5*. Our least expensive package sets you up in a simple hotel with twin beds, breakfast, track transfers and access to our guides. including General Admission tickets, this costs just €184/£153 per person based on two sharing. Book it here.
Oh yeah -- don't forget to take ANOTHER 4.6% off AND qualify for your Rossi Return T-shirt on this!
See ALL our total care packages.
FRIDAY OPENING PARTY 13/8
Bring on FRIDAY the THIRTEENTH with some witchery of our own at our annual trackside Brno Beer Blast!
Pig roast, bottomless beer, live music, and we always get a lot of special guests from the paddock! Sometimes just mechanics blowing off steam, and always a few riders just dropping in to say hi! We run coaches back to town.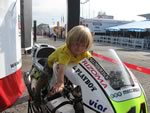 This party is INCLUDED with all packages (except Economy mentioned above where it is a discounted €39 add-on); others can book for €45. More info & booking...
Almost forgot to add: we add the OTHER two "B"s in the holy trinity of Beer, Bikes and Babes. The waitresses are the lovely Pole Position Girls (um, we ARE based in the Czech Republic...) and we will have a few very cool GP bikes on display...
AND we will be chanting 'Welcome Back Rossi' so loud he will hear us in the paddock!
SATURDAY CHARITY.GP PARTY
Yes, this IS the famous 'pissup in a brewery' (and do we know how to organise it!)

We take over the Starobrno brewery for a night of endless beer, wine, great food, scintillating talks by Julian Ryder and other special guests; and best of all a CHARITY AUCTION in benefit of RIDERS FOR HEALTH. All surpluses and auction proceeds go directly to this great cause, and we all have a brilliant time!
This is likely to sell out - book it now! €60 if booked in advance. More info & booking...
Just tickets? We got 'em!
We are the biggest (and probably cheapest) Brno ticket agent - we have all grandstands, hospitality and VIP Village. BUY HERE...
We love this track so much that we sponsor our favourite grand stand: the Pole Position Travel T1 tribune!
TICKET PRICES GO UP ON 22/JULY!
PADDOCK EXPERIENCES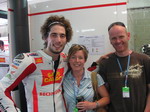 Want to see the paddock? Contact us. Here are some possibilities:
Be a guest of a MotoGP or 125cc Team for a day or the weekend, and enjoy full team hospitality, pit tours, rider meets, and of course unlimited paddock access.
Join us for our MotoNight dinner Friday INSIDE the paddock as a guest of team San Carlo Honda Gresini.
Join the VIP Village for paddock tours and pit lane walks
Join our Pole Position Club hospitality suite and you get a c. 40min paddock tour
BUY one of our very special Sunday 'team experience' packages at the Saturday night Charity.GP auction!
ALL PRICES SUBJECT TO INCREASE AFTER 31/JUL. Special offers cease 31/7
Looking forward to a great 2010 Brno MotoGP!
Gordon Howell, Founder & Managing Director.
Pole Position Travel is a trading name of Pole Position Travel SE; a European joint-stock company with seat in Czech Republic and subsidiary office in UK.
Kaprova 13, Prague 1, 110 00 Czech Republic.
t: (UK) +44 191 406 6260 (US) +1 800 501 0302 e: help@polepositiontravel.com
Representatives in UK, USA, Italy, Australia, Russia, Greece.