This is a about VIP services of Pole Postion Travel for the 2010 MotoGP Season.
You are receiving this exclusive edition newsletter as a valued VIP customer of Pole Position Travel. We send 1-2 such newsletters per year, and very rarely offers of particular VIP interest. This is not the same as our general newsletter mailing list (which you are also likely to receive, if you do not, please sign up here) Subscriptions to this VIP channel are not possible; should you wish to be removed see instructions at bottom or click here.
Welcome to the 2010 MotoGP Season!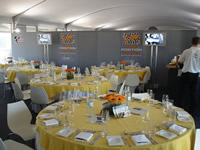 We have just returned from our annual meeting with Dorna to coordinate plans and get the inside track on the MotoGP VIP Village. We are pleased to report a projected GROWTH in our VIP sales of a whopping 60% over 2009. The units theselves are not getting any larger, we will just have a larger portion.
VIP sell-out warning
An implication is that we expect most VIP Villages will sell out, and some will sell out soon. Qatar, Mugello (especially), Catalunya, Laguna Seca, Phillip Island and Valencia are all likely candidates for early sell-out -- if you are thinking of attending any of these, please contact us soon!
Below is a list of all the events and highlights for the VIP/Corporate client. A few general comments first:
Our VIP/Corporate services
| | | | | |
| --- | --- | --- | --- | --- |
| | | | | |
| VIP Village and hospitality | Top accommodation in full-services packages | Luxury ground transport | Helicopter and air services | Team experiences inside the paddock |
As many of you know, we tailor all quotations to your individual need. Frequently you will just require VIP Village or Hospitality tickets; these can be easily booked online for instant confirmation.
We also offer full-services packages at all MotoGP events. Here we select the best hotel at the destination, provide a top VIP guide (backed up by an on-site team) and organise all your ground transfers; as well as provide quality merchandise; an opening party with special guest speakers; and we have private hospitality units at many events.
Créme de la créme: Top packages for 2010
While we have top Deluxe package at all events, for several events we have really pushed the boat out to make a very unique experience:
| | | |
| --- | --- | --- |
| | | Jerez 2 May: Our Deluxe package is in a brilliant boutique villa in Jerez. We have only ONE more room in this; call! However we have just introduced possibly our top package ever! The Platinum package lands you in the 5* Montecastillo resort adjacent to the circuit & weekend base of all the top teams! Opening party with Julian Ryder at spectacular 15th cen. Hacienda; Saturday night dinner INSIDE the paddock with a motogp team and riders; Sunday vintage sherry & brandy tasting; and top trackside hospitality in the VIP Village. Come Thursday for this one to have happy hours at the pool side bar and chat with MotoGP people! |
| | | Mugello 6 June: The Deluxe package is in the most stunning hotel we use all year - a converted Palazzo in the heart of Florence. Featured on page 2 of the Leading Small Luxury Hotels of the world, you will not want to leave! We take over the entire place. Only TWO rooms left at the time of writing. The VIP Village at Mugello is the most sought-after in MotoGP; and is nearly sold out. If you have a group (10 or more) seeking hospitality at this - the most popular of MotoGPs - please call us. We have an option available to expand the hospitality, but we need to know soon. |
| | | Silverstone 20 June: We welcome MotoGP to Silverstone with an all-inclusive Deluxe package. The hotel is also adjacent (walking distance) to the track and the home to many teams and riders. Thursday night you will enjoy a cocktail party INSIDE the paddock. Friday we have an opening party wth guest speaker and several of the British riders on hand. Saturday dinner (optionally inside the paddock with MotoGP team Gresini) and TWO hospitality options: a private area in the VIP Village and our own Pole Position Club hospitality unit. |
| | | Sepang 10 Oct: This amazing venue hs become a bit of a specialty of ours; in 2009 guest speaker Jeremy Burgess really got the weekend off to a flying start. For our deluxe package we have finally secured rooms in the 5* Pan Pacific adjacent to the track - again home to most of the top teams and riders for the weekend. We alo have PRIVATE VIP Village with more special guests, open paddock and possibly the top VIP of the year. Join us post-race for an optional trip to Penang Island and one of the best 5*+ resorts we have ever experienced! |
| | | Valencia 7 Nov: For the final round in a tournament that is bound to go down to the wire we have secured a PRIVATE VIP Village suite. With our own hostsesses, special guests, games, welcome pack and much more, this will be the VIP of the year! Coupled with our deluxe package in one of Valencia's top seaside 5* hotels (last year we shared with Ducati) and a spa that defies description, a gala opening charity party in benefit of Down Syndrome Ireland fronted by the 2010 World Supersport champion Eugene Laverty, and a big team at our second-largest event, this is an event that is sure to sell out. Book soon! |
ClubGP - The Team Experience
We are able to bring a very few people to the 'inside' of MotoGP through our ClubGP programme.
We have just returned from the launch in Milan of our partner MotoGP team: San Carlo Honda Gresini. Fielding two very exciting riders: Marco Melandri (33) and the MotoGP rookie Marco Simoncelli (58), they are certain to capture a number of podiums this season. They also have a Moto2 team, with the current favourite for the inaugural title, Tony Elias; as well as rookie rider from Russia Vladimir Ivanov.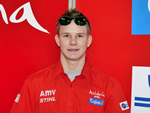 We also continue our support of our sponsored rider, young British hopeful Danny Webb (99) in the the 125cc class.
Also, specifically for Silverstone, we support Scottish wildcard rider Kev Coghlan - the 2009 European and Spanish Supersport champion.
Through these relationships we are able to offer some very unique experiences of MotoGP: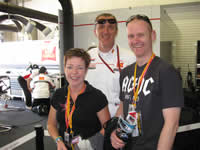 Team experiences: spend a day or weekend as a VIP guest of a team, with tours of the pit, use of hospitality facilities, and general run of the paddock. Places on this extremely limited (2-4 per event)
MotoNights Paddock dinners: We offer an exclusive dinner with San Carlo Gresini team, with MotoGP paddock access all evening, pit tours, meet riders and of course dinner with the team in their hospitality. Remarkable.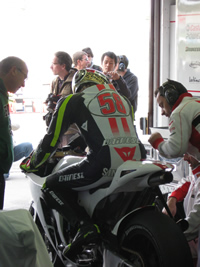 MotoGP Tests: On the Monday after Jerez and Brno, and Tuesday after Valencia, we will be bringing a small group of fans to the official MotoGP Tests as VIP guests of Team Gresini. We will have the run of the paddock, pit and hospitality, and over lunch we will have an expert MotoGP journalist give us a talk on developments at the test and in the sport. This is for the truly dedicated MotoGP fan.
Happy Hours with the team: In Silverstone, San Marino and Phillip Island we will stage a very special 'happy hours' with Team Gresini. These are exclusive to package customers (and are included with most packages at these events)
If you are intersted in any Team Experience, please contact us as soon as possible. These are very exclusive and we can offer only a limited number of places on each. Groups may be accommodated on special arrangements.
MotoGP 2010 VIP Services Calendar
1
11-Apr
Qatar
Stunning hotel and packed weekend at unique night race
2
25-Apr
Motegi
All-inclusive (DB&B) package with Tokyo option
3
2-May
Jerez
One of our top packages of the year, adjacent to track
4
23-May
Le Mans
Best hotel in Le Mans, several teams and riders there
5
6-Jun
Mugello
Best hotel of the year, VERY LIMITED space
6
20-Jun
Silverstone
All-inclusive package walking distance to track
7
26-Jun
Assen
Great hotel in Groningen, includes trip to Assen party
8
4-Jul
Catalunya
Fantastic 5* on harbour in Barcelona, best European VIP
9
18-Jul
Sachsenring
Top regional hotel with many teams/riders, great paddock
10
25-Jul
Laguna Seca
Non-stop weekend at top hotel and many special guests
11
15-Aug
Brno
Our flagship - if we can't do it, it can't be done!
12
29-Aug
Indianapolis
Best VIP Village of MotoGP, hotel is rated in world top 100
13
5-Sep
San Marino
Top 5* in Riccione; party with Gresini at their home event
14
19-Sep
Hungary
First year here, best hotel in region, Sunday closing party
15
10-Oct
Sepang
Our top VIP event of 2009! 5* hotel near track, great value
16
17-Oct
Phillip Island
All-inclusive at top hotel, paddock access with our VIP
17
31-Oct
Estoril
Beautiful coastal 5* hotel, perhaps Europe's top destination
18
7-Nov
Valencia
Season finale where we lay out red carpet for everything!
Key:
| | | |
| --- | --- | --- |
| | VIP Village | VIP Village facliity offered. Red indicates a Pole Position Travel private suite* |
| | Hospitality | Hospitality facility offered. Red indicates a Pole Position Club private suite* |
| | Package | Indicates a Deluxe (suitable for VIP) package offered. Red indicates a Special inclusive creme da la creme package. |
| | Team Experience | We are able to offer team experience programmes in the paddock. Red indicates hospitality can be with a MotoGP team (we offer 125/Moto2 at all) |
| | MotoNight Dinner | We are running a dinner Saturday night inside the MotoGP paddock with Team Gresini. Assen & Brno are on Friday night; Laguna Seca dinner is in our own hospitality suite with special guests. |
| | MotoGP Test | We operate a post-GP tour to the MotoGP official test as VIP guests of team Gresini. In Valencia the test tour is on Tuesday (others are on Monday) and your pass also grants access to Wednesday |
| | Helicopter t/f | We can organise helicopter transfers to/from circuit. (We may be able to offer for other events on request) |
| | Practical information | Maps and our travel advice for this venue |
*All private suites and hospitality units require a minimum number booking. In the event this is not reached, the equivalent public area will be used with our guide added.
Thank you for taking the time to read through our offerings for the 2010 MotoGP season. Remember, we offer a VIP service, so if want us to put a custom programme together for you, just contact us!
Gordon Howell
Founder and Managing Director
UK: +44 191 406 6260 • USA: +1 541 255 3236 • Australia: +61 3 9016 3946
Ireland: +353 1 657 1933 • Spain: +34 96 314 0375 • CZ: +420 222 313 663
polepositiontravel.com • polepositionVIP.com