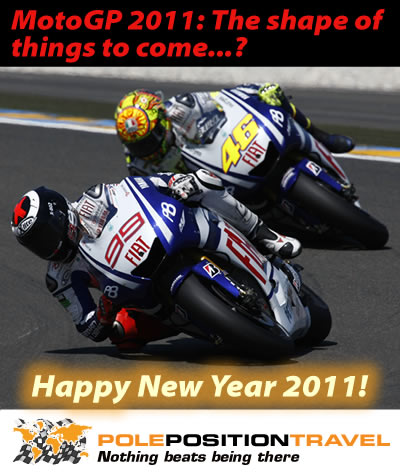 MotoGP: www.polepositiontravel.com
WSB: sbk.polepositiontravel.com
VIP: www.polepositionvip.com
+44 191 406 6260 • +1 800 501 0302
Three treats for a great start to the new season!

27.Mar.11 Donington SBK: £100 discount!
Join us for the first European round of World Superbikes and the return to Donington! A full 3 night 4* package with Team Experience, including PIT LANE ACCESS just £699/€809 pp. We are pulling out the stops on this one: extra staff, special guests and an opening party! More...

3.Jul.11 Mugello MotoGP: JUST LAUNCHED
Pole Position Club private VIP suite over pits: great views, paddock access, special guests & much more. For the top experience of the top event. January offer discounted €100 to €1100/£950 - less than VIP Village! (which is sold out, as will this...) More...

18.Aug.11 Brno MotoGP Test Half Price!
There is NO better way to get up close to the riders & bikes. Stay Monday as a MotoGP team VIP guest with full paddock access and pit tours. Now HALF PRICE (from €295 to €150/£129) for anyone booking a Brno MotoGP package! More...


These special offers all expire at the end of January 2011, or as supplies last, so don't dawdle out of the start grid!