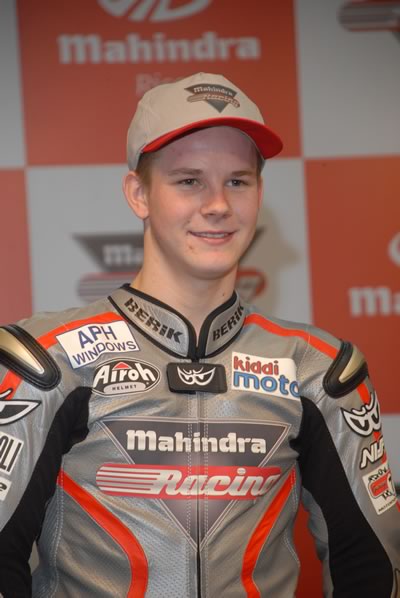 Danny Webb (99) 125cc championship contender
At recent launch in Mumbai of new Mahindra GP Team
Danny will be on our stand at the London Motorcycle show Thursday, Friday, Saturday and Sunday.

QATAR 20-March: UPDATE
The MotoGP at Qatar will now take place over 4 nights
We will be extending our programme to include the Thursday night to catch the first views! Flights <£400 from UK. More...

WORLD SUPERBIKE UPDATE
All team experiences now will include PIT LANE access!
More exciting developments in SBK to be announced soon! Talk to us at the show...

MotoGP: www.polepositiontravel.com
WSB: sbk.polepositiontravel.com
VIP: www.polepositionvip.com
+44 191 406 6260 • +1 800 501 0302
February: time to start your engines!

3-6 February MCN London Motorcycle Show - Super show offers!
Want to meet our team, pick our brains for your MotoGP or SBK weekend, or simply book in person? Come visit us at the MCN London Motorcycle Show stand N519 anytime 3-6 Feb at the ExCeL centre, London docklands. Show-only specials for Jerez, Estoril, Le Mans, Catlunya, Assen, Mugello, Brno and others; as much as 15% off! We are also giving away some team experience passes, and you can meet our sponsored GP rider Danny Webb!

New 125 'Danny Webb Experience' Packages!
Support Danny in person! We have put together a brilliant opportunity to support Danny and enjoy the freedom of the paddock all weekend, with private pit tours, in-paddock hospitality and of course wish Danny luck in person in his pit! With team merchandise, a dedicated guide, and exclusive access to Danny & the paddock on THURSDAY; you will feel like part of the family! This will be launched on the website after the show for €1000; as an introductory price we will offer at £695 (until 11/Feb in case you can't make the show!) VERY LIMITED Contact...

n.b. MotoGP Team Experiences nearly SOLD OUT. Contact us ASAP if interested.

3.July.2011 Mugello New City package!
Mugello is without question the hot seller of the year - so much so that in addition to our private VIP suite, we have added a new package based in an amazing Florence city centre location! Enjoy one of the world's most beautiful cities and the most exciting MotoGP in one unforgettable weekend! More...

While at it, check out the new Grandstands and our VIP suite as we investigated last week at Mugello. Photos here...