Silverstone 2010 'Young Guns' reception. Now we have 8 riders! Don't miss this.
Would you like to spend the weekend as a VIP guest of CAL CRUTCHLOW or DANNY WEBB?

Our unique Rider Experience packages bring you as close and personal to the Grand Prix as you can get and still keep your day job! Both include:

Full weekend paddock passes (MotoGP for Cal of course)
Team hospitality (food, drink)
Private pit tours
Cool merchandise
Dedicated Pole Position Travel guide
and of course ample opportunity for photos, sigs, etc!

£1135/€1300 for Cal/MotoGP
£779/€895 for Danny/125cc

VERY VERY VERY LIMITED. You need to phone/email.
Event Reports
Can't wait for the action to start again? Check out our recent trip reports and whet your appetite!
Estoril 01/May: Yet another brilliant weekend at our favourite European destination. We stayed on for the MotoGP Test and met some very interesting people...
Monza 8/May: Up the Irish! We bring a group from Ireland and Eugene obligingly wins a double!
Le Mans 15/May: No little controversy at a beautiful Le Mans weekend! We follow Marco closely & one customer gets on grid THREE times!
Thundersprint 8/May. Norwich, Cheshire. Crazy weekend racing around an M&S car park!
MotoGP: www.polepositiontravel.com
WSB: sbk.polepositiontravel.com
VIP: www.polepositionvip.com
+44 191 406 6260 • +1 800 501 0302 • +353 1 657 1933
Kaprova 13 • Prague 1 • Czech Republic
Silverstone MotoGP Preview
Get up close to the GP stars!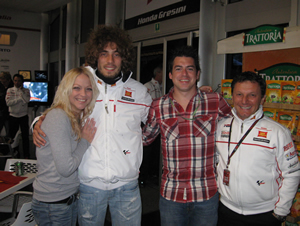 We have an AMAZING programme lined up for Silverstone! Join us for some of the fun.
THURSDAY 9/6 - Come to Day Of Champions! We have a booth there. Anyone booking a package on THURSDAY night gets a free paddock pass from us. Thusday evening is our 'Insiders Night' - a beer/wine evening with Team Gresini in the MotoGP paddock and pits, with a special talk by one of the team members. £140 for non-package customers, just £49 for Classic package customers. Book here...
FRIDAY 10/6 - Our annual British Young Guns reception features dinner & drinks with ALL of the British GP riders in attendance. Hosted by Julian Ryder this is NOT to be missed. INCLUDED in all packages, £89 otherwise. Price will go back to £99 next week. More... Just book it...
SATURDAY night 11/6 we have a very special dinner planned INSIDE the MotoGP Paddock! Drinks with LCR Honda, Dinner with Gresini, meet all the riders (Marco is fun!), tour the pits, and have a whale of a time! £245, VERY FEW PLACES LEFT. Book...
Pole Position Club
Spend the weekend in THE 'Insider's' Hospitality - the Pole Position Club. Situated in Brooklands with a great view, catering, drinks, and special guest visits by Cal Crutchlow and Danny Webb - it also includes private PADDOCK and PIT tours in our cool golf cart! £695 for the weekend. More...
(add a Friday TEAM EXPERIENCE for just £150!)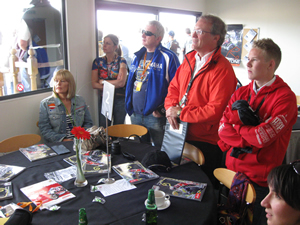 Danny Webb, Gordon Howell and customers watch the dramatic Moto2 race unfold from the Pole Position Club. Go, Scott, Go!
See more pics & fun on our Silverstone Gallery!