23/10 Malaysian Grand Prix
The Decider.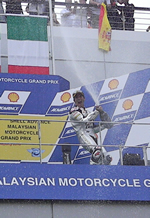 More tournaments are decided at Sepang than just about any other MotoGP event! We expect the same this year!
This has become one of our top 3 events - last year it was second only to Brno! Come once and you will understand why this is such a magical MotoGP.
VIPs have paddock access. Our Deluxe hotel last year had 14 MotoGP riders there. Our KL hotel is in the heart of one of the most vibrant cities on earth. The circuit is breathtaking. Incredible holiday destination - brilliant value for money!

We have a PRIVATE VIP Village suite - and THIS is nearly SOLD OUT.
Best of all, you can still get reasonable flights from Europe! We are still seeing return fares from LONDON for about £356.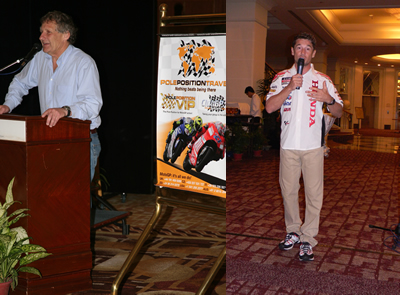 Our 5* Friday opening party in Sepang always featuresa 'mystery guest' speaker. In 2009 it was Jeremy Burgess; in 2010 it was Lucio Cecchinello. Who will it be in 2011? Book here.
Event Reports
Were you there? Wished you were? Check out our recent trip reports and whet your appetite!
| | |
| --- | --- |
| | Brno14/Aug: Our 10th year at Brno and probably our finest! Awesome opening party with too many guests to name; great track action; unforgettable Sunday Moravian evening, the Test! |
| | Indianapolis 28/Aug: We just love this event. Inevitably everyone who goes there says it is 'the best'. Special guest Kenny Noyes, open paddock for VIPs, Saturday night on the town with 30,000 bikes |
| | San Marino 4/Sep: Non stop. Thurs backstage at Dedikato night; Friday fab opening party then on to LCR/Playboy; Sunday night we are having trouble remembering; Monday Ducati/Tavullia... |
| | Nurburgring SBK 4/Sep: We get privileged access to this iconic track... |
2012 Bookings
We expect the provisional 2012 MotoGP calendar to be announced any day now (perhaps at Aragon); and the SBK calendar not far behind.
We will send a news blast out when we receive it; however you can pre-book any event NOW at 2011 prices!
Triple Fly Away Special
2.Oct: Motegi
16.Oct: Phillip Island
23.Oct: Sepang
We go to ALL MotoGP events and we have some very exciting programmes in the Far East!
2/10 Grand Prix of Japan
Support Japan!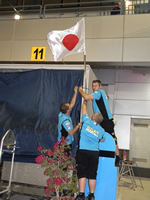 Yes, there IS a MotoGP here! Despite whinging by many of the riders, this event is going forward. It is completely safe! (read more on motomatters.com) Lorenzo & Yamaha have confirmed attendance...
Best of all for those that DO make it here, crowds are expeced to be quite small - so you will have tremendous access to paddock and riders!
ALL Pole Position Travel customers will be invited to a special PIT TOUR and rider meeting with team HONDA GRESINI!
Saturday (date/time tbc) we will honour the only team to have a Japanese MotoGP rider - Hiroshi Aoyama - and of course the inimitable Marco Simoncelli. All customers with paddock access will be invited to attend.
We offer a guided tour of the GP with 3+ nights B&B, dinner Friday, Dinner at track Saturday with Honda Museum tour and more. With tickets about €1000 per person. More...
16/10 Australian Grand Prix
The Pilgrimage to the Island!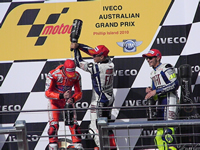 Beautiful circuit on the sublime island; the atmosphere is incredible. Join the track invasion for a classic Aussie experience!
We still have availability in our package - at the top resort in the region, just 1km off the Island (15 min to the track)
We have a fully guided 4 night 4* Dinner, bed & breakfast package. Opening party with special guest speaker(s) and optional evening with WAYNE GARDNER.
VIP Village probably SOLD OUT. We have a suite for 50 people in the VIP at Phillip Island - at the time of writing only about 2 places were left. Contact us ASAP if you want to experience the top VIP in the Island (includes PADDOCK access!)
We MAY still have a couple of TEAM EXPERIENCE packages available giving you full access to the team pits and paddock area. Contact us.
If you just need an APARTMENT give us a ring - we might have one or two spare.
MotoGP: www.polepositiontravel.com
WSB: sbk.polepositiontravel.com
VIP: www.polepositionvip.com
+44 191 406 6260 • +1 800 501 0302 • +353 1 657 1933
Kaprova 13 • Prague 1 • Czech Republic