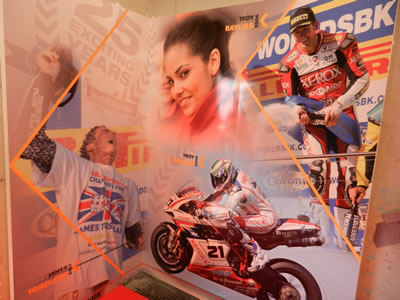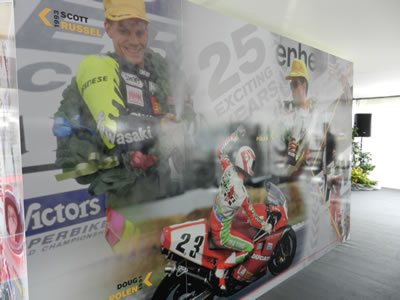 See our pics from Monza SBK 2011
Imola SBK Round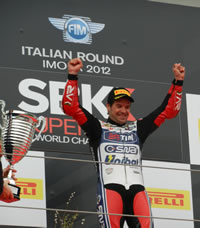 We had a blast at Imola as the first European round of the year and first opportunity to work with our new partner team Liberty (brill!) and see all the riders; etc.
We have compiled a report and picture gallery.
Update: 11/4: Guests for party now confirmed as: Bayliss, Corser, Chili, Falappa, Fogarty, Merkel, Polen, Roche, Slight, Toseland, Biaggi, Xaus, Checa and others!
Meet the SBK Legends! Join us at Monza WorldSBK and join the private 25th Anniversary party!
Monza World Superbike • 4-6 May
Exclusive to Pole Position Travel - join Fogarty, Bayliss, Russell, and many others to celebrate 25 years.
We are just back from an exciting trip to the Imola SBK round (see our pics and report). While there we were invited to bring a VERY FEW of our customers to this gala celebration, normally open ONLY to top teams, riders, sponsors and SBK management. We will be the only 'tourists' there!
We have combined with our partner team Effenbert Liberty and InFront to create the 'Platinum' package for the Monza SBK round to include opportunities for GRID ACCESS, PIT LANE, and of course top VIP.
Stop reading this newsletter, and click here to read more about this once-in-a-lifetime package!
We of course offer all our 'ordinary' (merely great...) packages, VIP and Team Experieneces. See all
Flights and travel
Fly to Milan. If you land at Linate, about 20 minutes from the circuit, we will pick you up FOC; but Malpensa is not an expensive transfer.
Milan is one of the cheapest destinations in Europe for flights. Some we are seeing right now, return fares:
Leeds - Milan: €32/£27 !!
Glasgow (Prestwick) - Milan: €50/£42
London (Gatwick) - Milan: €80/£67
and MANY origins in Europe (€35 return from Oslo!)
MotoGP: www.polepositiontravel.com
WSB: sbk.polepositiontravel.com
VIP: www.polepositionvip.com
Isle of Man • MotoGP Tests • Texas Boot Camp• More
+44 191 406 6260 +1 800 501 0302 +61 3 9999 6809
Kaprova 5 • Prague 1 • Czech Republic
...and if you wished you were there, be sure to follow us on Facebook to catch pics and other snippets!
Thanks for reading and hope to see you at an MotoGP event in 2012!!
-- The Pole Position Travel Team