EVERYBODY goes to Mugello! (see photos from 2012)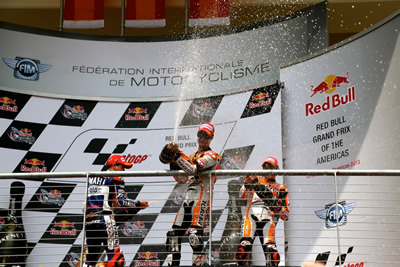 We thought Texas was pretty awesome... See photos from the event including our hugely fun opening party with Kevin Schwantz! Catching the first spray of champagne from both Texas MotoGP and Marc Marquez was a real treat!
(photo Kevin Ellner)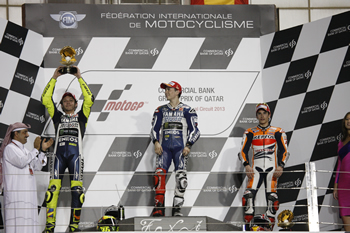 Hey! Looks who back!! Qatar is always "cool", watching The Doctor pick off his targets with clinical precision was really hot! (Well, apart from passing Cal :-) See more photos from Qatar and come see him up close in Mugello or elsewhere!
(photo Cormac Ryan Meenan)
In 2013 we are supporting 7 riders in MotoGP and WorldSBK with a significant 6-figure committment. Help us help them and the sport by joining us INSIDE THE PADDOCK at a MotoGP or SBK event. More ...
Announcing the new Paddock Club
Spend the MotoGP weekend as a team guest. Now only £499/€599
Thanks to our support of Moto3 riders Danny Webb (England) and Brad Binder (South Africa), we can make a unique offer for European rounds of MotoGP. You will have access all weekend to the paddock, lunch and all day access to the team hospitality, rider intros, garage tours and plenty of opportunities to spot your favourite pilots up close!
It all starts in Mugello 31/May
Mugello is always a pivotal event. The atmosphere is always thermonuclear, and with the Italian's favourite son standing a reasonable chance of a podium or (dare we say it?) a WIN here, the event is going berserk!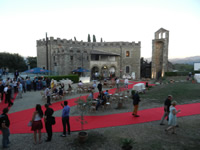 We kick off the weekend with a stupendous opening party at a ruined castle, with LCR Honda, Bikes, Bradls and Bunnies (and lots of Beer!) and it just keeps getting better right up to the boggling track invasion!
Book Mugello here. And don't miss the Paddock Club!
Cal Rocks!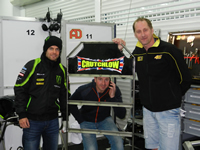 Brad and Danny are doing pretty well, but we are stupified by the performance of our sponsored MotoGP rider Cal Crutchlow!
We have just a FEW places left this year for anyone who wants to be a private guest of Cal in the paddock. Full team hospitality, private garage tour, and a chance to congratulate Cal in person! €1295/£1095pp. More on this...
Only in Catalunya, Silverstone, Brno and Valencia.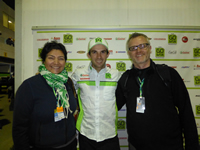 And for all other events (and even these!) join our partner team Go&Fun Honda Gresini for an awesome weekend in the paddock and pits; and an opportunity to visit the track! (Service road). (Pictured is Bryan Staring in garage with some of our Australian customers in Qatar).
See all our "ClubGP" products for great opportunties!
Featured Events
World Superbike Monza (10-12 May) Wow! 3 podiums in 2 races! Didn't our partners KAWASAKI do well in Assen!! It's not too late to book the flagship SBK event of the year! Spent the weekend INSIDE the Kawasaki garage and hospitality for just €395; cheaper still if you join us for the full tour with accommodation (led by PPT CEO Gordon Howell!) Get ready to taste Tom's champagne as he sprays it directly at us from the podium!! More...




Isle of Man TT 1-7 June: LAST PLACES! The best motorsports event on the planet. We are the acknowledged top VIP agency going there. (Of 30 total VIP Platinum places on Sr race day, our customers take 20!)

Join us Sr Race Day for the best hospitality in motorsports, including GRID ACCESS and a CLOSED CIRCUIT LAP! Awesome. Last couple of tickets, £1200pp.

More info, booking, and some awesome photos/videos...
PS: Why not combine this with the incredible Mugello MotoGP the week before or beautiful Catalunya MotoGP the week after? We can sort out all, including the 'in betweens'

Catalunya MotoGP 14-16 June: Not only the first "Cal Crutchlow" experience of the year, but this will be Danny Webb's 100th Grand Prix! Join us in the Paddock Club for a special celebration - and the Sunday night drinks are on us! Super opening dinner with Honda Gresini chief mechanic Antonio Jimenez. And Barcelona - what a star! We are in the heart of it, a short ramble from La Rambla. More...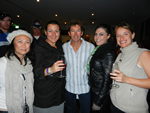 Contact our team to discuss your personal requirements for the perfect moto racing tour!

See all our specialist tours and galleries here. Were you there? Check out photos from 2012 MotoGP, World SBK and Isle of Man TT. (some events TBC)
MotoGP: www.polepositiontravel.com
WSB: sbk.polepositiontravel.com
VIP: www.polepositionvip.com
+44 191 406 6260 • +1 800 501 0302
HQ: Kaprova 5 • Prague 1 • Czech Republic
Also in Perth, Australia +61 3 8376 7755