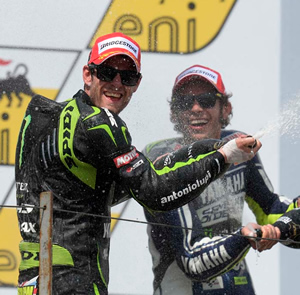 Can we see a return of Cal to the podium please? (Sachsenring 2013)
Two ways you can join us:
1/ Join us ALL WEEKEND as our guest in the PADDOCK! Hospitality, full paddock access, garage tours, rider meetings, more+++. You will be a guest of the POLE POSITION CLUB, costing £488/€599; but for just £35/€43 extra you can join the Saturday night dinner!! (book here)
- OR -
2/ Just join us Saturday night. We will meet you, give you a paddock pass and you will enjoy the evening! £199/€244 or discounted €50 if you book a full tour package with us (book here)
+44 191 406 6260
The evening programme:*
14.June.2014, Catalunya
17:30 Meet Pole Positon guide. (paddock passes loaned to those without)
18:00 Welcome to guests, welcome drinks (wine/beer/soft drinks), welcome packs
Paddock & Garage tours
19:30 Rider meetings with photo and signature opportunities. Cal Crutchlow and other sponsored PPT riders (Brad Binder, Jakub Kornfeil, Gino Rea, Sam Lowes**)
20:15 Buffet dinner
After dinner you are free to wander. Many riders and teams will be about...
c. 22:30 Closing, collect borrowed passes) package customers depart for hotels