Just announced: Isle of Man TT 1-day golden opportunity:

Sr Race Day 10/Jun/16 Platinum VIP with closed course lap, access all areas and FREE hotel room Fri night. Huge discount at £1199pp owing to cancelation. More info...
Imola SBK : 1 May 16
Join the SBK start GRID!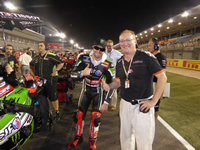 We now offer the very limited PLATINUM Kawasaki Experience which in addition to the great benefits, adds a GRID pass for one of the SBK races!
We are offering this at Imola for the first time, so have deeply discounted this - full Team Experience with grid pass at €775pp. You can book this at other events as well.
Also check out our tour movie from Imola: ppt.gp/imola13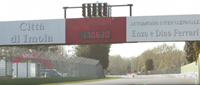 SBK VIP Pit Lounge
The best of the best.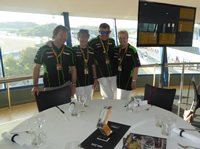 Jerez VIP with stunning views and deluxe service & bar (below)
The Kawasaki hospitality is excellent, but for the true conniseur, the top hospitality at SBK is the VIP Pit Lounge.
Top notch catering, hostesses, private grandstand viewing, pit walks and more; this is where you come to impress.
But best of all, you can combine with full Kawasaki Team experience for a small extra cost to enjoy the best of both worlds!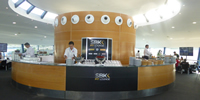 Jerez SBK 14-16 Oct
Top round of the year.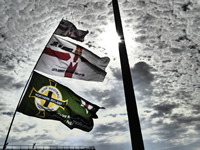 Jonathan Rea took the championship
Our top rounds of the year are Donington, Laguna Seca and - perhaps the best of all - Jerez. Jonathan won here in 2015, Tom in 2013; and we predict Jon here again in 2016! If you have been in Jerez during the manic MotoGP, be prepared to be very pleasantly surprised!
We have a superb package at a top Jerez 4* hotel, 3 nights B&B, transfers, welcome reception, and of course our guides for a perfect weekend! €760/£600pp including Kawasaki experience.
Avalon Biddle #21
Beating the boys...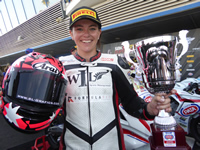 Avalon shows off her championship trophy in 2015

We are proud sponsors of the first ever women's Jr Cup World Champion, Avalon Biddle from New Zealand.
She is successfully defending her title, taking a stunning 11th overall in Assen today!
Meet her at any European round featuring the SBK Jr Cup, especially Donington.