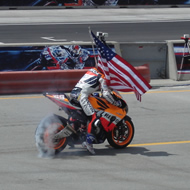 Nicky at Laguna - can he do it again in 2007?
Dear motoGP enthusiast --
Pole Position travel invites you to join us for the most exciting sport on the planet!
As if you need any further reason to book: until 31.12.06 we are offering a 5% reduction on package prices. Just book online at www.polepositiontravel.com and be sure to enter the promotion code of "XMAS46"
We have tickets and packages for ALL 2007 motoGP events. Remember - nothing beats being there! And we aren't going to miss a minute!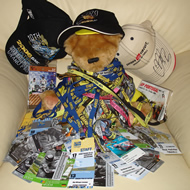 Our mascot Paddockton Bear has been around almost as much as Vale!
Packages, Tickets and Bears, oh my!
Our packages mean you simply show up at the destination and we look after you from there. Our flexible packaging means you can book any tickets with any package, and we have a great range for all budgets. Packages include B&B accommodation, track transfers, our guides, programmes, merchandise and we always throw an opening party and other special events.
We can also sell just tickets for those of you who prefer to 'DIY'. Even if you just buy tickets, you have the comfort of knowing that we will be be on hand, and you can still come to our parties!
You can also book now, and we will hold until January for payment. No obligation.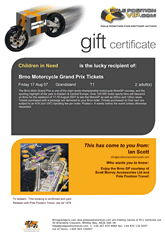 Gift Certificates
Stuck for that last-minute Xmas idea? Don't have a lot of wrapping paper left?
How about a 'Hacienda Weekend' at the Jerez GP; 'Turkish Delight' at Istanbul; 'Days of Wine and Rossi' at Mugello; a 'Gaudi Grand Prix' at Catalunya, a Brno Beer-and-Bikes weekend, or that dream holiday forntnight taking in Malaysia and Australia?
Book any ticket or package with us, and we can send you a groovy gift certificate suitable for printing and putting under the tree for some very lucky moto fan! Just let us know the recipient's name and a short message (and your booking reference)
And with the 5% offer, and NOTHING to pay until January, a bit of gift to yourself as well! Happy Christmas!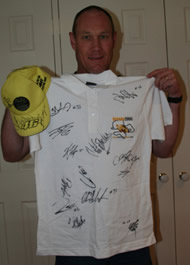 One lucky (and tenacious!) customer did rather well at Sepang VIP, bagging Valentino Rossi, Marco Melandri, Sete Gibernau, Casey Stoner, Chris Vermeulen, Loris Capirossi, John Hopkins, Colin Edwards, James Ellison, Makoto Tamada, Kenny Roberts Jr, Nicky Hayden and Danny Pedrisa on the shirt. The cap got Vale, his best mate Uccio, Jeremy Burgess, and Gary Coleman.
MotoGP VIP
Only a very few agencies are officially authorised by Dorna Sports to sell VIP Village. We are perhaps the leader amongst these.
For the top experience of the sport, as remarked by one of our customers, "once you've been VIP there is no going back". With pit lane walks, paddock tours, service road tours on many events, luxury catering and open bar, refreshing a/c, great viewing and much more; the VIP experience is not to be missed. Any closer to the action and you'll need a pillion helmet!
We are delighted to offer VIP Village tickets for all the 2007 MotoGP events*. You can book online securely on www.polepositionVIP.com

For the full treatment, we have VIP/Deluxe offerings at all events - usually in the top hotels in the region, often those used by the teams and motoGP VIPs. We have a guide dedicated to our VIP customers, to help you get the best experience of the weekend.
We can organise special corporate branding on tables and other private group events. Can't be bothered sitting in 2 hours traffic? Come fly with us!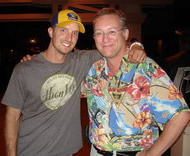 So Colin made his own way to Laguna Seca, but apart from riding for Yamaha, you can't be in better hands!
Peace on Earth and Peace of Mind
Many of you will know we have taken over from moto-events, and we able to re-purchase all the tickets and hotel rooms for Valencia 2006, saving a few holidays in the process!
Apart from our financial strength which enabled us to do this; we are acutely aware of the trust you are putting in us, and we wish to assure you that we take this quite seriously. We have a 'satisfaction guaranteed' policy. All payments are taken to an escrow account and we can't touch until after the event. We don't demand full payment in advance (25% deposit for package bookings) and we permit you to pay in several currencies (EUR, GBP, USD, CZK) if by bank transfer.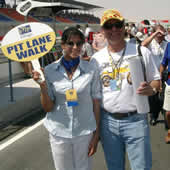 Pit Lane walks & lovely paddock girls all part of the (VIP) package!

You can book all products securely online with instant confirmation, or you can request a custom quotation. Phone +44 (0)207 870 9948 or during December you can phone the UK Xmas Hotline (Gordon): 07973 748591
See also what a few of our customers have said. We get a lot of repeat business!
Hope to see you in 2007! Its going to be a great season!
Pole Position Travel is a tradingname of EC1 Ventures ltd, 49-51 Brierdene Crescent, Whitley Bay, Newcastle NE26 4AD UK
+44 207 870 9948 / +44 7973 74851 help@polepositiontravel.com
Representatives in Czech Republic, USA, Italy, Australia.
Most operations carried out by subsidiary company Pole Position sro, Prague, Czech Republic