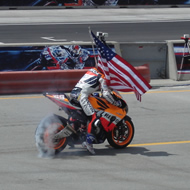 Nicky at Laguna - can he do it again in 2007?
Book securely on www.polepositiontravel.com
Phone: +44 (0)191 230 8008

Tickets
Inclusive Packages
VIP Village / Hospitality
Tailor-made tours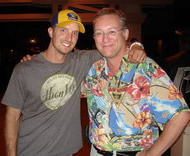 Colin Edwards and Gordon (MD)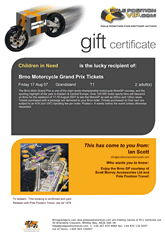 Makes a great gift!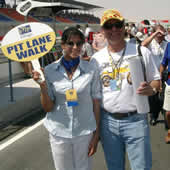 Pit Lane walks & lovely paddock girls all part of the (VIP) package!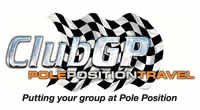 Coming with a group or club? We can help you plan and make it easy for your members to join.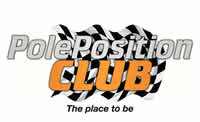 The Pole Position Club is the top experience of the event. Part of the official VIP Village, but we have our own private area with special speakers, gifts, games and a great atmosphere! Available 2007 in Donington, Mugello, Laguna Seca and Brno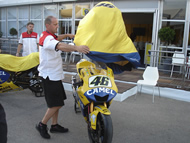 So 2006 and the 990cc bikes have been put to bed, but the 800's are coming!!!
The motoGP season is about to start!!
Pole Position Travel invites you to join us for the most exciting sport on the planet! This season will have it all: Rossi out for revenge, the new 800cc motoGP bikes, new teams, new riders, even a new event at San Marino.
For 2007 we're at all events, with local language guides and all the little things that help make the MotoGP weekend stress-free and fun! Many of our offerings are truly unique and exclusive for the 2007 season. Visit the website for full details or see below for highlights. Remember, with us you can always 'book and hold' for a few days until you get travel and other arrangements sorted. No obligation - Free Advice
QATAR 8-10 Mar : Now closed, sold out; however as it is our 4th year there, we can usually get a last minute ticket or hotel. PHONE: +420 603 154447
JEREZ 23-25 Mar: Last Chance! Event closing soon! Owing to cancellation we have some rooms and tickets available; X1/X0 grandstands at EUR 110; room only from EUR 190 per room per night; or a complete Jerez package; £477/€725 pp for 3 nights all-inclusive (fantastic 4* city centre hotel, Especial grandstand tickets, circuit transfers, Spanish-speaking guide and our opening party). A 5* room is also available at Jerez's top hotel.
SPECIAL JEREZ OFFER: For our newsletter subscribers only - book online with code 'JEREZ07' and enjoy 10% off any weekend package (almost sold out - so act fast). One very lucky package customer will also win a free upgrade to full VIP hospitality!
ISTANBUL 20-22 Apr: Super value hassle-free package £250/€370 for three nights, operning party, great tickets, transfers; a great destination, book a few extra nights at only £29 per person per night!
CHINA 4-7 May: We are there! £390/€575 package featuring our guide, transfers and super 4* hotel in Shanghai with seats on pit row!
Le MANS 18-21 May: Spend the weekend in the heart of Le mans; our package gets you off to a flying start with opening reception/dinner at top restaurant. Vive la France! 3 night fully inclusive package from only £375/€555
MUGELLO 1-3 Jun: The most popular event of the year. Sells out by April. £426/€630 for 3 nights Florence hotel with tickets, Italian-speaking guide, transfers; and a SUPER VIP package at Palazzo with option helicopter transfer! New! Featuring our 'Pole Position Club' VIP Hospitality area!
CATALUNYA 8-10 Jun: Rossi's favourite circuit and everyones favourite city of Barcelona. Our classic package is just £382/€565 for 3 nights city centre hotel, circuit transfers, excellent granstand seats, Spanish speaking guide and exclusive opening party. Chosse from our selection of hotels feature secure garage parking -- great riding destination! VIP NEARLY SOLD OUT.
DONINGTON 22-25 Jun: A really big event - join us for the launch of the new all-British WinonaWCM team in a glitzy evening party. One lucky customer will win a free Paddock Club membership (also launched at the event: spend a day with the team in the pits!) Top VIP experience at our Pole Position Club. 3*/3n package at just £299/€450
ASSEN 30 Jun - 2 Jul: A great event for groups, especially those travelling by bike. We have a super-value weekend package including accommodation, tickets, 3 course evening meals, experienced guide, circuit transfers and more! Special arrangements for Assen street party! £311/€460 for 3 nights. Costs even less for bookings of 3 people or more!
SACHSENRING 13-15 Jul: Enjoy true Saxon hospitality opening a great weekend at the local Ratskeller: our Classic package for 3 night with grandstands, transfers and German speaking guides just £325/€480
LAGUNA SECA 20-22 Jul: Could there be a more exciting event this year? We have THREE hospitality options, including a Pole Position Club putting you about 3m from the start grid (topmost photo taken from there). Only $1000 buys you 3 nights 3* with transfers, guide, Turn 5 hospitality chalet (with paddock pass), and our cool opening party! Limited availability.
BRNO 17-19 Aug: Our flagship event has everything... Our leading Pole Position Club is the best value VIP Village of the season. We kick off with opening track-side party in our BrnoGrandPrix.com Hospitality tent, have our charity do in the Brewery, Karting miniGP, and many package options from 2* to VIP. Our 3n/3* Special with the Pole Position Travel T1 grandstand is just £237/€350. Grest family options; and we can add a few days in Prague!
SAN MARINO 31 Aug - 2 Sep: You can only be at the first time once! We have pushed out the boats here with packages from 3* to delux; with opening party at our Villa, closing party Romagna-style, and non-stop action between. £410/€619 gets you 3 nights in Riccione, grandstand seats, Italian-speaking guide, transfers and lots of fun!
ESTORIL 14-17 Sep: Another great family destination; low-stress Cascais gives you a 'sea and bikes' break; £324/€480 for 3*/3n with transfers, grandstands and Portugese-speaking guide; and all the sun you want!
MOTEGI 21-23 Sep: Another exotic and always memorable event, having some local 'friends' wil be invaluable. Our 3 night package with the usual grandstands runs £500; but this is one we would urge you to go VIP (total VIP package £960)
PHILLIP ISLAND 12-14 Oct : We have an entire hotel on the Island for an unforgettable experience of this unique GP. £516/€765 for 4 nights, opening Aussie BBQ party (with special guests!), great seats, transfers, native guides... Or stay in Melbourne (3n from €500) and we can coach or FLY you in!
SEPANG 19-21 Oct : The best VIP experience of the tournament! Tied with Brno for the best value of the year! £287/€425 3n luxury 4* package with all the usuals!
VALENCIA 2-5 Nov : Will it come down to the wire again? This is always a huge party and sells out months in advance! Our 'classic' 3* hotel / 3 night package from £287/€425 with grandstands. We also have a superb 4* Villa and impeccable beach resort for that end of season celebration. As always, circuit transfers, excellent grandstand seats, spanish speaking guides on hand through-out!