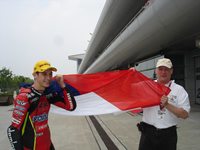 CHINA: Most of our team comes from the Czech Republic, so when our local hero Lukas Pesek won the 125cc in Shanghai (the first time a Czech has won a Grand Prix since the 1950s) we were over the moon! Stoner made it 3 of 4, getting into the front right from the start and never leaving, hitting 333kph on the main straight! The unsung hero John Hopkins makes his first podium behind Rossi. Apres-race we hit some top spots in Shanghai where we bump into Jorge Lorenzo and a few others celebrating his 250 win.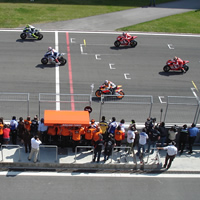 ISTANBUL: Rossi, Edwards, Pedrosa, Stoner and Capirossi caught at the start of the motoGP. Stoner takes his 3rd as Rossi fades with his tyres, and Pedrosa takes himself and Edwards out of the action, and one of our favourites Elias takes a great second. Ride of the race however goes to Alex Barros, taking his Pramac Ducati to a stunning 4th. Off track we had a fantastic time with an opening party going past midnight and Sunday at traditional Turkish grill.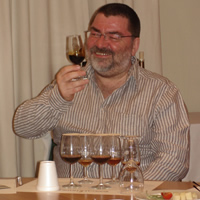 JEREZ: Rossi takes it in a rather uneventful GP, for us the main action was off track as we launched our limited edition motoGP 2006 Review, authored and signed by Julian Ryder, above sampling the delights at our opening sherry tasting party!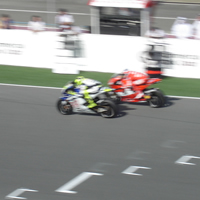 QATAR: Ok, we are amateur photographers, but professionals at getting close to the real action! This is Stoner in act of overtaking Rossi on the main straight. We have exclusively brought our VIP customers to this vantage point to see (and hear!) the 800s for the first time ever. And does that Duc move!! Moving a bit slower, before the race we bash some sand dunes who will not soon forget our names!
Book securely on www.polepositiontravel.com
Phone: +44 (0)191 230 8008

Tickets
Inclusive Packages
VIP Village / Hospitality
Tailor-made tours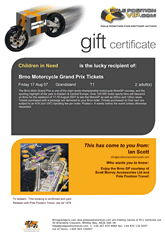 Makes a great gift!
The motoGP season is in full Vrrooom!
So. Perhaps not the walk-over we expected from Rossi! A great year for Ducati fans! We stood at the main grandstand at Qatar and saw Stoner waltz past Rossi in what looks like the preview of the season to come. Can Yamaha make up an astonishing 7kph difference to put Rossi back on track? Is Hayden a one-hit wonder? And can the action on the 125cc and 250cc classes get any more exciting?
Join us to see for yourself. Remember, a motoGP weekend is like 8 weekends in real life: it may look fine on TV, but nothing beats being there!

To book see speciality site www.italian.gp or phone. See programme

Mugello Madness! All Tribunes 25% off!

Normally an atmosphere so thick it makes George Bush look like a genius, this year the Italians will be beaming so much energy at Rossi we will probably end up on the moon! You want to be there!

We have a few rooms left in our inclusive packages and we are selling the remainder of our ticket stock at an astonishing 25% UNDER current list price - this is LESS than pre-sales prices, and our 2-day tickets are CHEAPER than the 1 day circuit prices.
For 2007 we're at all events, with local language guides and all the little things that help make the MotoGP weekend stress-free and fun! Many of our offerings are truly unique and exclusive for the 2007 season. Visit the website for full details or see below for highlights. Remember, with us you can always 'book and hold' for a few days until you get travel and other arrangements sorted. No obligation - Free Advice
Le MANS 18-21 May: A bit late, but if you want to make this, we can probably sort you out with tickets and accommodation. We have a large VIP crowd and a great opening party planned! Call +44 (0)191 406 6260
MUGELLO 1-3 Jun: See above. A few rooms left in our very cost-effective Classic package; just 2 rooms in our super value Superior in a Florentine Villa, and just one room left in the awesome 5* converted Pallazo. Yes, packages also benefit from the 25% reduced ticket prices.
CATALUNYA 8-10 Jun: Rossi's favourite circuit and everyone's favourite city of Barcelona. Our classic package is just £382/€565 for 3 nights city centre hotel, circuit transfers, excellent granstand seats, English & Spanish speaking guide and exclusive opening party. Just 2 rooms left in the classic package (garage parking), and ONE in our superlative Deluxe package in a leading 5* hotel. VIP SOLD OUT.
DONINGTON 22-25 Jun: A really big event - join us for the launch of the new all-British WinonaWCM team in a glitzy evening party. One lucky customer will win a free Paddock Club membership (also launched at the event: spend a day with the team in the pits!) Just a couple of rooms left in our 4* hotel within walking distance of the track!
ASSEN 30 Jun - 2 Jul: A great event for groups, especially those travelling by bike. We have a super-value weekend package including accommodation, tickets, 3 course evening meals, experienced guide, circuit transfers and more! Special arrangements for Assen street party! £311/€460 for 3 nights. Costs even less for bookings of 3 people or more!
SACHSENRING 13-15 Jul: Enjoy true Saxon hospitality opening a great weekend at the local Ratskeller: our Classic package for 3 night with grandstands, transfers and German speaking guides just £325/€480
LAGUNA SECA 20-22 Jul: Could there be a more exciting event this year? We have THREE hospitality options, including a Pole Position Club putting you about 3m from the start grid. Only $999 buys you 3 nights 3* with transfers, guide, Turn 5 hospitality chalet (with paddock pass). SPECIAL NEWS: Our opening party will be awesome: featuring Steve Parrish and a USA counterpart as lead speakers, beer tasting from Sierra Nevada, Road Racer X sponsorship, and surprise book launch (you *really* want to be there!)
BRNO 17-19 Aug: Our flagship event has everything... Our leading Pole Position Club is the best value VIP Village of the season. We kick off with opening track-side party in our BrnoGrandPrix.com Hospitality tent; which is also a great value place to view the race (half the price of VIP). Super CORPORATE OFFER - get private branded tables with full personal service (in English and Czech) at Friday party, weekend hospitality tent, and Sat charity.gp in VIP area! We also have our Charity do in the Brewery, Karting miniGP, and many package options from 2* to VIP. We sponsor the event! See the Pole Position Travel T1 grandstand! Great family options; and we can add a few days in Prague! VIP Nearly sold out
SAN MARINO 31 Aug - 2 Sep: You can only be at the first time once! We have pushed out the boats here with packages from 3* to deluxe; with opening party at our Villa, closing party Romagna-style, and non-stop action between.
ESTORIL 14-17 Sep: Another great family destination; low-stress Cascais gives you a 'sea and bikes' break. This a GREAT and surprising circuit, and is selling fast. We have a lovely 3* package, but our Delux 5* package is in the most charming hotel of the season!
MOTEGI 21-23 Sep: Another exotic and always memorable event, having some local 'friends' wil be invaluable. Our 3 night package with the usual grandstands runs £500; but this is one we would urge you to go VIP (total VIP package £960)
PHILLIP ISLAND 12-14 Oct : We have an entire hotel on the Island for an unforgettable experience of this unique GP. £516/€765 for 4 nights, opening Aussie BBQ party (with special guests!), great seats, transfers, native guides... Or stay in Melbourne (3n from €500) and we can coach or FLY you in!
SEPANG 19-21 Oct : The best VIP experience of the tournament! Tied with Brno for the best value of the year! £287/€425 3n luxury 5* package with all the usuals! Ask about extending your stay at a classic Malaysian resort, and think about catching BOTH Phillip Island and Sepang!
VALENCIA 2-5 Nov : Will it come down to the wire again? This is always a huge party and sells out months in advance! Our 'classic' 3* hotel / 3 night package from £287/€425 with grandstands. We also have a superb 4* Villa and impeccable beach resort for that end of season celebration. As always, circuit transfers, excellent grandstand seats, spanish speaking guides on hand through-out!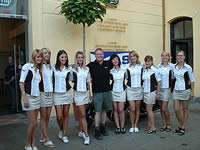 The Pole Position umbrella girls (most of whom are also reps!) I love this job...
You can book all products securely online with instant confirmation, or you can phone our UK office 0191 230 8008.
See also what a few of our customers have said. We get a lot of repeat business!
We hope to see you in 2007! Its going to be a great season!
Pole Position Travel is a trading name of EC1 Ventures ltd
49-51 Brierdene Crescent, Whitley Bay, Newcastle NE26 4AD UK
t: +44 (0)191 230 8008 f: +44 (0)870 130 9207 help@polepositiontravel.com
Representatives in Czech Republic, USA, Italy, Australia.
Most operations carried out by subsidiary company Pole Position sro, Prague, Czech Republic