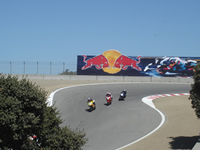 The Corkscrew. The most notorious chicane in MotoGP - you just need to see it in person to appreciate it!
Hyatt Regency : One of the top hotels in the region, favoured by many teams and VIPs, and site of our super opening party. We are offering our final rooms on room-only basis if you want to 'DIY'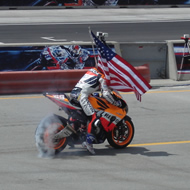 Nicky Hayden 2006 winner and world champ as photographed from 2006 Laguna Seca VIP Village terrace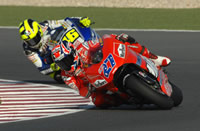 Will Rossi be forever playing catch up? (Photo Stan Perec)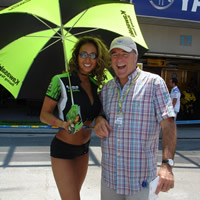 Ahh... California!
The motoGP season is already half gone!
Does anyone believe this is a Stoner walk-over? The last four races have seen Rossi and Stoner with exactly the same points - and finally Nicky gets a podium! We are predicting a Rossi win on the tortuous Sachsenring, so Laguna Seca - a track neither rider favours - is going to be a big one!
Laguna Seca is our second-biggest event (only topped by Brno - next newsletter!) You can still make this awesome event.
IF YOU NEED A HOTEL ROOM AND/OR HOSPITALITY TICKET, WE HAVE IT

Steve Parrish : BBC motoGP commentator and general wise guy will address our Opening Party

Free to package customers, $75 to all others. To book see speciality site www.lagunaseca.gp or phone.

THE Laguna Seca Opening Party

Fri 20.Jul: Knuckles Sports Bar; Hyatt Monterey

We are proud to host THE opening party of the event. Sponsored by Road Racer X magazine, this is going to really kick off the weekend in style. You do NOT have to be one of our customers to attend (all package customers attend free). Here's the highlights:

Addresses by Steve Parrish (BBC) and Greg White (US SPEED Channel)
Launch of Hayden Family biography by author Chris Jonnum, editor of Road Racer X
Beer tasting by Sierra Nevada brewmaster
BBQ dinner, beer and wine
Welcome pack with various goodies
Music, dancing and good times!
Here's what we have on offer to make this the motoGP weekend to remember:
Opening party (above)
Saturday night private VIP party on the terrace of Bubba Gumps in the heart of the Cannery Row mayhem
Private VIP Village suite right on pit row with paddock tours and pit walks, guest speaker, contests and more... (nearly sold out)
Our Pole Position Club private hospitality chalet on Turn 11 with grandstand seats in the tribune
The Turn 5 hospitality tent offering a welcome oasis with paddock passes, CCTV and a great view
Hotel rooms on room-only rates at the lovely 4* Hyatt Regency Monterey and the secluded 3* Hidden Valley Inn in Carmel Valley
Full packages serviced by 10 staff on hand to look after you all weekend!
You can book Tickets, Hotels, Party on their own or as part of our all-inclusive packages.
Be Warned: All products are nearly sold out!
BOOK ONLINE: www.lagunaseca.gp
PHONE: (UK) +44 191 406 6260
PHONE: (USA) +1 541 255 2377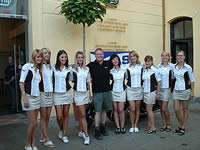 The Pole Position umbrella girls (many of whom are also reps!) I love this job...
You can book all products securely online with instant confirmation, or you can phone our UK office 0191 230 8008.
See also what a few of our customers have said. We get a lot of repeat business!
We hope to see you in 2007! Its going to be a great season!
Pole Position Travel is a trading name of EC1 Ventures ltd
49-51 Brierdene Crescent, Whitley Bay, Newcastle NE26 4AD UK
t: +44 (0)191 230 8008 f: +44 (0)870 130 9207 help@polepositiontravel.com
Representatives in Czech Republic, USA, Italy, Australia.
Most operations carried out by subsidiary company Pole Position sro, Prague, Czech Republic