So you think the MotoGP is all wrapped up? Think again!
We were of course in Japan to see Casey achieve his historic championship, and Capirossi earn a much-deserved first victory of the season. We had a fantastic weekend at some of the best VIP facilities of the year and a circuit that we didn't want to leave!
With the MotoGP title wrapped up, the last three races will mean the pressure is off and you will see teams trying out their gear for 2008, and of course looking to earn more championship points. While Casey can't beat Mick Doohan's record of 12 wins in 1997, Casey is still in line to equal Rossi's 11 victories in 2005.
And the ever-exciting 125cc class is featuring a classic teammate duel between Talmasci and Faubel that is bound to go down to the last race!
We still have some availability in all remaining 3 events; and we are accepting provisional bookings for 2008.
We have a hotel on the island, and parties planned throughout the weekend. Just a few rooms left, if you want to see the Aussies go completely nuts over Casey's return, you really want to be here!
One of our favourite destinations, this is the ONLY event at which VIP Village still remains. And you get full paddock access with the VIP! A great one to go to if you want to meet riders.
Consider a Phillip Island - Sepang double-header!
Tickets for this sold so fast, that we now offer tickets ONLY as part of our packages. This event is never less than thrilling, both on- and off-track; and we will keep you entertained throughout the weekend!
We have a great 3 night package with tickets, transfers, opening party and our guides, from EUR 644 / GBP 444; book here before it is sold out.
2008 SEASON
We will now accept provisional bookings for 2008. Some highlights of the early season:
Qatar (9/Mar): First & most unique event. First ever night race. If you ever wondered what Qatar motogp is like, sign up now - this is already selling like the proverbial hotcakes!
Jerez (30/Mar): Biggest event. For VIPs we have the top hotel in Jerez, and we have a fantastic value special package based in an Andalucian village with optional helicopter transfers. Will sell out.
Estoril (20/Apr): Best holiday destination. The most exciting race of 2006. The most exciting race of 2007. Our favourite destination on the calendar in its own right, and one of the best 5* hotels, and also 3 and 4* options for a great early beach holiday. The most under-rated event in Europe.
China (4/May): Best paddock access. For VIPs, the best access of the year, with an open paddock and no crowds. We have a package all sewn up here, we take care of you from the moment you arrive at the airport!
Le Mans (18/May): Best rider destination. We have taken over a Chateau not far from the track for the true French experience. We also have city options. We sponsor a French rider so you can be assured of very special treatment here. Ride your bike to this one!
Mugello (1/Jun): Top VIP event. Our Italian staff ensure you get the most of the most electric event of the year. And this is the top VIP experience of the year, with one of our Royal Packages - staying at a 16th century Palazzo, helicoptering in and out of the track, with private trackside VIP suite and stands & pit and paddock access. VERY limited availability on this!
(we have cool things to tell you about all events, but in interest of space skipping a few...)
Brno (17/Aug): Most fun & best value. Still our flagship, we expect >1000 package customers (up from 900 in 2007) with parties galore, hospitality pavilion, full VIP suite. In 2008 we will be chartering a plane from the UK to really make for a 'complete' package!
Indianapolis (14/Sep): An historic occasion. Only one chance to be at the first! Our USA team is going wild over this one, we have secured the top hotel as well as a brilliant 4*/Superior package plus tickets, hospitality, VIP, parties, and more... Our most requested event at the moment.
Download our provisional 2008 calendar here.
Make a provisional booking here.
We are in the process of a total revamp of our web site. Online booking for 2008 products available soon. See www.polepositiontravel.com
We will be at the British Motorcycle Show at the NEC in Birmingham 23/11 - 2/12. Come visit us! More about the show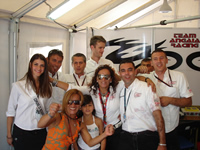 Our sponsored team Angaia with rookie 250 French rider Jules Cluzell takes best-ever result at San Marino with 5 points. We have been seeing Jules progress steadily where now he is consistenly finishing in points. This is the "real" edge of grand prix racing... Bon chance Jules!
In 2008 we will be adding more teams to our stable, in motogp and 125cc classes. Our ClubGP members will be able to meet the teams, riders and visit the pits and paddock. Preliminary information here...