The team here at Pole Position wishes everyone a great 2008! We are looking forward to the 2008 season with more excitement and curiosity than we can ever recall!
Can anyone catch Stoner? How will Rossi's adventure with Bridgestone pan out? Can he even beat his new team mate Lorenzo? Can you imagine Loris NOT on a Ducati? (a painting of him covers one of the exterior walls of the Ducati factory!) Nicky as a traditional late bloomer is destined to come on strong, and Honda is looking a LOT better. And Dani enters it all on a high from Valencia and his upset of Rossi into second. Of course our own James has his much-deserved break into the big league; with the incredibly experienced and personable American Colin at his side this has to be an interesting team! After a year of testing the new bikes and tyres, all the manufacturers are looking great as well. The season can be anyone's! Now add an opener that is a night race, super competitive 250cc and 125cc classes (Bradley looking like a real contender, and we are proud to sponsor young Danny Webb who is quickly following his tracks!); and even a new and improved Rookies Cup (which we also support), and it all adds up to a MotoGP season that will leave us breathless!
We ONLY do MotoGP, and are one of the largest agencies operating exclusively in this sport. We want to share our passion as well as our extensive contacts and experience in the sport with you. Whether you want top VIP or a cheap and very cheerful MotoGP weekend party, we have been working very hard to put together a range of packages unparalleled in the industry.
We are also totally flexible - this is your big weekend, and we are here to make it hassle-free. You want top tickets and a cheap bed? No problem. Children? We love them! (we have family rooms at most events) Want to stay a few extra days, and have a private tour of Barcelona? Just ask. Need to charter a helicopter for your board meeting at the Brno GP? Just tell us how many people.
Please visit our new (and still developing!) web site www.polepositiontravel.com for details of all our events and other practical information. See also our photo galleries - if you came with us, you might recognise a few scenes! To whet your appetite, here is our preview of the 2008 MotoGP events.

Qatar (9/Mar): First & most unique event. First ever night race. If you ever wondered what Qatar motogp is like, this is the year to do it! We have very top VIP, mid range, and for the first time, we are offering an economical Classic package. Also a shoppers paradise!
Jerez (30/Mar): Biggest MotoGP event. For VIPs we have the top hotel in Jerez, and we have a fantastic value package based in an Andalucian village including dinner, bed, breakfast, free evening happy hours, transfers. Optional helicopter transfers! Super opening party at 15th century Hacienda, with some special guests from the paddock. Will sell out.
Estoril (20/Apr): Best holiday destination. The most exciting race of 2006. The most exciting race of 2007. Our favourite destination on the calendar in its own right, and one of the best 5* hotels, and also 3 and 4* options for a great early beach holiday. The most under-rated event in Europe.
China (4/May): Best paddock access. For VIPs, the best access of the year, with an open paddock and no crowds. We have a package all sewn up here, we take care of you from the moment you arrive at the airport!
Le Mans (18/May): Best rider destination. We have taken over a Chateau not far from the track for the true French experience, and great value all-inclusive package. We also have city options. Ride your bike to this one!
Mugello (1/Jun): Top VIP event, craziest atmosphere. Our Italian staff ensure you get the most of the most electric event of the year. And this is the top VIP experience of the season, with our Royal Package - staying at a 16th century Palazzo, helicoptering in and out of the track, with private trackside VIP suite and stands & pit and paddock access. VERY limited availability on this! At the other end of the scale, our Classic package is actually cheaper than last year and we have some special guests lined up for our opening party!
Catalunya (8/Jun): Best city. If you have never been to Barcelona, what a great excuse! We have three options, including the top hotel in the city; and our 3* hotel is better than most 4*s we have seen! If you've done Barcelona, then we have a beachside package which is about our best value for money. TWO hospitality options, in VIP Village and our own Pole Position Club suite. Double this up with Mugello & we can take care of you the entire way.
Donington (22/Jun): On the doorstep. We have side-stepped the traffic thing, and now have 3 hotels all within 2 miles of the circuit! Our package at the sublime 5* Priest House means Donington finally gets the VIP treatment it deserves; and we have a super package at the hotel inhabited by many of the top teams! Two VIP options, and a great party will make this a weekend to remember. (if you were at the rock concert in 2007, the people backstage and in front of the barriers with Toseland and co: us)
Assen (28/Jun): Party weekend. Very good value DB&B package based in lovely private chalets sleeping 6 - perfect for groups and bikers. Our Thursday opening party is followed by Friday Assen street party, and in case you didn't get enough, we have rented the 'beer trolley' for a very specialised tour of Groningen Saturday. And yes, we go to the track!
Sachsenring (13/Jul): All action. If you've never been, this is a circuit you need to experience. Great viewing, and you get a lot of action, as they run German Superbikes, Supersides & Rookies Cup. Opening party at Ratskeller had fascinating speaker last year.
Laguna Seca (20/Jul): Most sought after. We recently asked about 2000 people to tell us their 'dream' motogp. The top choice was Laguna Seca! As our second largest event, we are huge here, with our own USA office and team; 3 hospitality options, and packages in 3/4/5* hotels. Our opening party in 2007 featured BBC's Steve Parrish, SPEED Channel's Greg White and Road RacerX editor Chris Jonnum; and THAT party was topped by our Saturday night 'beach party' in the heart of Cannery Row. The track is the most awesome of MotoGP. This year we are featuring fly-rides and some day trip guided bike tours. Go. Go. Go.
Brno (17/Aug): Most fun & best value. Our flagship, we have >1000 beds, a fleet of coaches with specially privileged access (we are also an event sponsor), brilliant hospitality pavilion, full VIP Village suite. Our opening party in 2007 had >400 people, two bands (and 2 pigs as well, but they didn't make it to the end!) and several riders. Then Saturday at our annual Charity.GP, while drinking the brewery dry, we raised over 7000 EUR for Riders for Health thanks to the assistance of a spellbinding Julian Ryder. We'll top it this year!
NOTE: Brno will the finale of the Rookies Cup. As supporters of the event, our customers will get a chance to meet many of the riders.
San Marino (31/Aug): Best family destination. We loved this one so much we are going all-out this year, with FIVE package options (only Brno has more) all based in the lovely resort towns on the coast. Great place for a few extra days, hotels all very child-friendly and tons to do in delightful atmosphere. In fact, we think so much of this one that we are offering a free 4th night if you book the Superior (4*) package.
Indianapolis (14/Sep): An historic occasion. Only one chance to be at the first! Our USA team is going wild over this one, we have secured the top hotel as well as a brilliant 4*/Superior package plus tickets, hospitality, private VIP suite, parties, and more... We beat the traffic with police escorts to circuit!
Motegi (28/Sep): Most exotic. We had an amazing amount of fun at this event - VIPs have free paddock access, and seeing my old CB750 four (it was 10 yrs old when I had it!) as a star museum piece in the Honda museum brought a tear to my eye... We have an all-inclusive, all-fun package here.
Phillip Island (5/Oct): Most beautiful circuit. Designed for bikes, fantastic atmosphere, loved by all. All motogp fans must make the pilgrimage here once! We have a very special all-inclusive package in a great hotel at the Island, just a few km from the circuit; and a private VIP suite. Big charity party planned with special guests. We supplied some of the grid girls from our staff in 2007! (Nicky Hayden, Mikko Kallio, Kurtis Roberts, Steve Bonsey)
Sepang (19/Oct): Best value long-haul. If you want to plan a holiday around a MotoGP, Malaysia is a great choice. Beautiful track, very inexpensive, fantastic VIP with Paddock passes available for checkout, hotels are great value; awesome night life. May be the last year since their contract expires in 2008; so go now!
Valencia (26/Oct): Always exciting. Even if the championship is decided, the natural ampitheatre gives great viewing not just of the track but the entire crowd, which means the atmosphere is always electric. The air is pregnant with rumours as everyone scrabbles in what is known as the 'deal making event'. Our second biggest European event, we again have packages of all sizes, VIP, and our Charity.GP in 2007 featured a number of riders and raised 8000 EUR for Downs Syndrome Ireland.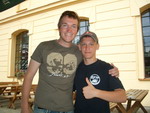 In 2008 we will be working with more teams and supporting young riders such as 125cc GP British pilot Danny Webb and Red Bull Rookies Cup competitors such as as our 2007 sponsoree American rider Kris Turner (pictured). Contact us if you are interested in meeting any of our teams in the pits/paddock; or if you may be interested in sponsorsing a rookie.
Download our 2008 calendar here.

Have a great 2008!
Gordon Howell, Managing Director.