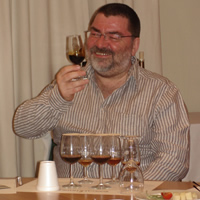 Julian Ryder samples the sherry at our opening party in Jerez 2007. He's back Friday this year!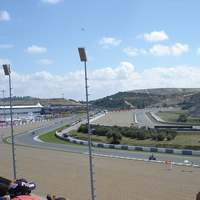 Part of the panoramic view from X1 grandstand. That's Rossi down there on his victory lap.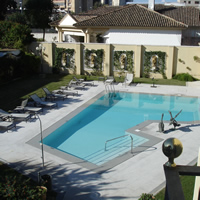 The sublime 5* Villa Jerez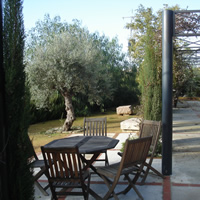 The peaceful Antigua Estacion, just before the happy hours crowd invades!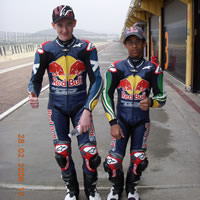 Watch the Rookies! The debut race of the Red Bull Rookies Cup season is at Jerez. Deane Brown from Scotland is one of the top prospects; and the only Nigerian rider, Alessio Capella, aka the Black Bullet, has shown great results in pre-season. We sponsor both riders.

Authorised VIP Village agency.
Travel partner for the Red Bull Rookies Cup
Sponsors of: Danny Webb (99), Team Matteoni (Italians Baldolini in 250cc and Lacalendola in 125cc), Rookies Allessio Capella (The 'Black Bullet' from Nigeria) and Deane Brown ('Deano', from Scotland)
Also sponsoring: The Czech Grand Prix in Brno, Riders for Health
See also what a few of our customers have said. We get a lot of repeat business!
Download our 2008 calendar here.
The wait is OVER! We were in the thick of the action at Qatar, and Jerez is going to be a mind-boggler. Read on...
JEREZ 2008 28-30 March
Opening party to feature Julian Ryder. It's not too late to join the fun!
If you are coming to Jerez with or without us, consider joining us Friday night for a great opening party at a 15th century Conquistadores Hacienda; where in addition to wine tasting, food and live music; we will hear Julian give us the inside track on the 2008 season, fresh from our first exposure to the teams in anger. We run a coach to the hacienda from Jerez. You can download our detailed programme from the web site; and book online here.
We still have a few packages and tickets left; and it is still feasible to get reasonable flights. Ryanair fly direct from Stanstead to Jerez, and there are many other ways to get there. See our travel hints on the site.
Our main Hacienda package is at the lovely Antigua Estacion which is full board with transfers, including the opening party, and happy hours with dinner Saturday and Sunday. We still have some choice tickets in X1 and Especial, or take the great value R9 (you can book any ticket with any package with us)
We still have one room in our Deluxe package at the exquisite 5* Villa Jerez, which also includes our vintage sherry tasting Sunday night (Julian pictured from last year - you can book this separately as well). We also have a couple of VIP Village tickets to go with this.
Book packages here. You can also just book tickets. Here for the entire event
QATAR 2008 7-9 mARCH
What a weekend! We had a great crowd to catch this historic MotoGP. The season opener was every bit an eye-opener as it was last year; and the fact that it was the first ever night race just made this a very cool place to be. We cannot recommend this event strongly enough -- plan on this for 2009.
The 125 race was nail-biting. We were gobsmacked that Brit Bradley Smith held his pole position, we were gutted when he lost his lead and all points during the race owing to a broken steering damper. We spoke to him after the race and he showed characteristic good humour. A podium and a win are in his near future! Of course the performance of our own Danny Webb was spectacular - for a rider on a privateer team having only scored points for the first time 4 races ago; to take 6th is amazing. Not to forget the third Brit Scott Redding who also turned in a stellar race taking 5th.
The 250cc had one of the most thrilling conclusions we have ever seen, with a tight 3-way battle right up to the last curves, after Matthia Pasini pulled one of the most amazing passes we have seen in GP. A well-deserved win from someone we are proud to call a friend.
The MotoGP battle proved what we all knew - Stoner is not going to give up his crown easily! However we are utterly delighted at the performance of Toseland, and indeed all the MotoGP rookies were right at the top, with Lorenzo taking second and a stunning performance from Andrea Dovizioso to pip Rossi for 4th.
The weekend was action-packed, after oening cocktails on Thursday, we had a desert dune-bashing and quad biking safari Friday; followed by our opening reception. Saturday had us in a Doha city tour (incredible shopping inthe Souks!) and relaxing Dhow cruise before we hit the action at the track. We really loved the night racing and the way it allows us to squeeze every drop of fun from the weekend! Full pictures to be up soon.
| | | |
| --- | --- | --- |
| | | |
| British 125cc rider Danny Webb takes incredible 6th place. His first ever point was at Motegi just 4 races ago! We are proud sponsors. | | The first ever night race was spectacular. Great viewing, lots of atmosphere (a change for Qatar!) and allowed for an action-packed weekend |
| | | |
| His 125cc team-mate Bradley Smith had some bad luck, but the incredibly fast Mattia Pasini pulled off a stupendous 250cc debut with a win and one of the best moves we have seen in GP. We have been saying for the past year that this is the next Rossi! (and a very nice chap!) | | Well, we couldn't let the bikers have all the fun! A day of dune-bashing and quad biking helped work up an appetite for more motor action! |
You can book all products securely online with instant confirmation, or you can phone our UK office 0191 406 6260.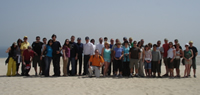 The intrepid desert safari crew in Qatar. Most survived. It's gonna be a great season, and we are going to have fun every day of it!
Have a great 2008!
Gordon Howell, Managing Director.
Pole Position Travel is a trading name of EC1 Ventures ltd
49-51 Brierdene Crescent, Whitley Bay, Newcastle NE26 4AD UK
t: +44 (0)191 406 6260 f: +44 (0)870 130 9207 help@polepositiontravel.com
Representatives in Czech Republic, USA, Italy, Australia.
Most operations carried out by subsidiary company Pole Position sro, Prague, Czech Republic