Gift Vouchers and Presentation Certificates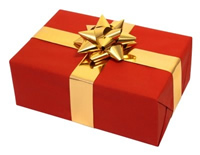 Want a great Christmas present idea? Give a loved one a trip (or just tickets) to a MotoGP! If you purchase any product online, you will be emailed a link to produce your own Gift Certificate! You can modify the special message, print and put in an envelope for a very special stocking stuffer!
Not sure where or when the lucky recipient wants to go? Just purchase a Gift Voucher in any denomination in Euros, Pounds, or Dollars from €50/£50/$50 up. Your voucher can be redeemed against any purchase. Click here to purchase.
OUR CHRISTMAS PRESENT TO YOU: As a valued customer, we will ADD 5% EXTRA FREE on top of any gift voucher purchased between now and 31/12/09. If you purchase a package we will take 5% off the price. Just use code 'XMS09' when booking.
GET ON BOARD WITH TEAM SAN CARLO HONDA GRESINI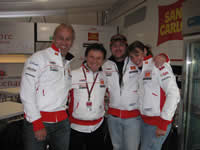 So looking for that totally unique and thrilling gift?!
We are delighted to announce a partnership with veteran MotoGP team San Carlo Honda Gresini. This year fielding two former world champions and some of the most exciting racers in MotoGP: Marco Melandri, hungry to re-establish his credentials as one of the world's top racers after a couple of years on difficult machinery; and Marco Simoncelli, our prediction for 'Rookie of the Year'.
Through our partnership, we are able to offer our customers EXCLUSIVE opportunity to be part of the MotoGP 'behind the scenes' action. Here's how: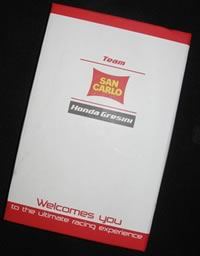 Team Experience packages. Join the team for a day or weekend, with full MotoGP Paddock access; private guided paddock tour; pit tours; use of hospitality unit for food, drinks, lunch, WiFi, CCTV; meet the riders; special team merchandise. An unforgettable experience! Available through our ClubGP programme, cost from about €800/£720.
Honda Gresini MotoNights™. For a "taste" of the MotoGP that you will savour for years to come; join the team for dinner on Saturday night in the MotoGP paddock! You will have full paddock access Saturday evening, get a rare behind-the-scenes feel of the laid-back cameraderie of the MotoGP circus, meet the Gresini (and very likely other) riders; tour the pit, and of course have a great dinner and drinks INSIDE the hospitality chalet. VERY LIMITED PLACES (obviously!). Held at all European rounds, and others on request. Introductory product offer of €395/£355/$582 until 31/1/10.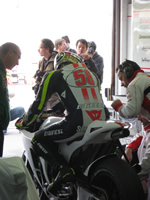 MotoGP Test Days. How would you like to get a privileged "sneak preview" of the season and year to come? Join us as a special VIP guest of Honda Gresini at one of the three post-race test sessions (Jerez, Brno, Valencia) for an incredible day at the track. You will be a team guest with access to the viewing area of the pit; run of the hospitality unit, where we have arranged a lunch with a special guest speaker to bring you the news before they become rumours; you will meet the riders; and of course our expert Pole Position guide is on hand to help you make sense of it all! The price for this amazing day, including transport from our package hotels, is just €295/£265/$435 until 31/1/10. (Click for more info on: Jerez, Brno, Valencia)
Team Happy Hours. Ever wanted to raise a pint with a MotoGP rider? Customers at Silverstone, San Marino (and Phillip Island and Laguna Seca TBC) will be invited to join the team for a small 'happy hour' inside the hospitality unit and paddock one evening (Thursday at Silverstone, Friday at San Marino). You'll have a chance to meet the riders for photos and autographs, see the paddock and get bragging rights for the rest of the weekend to your jealous friends... This is ONLY AVAILABLE to our package customers at these events (and is INCLUDED in the Deluxe packages).
How to book the Gresini packages: If you are interested in a Team Experience, you must contact us; these are very very limited. MotoNights™ and Test Days can be booked online on the 'Parties and Excursions' pages of the event in question.
More about Team San Carlo Honda Gresini...
Happy Holidays and looking forward to a thrilling 2010!
Gordon Howell, Founder & Managing Director.
Pole Position Travel is a trading name of Pole Position Travel SE; a European joint-stock company with seat in Czech Republic and subsidiary office in UK.
Kaprova 13, Prague 1, 110 00 Czech Republic.
t: +44 (0)191 406 6260 f: +44 (0)870 130 9207 help@polepositiontravel.com
Representatives in UK, USA, Italy, Australia, Russia, Greece.