MCN scotland SHOW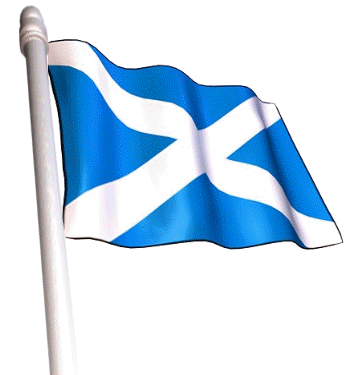 Come meet the team at the MCN Scottish Motorcycle show 20-21 March 2010 at the Royal Highalnd centre, Edinburgh. Stand H122 (near Honda).
We are offering a £100 voucher good for any package booking at at the show!
Kev Coghlan
See a genuine Moto2 bike in the flesh in Edinburgh
You almost wouldn't know it in the UK, but a British rider won both the 2009 Spanish CEV Supersport championship and the European Supersport! Scotland's own Kev Coghlan is one to watch! More on Kev...
We are delighted to support the efforts of Kev who will be competing again in the Spanish chamionship with Joe Darcy Racing; who have also collaborated to set up Moto Ecosse to get Kev into the Moto2 class. He has already secured a Moto2 wildcard at Silverstone, and if his performance is anything like 2009 you can expect to see him on the 2011 starting grid!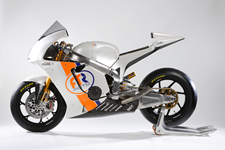 Kev is riding a new British-built Moto2 bike - the FTR Moto M210 (FTR Moto from Buckingham). This is the same spec bike Alex Debon will be riding in Moto2. For anyone interested, full specs are here. They also offer track days or even a chance to own one, more...
Kev and the bike will be on hand at our stand at the Scottish show. Come and say hi, and give him your support. Anyone looking for sponsorship opportunities for Kev (even just for his Silverstone wildcard!) can contact us in confidence or Kev directly.
Scotland invades England!
Silverstone MotoGP 2010
No, this isn't the Calcutta Cup! We have a very special deal for our Scottish customers who want to attend the inaugural Silverstone MotoGP! Come support Kev in Scotland's first GP appearance since Niall MacKenzie.
Join us to really savour this very special event at our unique Pole Position Club hospitality unit situated with a fantastic view of the track, full catering, hostesses, CCTV and much more, and you will also be invited to visit Kev INSIDE the pit and paddock during the weekend!
What a fantastic way both to experience the race and get a rare opportunity to see MotoGP form the inside!
And best of all -- we will take £54 off the price of the club! (Kev's number) Just tell us you are part of the 'Tartan Army' More...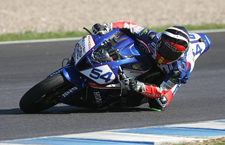 NEW KIDS ON THE BLOCK
Our team has expanded! Meet the newest members of our team, based full time in our Prague office!
Denis Smits - VIP and Corporate Manager. Denis is a Dutchman recently moved from South Africa. He has extensive experience in preparing hospitality packages for corporate and VIP clients; and sales in general. He has several bikes, incliding a vintage Lambretta!

Jordi Esteve - Operations Manager. Jordi is responsible for making sure the events happen and deals with all our suppliers. He is a Catalan from Barcelona, which needless to say helps with the many Spanish events! He is between bikes right now...
You will see these guys as well as all our staff at various events this year. We don't just sit behind our desks! If we sell you a MotoGP package, it is likely that the salesperson will themselves be at the event!
Eddie Laycock Trust
We were honoured to be amongst an astonishing 650 people who turned out in Dublin on 13/Feb to honour and support Ireland's greatest road racer - Eddie Laycock; who recently lost his leg to cancer. Ireland's top racers were on hand along with a "who's who" of Irish Moto racing! Well over €50,000 was raised for the trust, Way to go Ireland!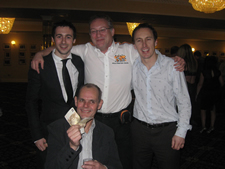 Eddie & Gordon with Eugene Laverty and Jeremy McWilliams

Skype: polepositiontravel
win a trip to a 2011 motogp!
DEADLINE 0400 GMT SATURDAY 27/FEB
We are operating a private league in the MCN Fantasy Road race, and offering a package for 2 to the motogp of choice in 2011, including a day in the paddock! Create a team with 2 riders in each of MotoGP, WSBK, and BSB and as your riders gain points, so do you...
You will still play for all the MCN prizes, but in addiiton, you will be eligible to win our top prize, plus some other cool stuff...
All you have to do is register in time (means FRIDAY for most of you!) on the MCN Fantasy league web site. You can register very quickly using the 'lucky dip'. It's all free to enter!
See our web page for more information & prizes.
Jerez MotoGP preview
Jerez is shaping up to be an incredible event!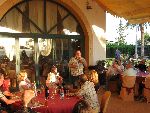 Winner of the coveted 'Best Event of 2009' award by IRTA, this is always a great weekend! This year will be even more exciting as the European premier of the long-awaited Moto2 class, and of course the first time we will see the bikes in action!
We have already sold more packages and tickets than 2009, and will easily outstrip any previous year here. Some highlights of our very packed weekend:
Friday opening party at 15th century Hacienda with special guest speaker Julian Ryder launching our special edition of the 2009 MotoGP Season Review
Saturday evening VIP dinner in the paddock with Team Gresini
Special all-inclusive package with dinner, bed, breakfast, free Happy Hours every night, transfers, merchandise, opening party - always a huge hit!
4* and 5* packages in top Jerez hotels. Our 5* Deluxe package sold out - we had to get more rooms! (You will understand why if you see the hotel!)
Sunday closing tapas and vintage sherry & brandy tasting
We have just added a new 'Platinum' package based in a 5* hotel adjacent to the track and the base of many of the top teams and riders. This incredible 'behind the scenes' package includes dinner in the paddock, pit tour, and of course some very interesting people hanging out at the bar...!
Monday VIP tour of the official MotoGP test as a team guest. Unprecedented access, open hospitality unit, pit access, guest speaker. What a GREAT excuse to hang around and catch the spring sunshine! VERY LIMITED
'Team Experience' packages making you a VIP guest of a motogp team for a day or weekend.

You can reserve a package online without obligation. We can alo help with all ground transfers (cheap flights still to Malaga, we will car pool people. See our web site for practical info)
If you are going on your own, be aware that Jerez ticket sales have gone through the roof! We have held back some choice tickets for our package customers: in X1, X0, C2 and A10 grandstands. More on tickets...
Check it all out here...

DANNY WEBB (99)
We are delighted to announce that our supported rider in the 125cc class, British rider Danny Webb (99) has landed a new ride with Spanish team Andalucia Cajasol. He will be on a factory Aprilia RSA; backed by a team of deeply experienced mechanics.
Danny does his first test on the new kit at their Valencia base on 1/Mar; and then will test further at the official Jerez test 6-8 March.
Pole Position Travel has been sponsoring Danny personally for 3 years, and we are fully confident that he will see his first podiums in 2010!
Danny and his team are also one of the options for our ClubGP Team Experiences, if you are interested in spending a day or weekend in the paddock as a special guest of Danny and Pole Position Travel, please contact us.
Guests of ours at Silverstone and Estoril will meet him as one of our featured speakers; and of course our customers will have the opportunity to cheer him on at all events. Like all riders, he is seeking further sponsorship; if you may be interested feel free to contact us in confidence.
TEAM EXPERIENCES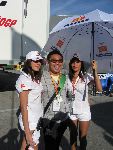 Our 'Team experience' programmes make you a special guest in the pits and paddock in either the MotoGP class with partner team San Carlo Honda Gresini, or 125c Danny Webb (Moto2 to be announced later)
We offer these independently of our packages - you do NOT need to come on a package with us to experience the inside of MotoGP (but of course we highly recommend it to get the maximum experience!)
A typical weekend in a MotoGP team experience includes:
Introduction to team and riders
Private tour of the MotoGP pit and paddock
Full access to MotoGP paddock and hospitality unit
Breakfast, lunch, snacks and unlimited drinks
Special team merchandise and souvenirs
And a VERY special dinner Saturday night in the paddock with the team
You also become a member of our elite 'ClubGP' loyalty programme, giving you first priority on limited availability products, a standing discount, and general VIP recognition.
As an example total cost for the weekend:
Silverstone 3 night 'Classic' 3* package (B&B, transfers, guides): €365/£320
Weekend MotoGP Hospitality* as above: €1600/£1370
Total: €1965/£1690
*this is with MotoGP team Gresini. We can also do Danny Webb, and uniquely for Silverstone, Kev Coghlan and Moto Ecosse.
Costs are similar across most European events, overseas events a little cheaper. You cannot book these online - availability is VERY limited.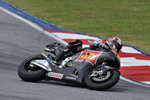 San Carlo Honda Gresini is the oldest 'privateer' team in the paddock. They run both MotoGP and Moto2 -- where their rider Tony Elias is currently the favourite to win the championship! Our customers have access to both teams. Marco Simoncelli is the favourite to take 'Rookie of the Year' in MotoGP; and his teammate Marco Melandri is one of the most experienced riders in the tournament. It will be a thrilling team.
Note to Italian customers: The launch of the 2010 Team Gresini takes place in Milan at 20:30 on 4/March. This will be broadcast LIVE on Italian TV (and we will be there of course!)
Coming soon...
March is the month we finalise most event planning and deals, especially our top 5 events. In addition to the Scottish show, we visit Barcelona to review plans for the Catalunya MotoGP; Italy to pay a visit to Mugello (and the Gresini launch in Milan); Brno, after which we will have even more exciting details of our flagship event; and Hungary to catch up on progress and our hotels. A second trip to Silverstone is also planned to check out the new track and facilities.
Finally our North American customers can expect a special announcement in our next newsletter... Stay tuned!
Looking forward to a thrilling 2010!
Gordon Howell, Founder & Managing Director.
Pole Position Travel is a trading name of Pole Position Travel SE; a European joint-stock company with seat in Czech Republic and subsidiary office in UK.
Kaprova 13, Prague 1, 110 00 Czech Republic.
t: +44 (0)191 406 6260 f: +44 (0)870 130 9207 help@polepositiontravel.com
Representatives in UK, USA, Italy, Australia, Russia, Greece.
Our web sites:
www.polepositiontravel.com - all MotoGP travel
www.polepositionvip.com - VIP and Corporate Hospitality
www.brnograndprix.com - um... The Brno GP!
www.qatar-grandprix.com
Check out our movie! (7 mins)