Our Silverstone Weekend
All products with online booking are here.
Download our provisional programme here.
See a full gallery of images here.
Thursday 17/6: Day of Champions
Grand day out in support of Riders for Health. Events, entertainment, charity auction. You can get a paddock pass for the morning. Our package customerswho are staying with us Thursday night can request an afternoon paddock pass (while supplies last)
Evening: Happy hours at the Banbury hotel. Special happy hours in the MotoGP paddock for Deluxe customers and pre-booked Classic package customers.
Friday 18/6: Practice day
Practice sessions at track in afternoon. Optional transfers for our package customers (complimentary for Deluxe)
Evening: British 'Young Guns" dinner. Many British riders and guest host. Included in all packages, other may book. Pre-booking essential; £60. More...
Saturday 19/6: Qualifying day
Practice and qualification sessions for all classes during the day. We take package customers to and from circuit.
Evening: Unique VIP dinner inside the MotoGP paddock. Very limited space, must pre-book. £300. More...
Sunday 20/6: Race day!
125cc, Moto2, and MotoGP races during the day. Special guests in our Pole Position Club. Transfers for our package custoemrs.
Evening: Fun 'winding down' dinner in local restaurant. open to all, expected to be about £45.
Packages

Accommodation, breakfast, professional guides, transfers, Friday opening party (dinner & drinks), merchandise and more. Can add airport collection, extra nights, and essentially any service to make the weekend totally hassle-free!
Prices are per person based on two sharing; you add whichever ticket you like for your total cost. See also our website.
Deluxe

3 nts*

5* hotel walking distance to track. Home to most top teams. Also includes Thursday happy hours in MotoGP paddock, commemorative polo shirt, programme, and special VIP pack.

*SPECIAL: Free 4th night!

£650 pp

£115 pp per night extra nights.

£90 pn single suppl

Classic

2 nts

Highly rated 3* hotel in Banbury; 25 min drive to circuit (expected c. 45 min Sunday morning)

Can take triples to save £££

Sunday night dinner party nearby.

£275 pp

£45 pppn extra nt

£50 pn single suppl
Tickets

We are an official agent for Silverstone MotoGP tickets and can offer virtually all ticket classes. All tickets come with handy lanyard and our trackmap and programme.
All ticket purchasers also have access to our on-site staff in the event of problems.
Tickets are delivered by registered post (£5) or courier (£25), or you can collect for free in Silverstone. If you purchase on-line you save a £17 order handling fee.
All tickets may be purchased online here.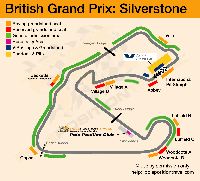 PLATINUM
Arena B 1d
,£115
$167
Book
Arena B 3d
,£150
$217
Book
Copse 1d
,£115
$167
Book
Copse 3d
,£150
$217
Book
Luffield 1d
,£115
$167
Book
Luffield 3d
,£150
$217
Book
Pits Straight 1d
,£115
$167
Book
Pits Straight 3d
,£150
$217
Book
Woodcote 1d
,£115
$167
Book
Woodcote 3d
,£150
$217
Book
GOLD
Abbey 1d
,£95
$138
Book
Abbey 3d
,£110
$159
Book
Arena A 1d SOLD OUT
,£95
$138
Book
Arena A 3d
,£110
$159
Book
Becketts 1d
,£95
$138
Book
Becketts 3d
,£110
$159
Book
Club 1d
,£95
$138
Book
Club 3d
,£110
$159
Book
Pits uncovered 1d
,£95
$138
Book
Pits uncovered 3d
,£110
$159
Book
Vale 1d
,£95
$138
Book
Vale 3d
,£110
$159
Book
SILVER
Farm 1d
,£75
$109
Book
Farm 3d
,£90
$130
Book
GENERAL ADMISSION
Standing 1d
,£60
$87
Book
Standing 3d
,£65
$94
Book
n.b. We offer only 1 day (Sunday) or 3 day (Fri/SatSun) tickets. 2 day tickets cost MORE than a 3 day ticket. If you want Friday or Saturday only, you need to contact us.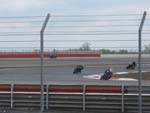 The view from the ground level of the new Arena B Platinum stand (under construction) Actual view from seats will see the entire loop and a clear view across to Becketts.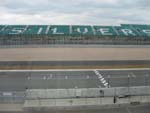 View from the timekeeper's booth across the main straight to the Pits Straights stand.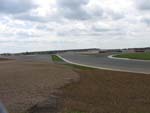 The Becketts stand is not yet built but this is taken from the front of the construction, the stand will be quite elevated and about this close to the track; so will be great viewing.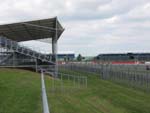 View from VIP VIllage terrace looking towards VIP Village private stand on inside of first corner Copse (Copse G/S in background).
Hospitality
VIP VILLAGE

Top hospitality at Silverstone. Private pavilion just past Copse corner, terrace alongside track. Private gandstand on inside of corner, CCTV. Top catering (breakfast, lunch, snacks), open bar, hostesses. Pit lane walks, paddock tours and opporitunities for service road tours and other benefits.

Our own Pole Position Travel guide inside the VIP Village to help with anything.

£890 pp 2 days

£695 pp Sunday


The last VIP crowd at Donington

Pole Position Club

Our private suite in Brooklands, panoramic elevated views (including large screen TV), CCTV, breakfast, lunch, beer/wine & soft drinks. Private paddock and pit tour; our expert guides. Guest appearances on Saturday and Sunday

£650 pp 2 days

£495 pp Sunday


Part of the panoramic view from the Brooklands suite. This is the entrance to the Luffield loop (Luffield grandstand in background.


The Brooklands facility along the Wellington straight, our terrace is 3rd level, about 3 from left.


The control centre. you can't go there during the GP, but it still looks cool...

Skype: polepositiontravel
Check out our movie! (7 mins)
Last week we paid a day-long visit to Silverstone and the surroundings. This is our report on what to expect and our product offerings. This is by no means definitive, but we try to cover major questions in order to help people make this unique event. Obviously we want to sell our products, but most information is useful whether you come with us or on your own.
Circuit - Viewing - Hospitality - Paddock access - Activities - Accommodation - Camping - Transport & parking - The future
Silverstone : The New British MotoGP
18-20 JUNE 2010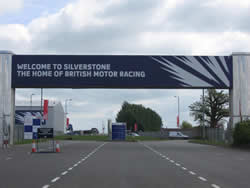 We have heard a lot of negative comment about Silverstone, and comparisons between Donington and Silverstone. We are not here to bash Donington, but from our point of view as experienced event organisers, we are delighted with what we have seen of the Silverstone track, facilities, management, infrastructure and more; and we are expecting a fantastic weekend of racing.
The Silverstone circuit
Many of the complaints about Silverstone cite 'boring track' or 'not a good viewers circuit'. Bear in mind the new track layout has just been completed, so comments before now have been speculative. The new circuit was just completed a couple of weeks ago. On the circuit when we were there there were 80+ bikers doing a track day. Apart from obviously enjoying the day out, the comments we heard were 'challenging', 'exciting', 'fast' and similar positive comments. Pretty much the same things were said by the Suzuki MotoGP riders a few days earlier. Check out the video of Bautista and Capirossi riding the track.
Yes, the track is pretty flat, and I personally prefer hilly circuits, but being flat does not equate to 'boring'. No one calls the iconic, and sidewalk-flat Assen TT circuit boring!
Viewing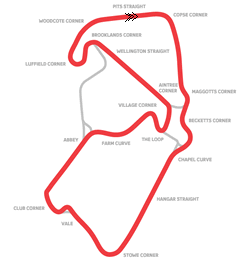 For the spectators' perspective, we went into about 6 of the grandstands to get a feel for the views. In general, I would comment that the track views will be at least as good as most circuits we have experienced (and that includes ALL current MotoGP tracks!) The circuit is putting large TV screens in view of all the major grandstands (the exact TV map will be published soon); and ALSO in front of hospitality areas (more on hospitality below)
Here are some specific comments on viewing locations if you are planning to attend. (n.b. grandstand seat costs are rated by grade: Platinum = c. £150/€170 for 3 days; Gold = c. £110/€130, Silver = £90/€105, Standing = £65/€76. For more info & booking see sidebar or our website.)
Platinum: Our top choice is the new Arena stand. You are really close to the action and can see the bikes enter this challenging series of corners (hard right, hard left, sweeping left into the penultimate Wellington straight.) What's more, with your elevated position, you can easily see the Becketts chicane, and the entrance to Hangar straight. The stand hasn't been built yet, we got a good view just standing on a table!
Of course the Pit Straight stand gives you the view into the pits, the start grid and the podium; and will always be the place of choice if you want to hear the awesome roar of the start of the motogp (and indeed the Moto2!) The other platinum stand we would recommend is the Woodcote on the last corner. This has been so popular that they have added a second stand. not only is the a view directly onto the 'deciding' corner; but you can see right down the straight to the finish line.
Gold: For the lower priced Gold category, you get a good, panoramic view at the Vale chicane; but for our money the top spot is Becketts. This is a very fast chicane, and viewers will be able to see over to the new Arena corners.
Silver has only the one grandstand - Farm; but since you have a reserved seat with a TV view, we recommend this over the general admission. (All grandstands have access to standing areas)
Note: ticket and hospitality sales are going very well. Both with us and the circuit. In fact, MotoGP pre-sales have sold faster than F1! Several categories are already sold out (notably Arena Platinum Sunday).
Hospitality both with us and the circuit are nearly sold out; there is availability on the VIP Village.
Hospitality
Since this is the first Silverstone MotoGP in the modern era, we would recommend that you consider doing it in style. Three options you can consider:
The top hospitality of Silverstone is the VIP Village. It is in a new hospitality facility being built just around the corner from the Copse first corner. Standing on the rail the customers will be about 3 arm-lengths from the straight; and a private covered grandstand has a great view of the exit to Copse. This includes pit walks on Satuday and Sunday, paddock tours, and of course superb catering and open bar. We put our own expert guide in the Village as well. Cost for this is £695 for one day, £890 for 2 days (incl VAT) More...
We booked a private suite (our Pole Position Club) in the Brooklands facility, and while we saw it in July, now with the full track and stands in place, we were very happily surprised at the great view it commands. One sees the entire Wellington straight and the battleground of the Luffield chicane that is likely to be one of the top action spots on the track. Since we do private paddock and pit tours, the access to the paddock from this suite is critical. One nice touch is that there is stepped standing positions on the balcony, and a view to a large screen TV; which means you can sit outdoors (in our case with a panoramic 2nd floor view), with a cocktail in hand, and get a clear view of a lot of track and a large TV screen! We will have a couple of guests up during the weekend including our sponsored rider Danny Webb, and Scottish wildcard (and reigning Spanish supersport champion) Kev Coghlan. Perhaps others... Our price for this is £495 (INCLUDING VAT) for Sunday, £700 for the weekend. More...
The circuit also offers hospitality in Brooklands, it is essentially the same apart from no paddock tours, professional guides, guests, and this is on a lower level. It is also sold out - you need to call. They also offer a hospitality unit at the Porsche Experience along the Hangar Straight. This is £395+VAT for the race day and you buy directly from the circuit. More from the circuit...
Paddock & Pit access
Since we get this question a lot, here is a breakdown of opportunities to get 'inside' the sport and see the paddock and possibly your favourite riders. In increasing order of expense:
Thursday: Riders for Health. You should attend the famous 'Day of Champions' on Thursday; and also they offer paddock passes in the morning and afternoon. The afternoon passes are sold out (we have a few which are reserved for our customers in our package on Thursday night. if you book a package with us, please request this pass), morning passes may still be available. Book directly with Riders. More...
Thursday evening: Happy hours with MotoGP team Gresini. We have a very special 'meet and greet' with beer/wine at the Gresini hospitality unit; which gets you full paddock access in the evening. This is included with our deluxe package custumers, other package customers can attend for £50 (this includes transport). Non-package VIP or Hospitality customers may book if space is available. Call. More...
Saturday & Sunday paddock tours: Are included with both VIP Village and our Pole Position Club. You don't get a huge amount of time (about 40 minutes) but you will see about everything and depending on your timing almost sure to spot some riders. VIP Village also include a Pit Lane Walk.
Saturday night: We offer our very exclusive 'MotoNight' in the MotoGP paddock. See below.
Saturday day: We have two places remaining in each of our 'Team Experience' packages: this gets you full paddock access as a guest of the team, pit visits, use of hospitality unit and rider meetings, as well as our private expert guide. You need to call us if you are interested. Cost is €800 for Moto2/125cc team; €1000 for MotoGP. Includes dinner in the respective paddock.
Sunday day: Exactly the same as Saturday team experience. Cost is the same. (Saturday you get more opportunity to see the teams/riders as it is less hectic, Sunday does not include dinner but you keep the paddock pass as a souvenir!)
All weekend: This is the total experience: you get in all weekend (including Thursday) and get top VIP treatment from the team - you will practically be working for them at the end! Also includes team merchandise and the Saturday dinner. Cost is €1275 for Moto2/125cc; €1600 for MotoGP.
Pit lane walk: While all the 'team experiences' will get you a pit visit; if you want to walk down the pit lane itself during the race weekend, the only ticket which gets you that is the VIP Village (see hospitality).
Sponsorship: If you want to get into the paddock for Silverstone and perhaps later in the year, consider a personal sponsorship of a rider or Rookie. Most deals will include several passes; as well as branding and bragging rights... Being sponsors ourselves of several riders and teams, we would be happy to give some impartial (and a bit of partial!) advice. Be prepared to spend about £5000; perhaps a bit less for a Rookie (and there are some damn good Brits in the Rookies Cup!)
Event Activities
The final event programme (apart from the racing) had not been set by the time of our visit, but several entertainments are being considered, including an evening concert and stunt shows around the circuit.
Stay tuned - the circuit has so many facilities we expect to be spoiled for choice!
In addtion, we run our own special events:
Friday night opening party. This takes place at 19:30 at the Whittlebury Hall, very close to the circuit. Over the past several years we have gathered most of the young British riders to meet the guests. This year will be the same, with riders from Moto2, 125, wildcards and rookies. The exact lineup will be announced around Mugello; and the host of the evening is Julian Ryder. The evening features a sumptuous meal, drinks, some videos; and of course our star guests. It is open to anyone (it is included with all our packages); cost is £60. Pre-booking is essential. More...
Saturday MotoNight in the Paddock. We hold a very exclusive event INSIDE the MotoGP paddock. You will be a VIP guest of San Carlo Honda Gresini, meeting the riders, visiting the pits, dinner with the team, and best of all, full run of the paddock at a more 'relaxed' time! Expert guide on hend to help make introductions, and we take you back (to our hotels). We can obviously only take a few people for this, price is £300. More...
Accommodation
There is very little hotel accommodation remaining in the vicinity. You may consider Milton Keynes, Buckingham or Banbury.
We offer a 3* package in Banbury and a 5* package at the hotel adjacent to the track (Whittlebury Hall) See sidebar or our website for more info...
If you want to stay 5 nights, we still have a few rooms in our 3* hotel which is a 5 minute drive from the track (this is the closest hotel). The hotel is reserved almost exclusively for teams (which is why we have rooms) however not all our rooms have been taken up. Rooms are £145 per night for a doudle/twin. This is not online, you need to phone/email us.
Camping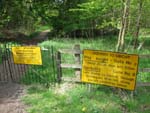 Well the organisers wanted to promiise us a dry weekend, but as impressed as we are with Silverstone management, we all agreed this was wishful thinking. But if you don't mind the risk of a bit of mud...
There are a number of camping options around the area; but two we checked out:
Silverstone: The circuit operates a campsite behind the Vale/Club grandstands; an easy walk. Will have toilets, showers, and some electrical hookups (extra cost). This is likely to be the 'noisy' campsite... Cost is £25pp for holders of weekend tickets only. If you have purchased tickets through us, we can add camping to your booking, (if not sold out) contact us.
Whittlebury Park: We walked the campgrounds at nearby Whittlebury park - 10-20 minute walk to your grandstand depending on where you sit (Becketts is closest, then Copse and of course general admission). Apart from 'normal' camping facilities, they offer 'luxury' camping in their own units, complete with minibars and TV! The Whittlebury facility is in a nicer setting, we recommend the Lakeside site, but all will be fine. More...
For more camping options, see the Silverstone web site.
Transport & Parking
There have been a lot of moans about getting in and out of the circuit. True, there will be bad traffic; as for all MotoGP events. We have been assured it will be nothing like the nightmare of Donington though!
The police close the motorway on race day, so transport from hotels in the vicinity along the surface streets should be fine. If you are coming in on the As in all events, we recommend a very early arrival to avoid the traffic headache.
People in our packages of course do not need to worry about these issues - our coaches pull right into the circuit, and we think we will miss the worst of the traffic (bear with us, it is the first year and no one is certain!)
For a benchmark, our 3* hotel in Banbury is ordinarily a 25 minute drive. The hotel management reports that during the F1, on the race day morning it usually takes 45-50 minutes. We expect the MotoGP to be less traffic than F1.

Parking is free and there are parking places surrounding the circuit. Remember if you have VIP Village or Pole Position Club tickets, you can get privileged parking inside the circuit - please request a parking pass from us.
There are no really nearby train stations -- we suggest you go to Northampton, Milton Keynes or Banbury. Our main 3* hotel is in Banbury, if you are staying with us, you of course take our shuttle to and from the track, If you are staying in Banbury in a different hotel, you are welcome to contact us a week or two before the event to see if we have any space on the coach.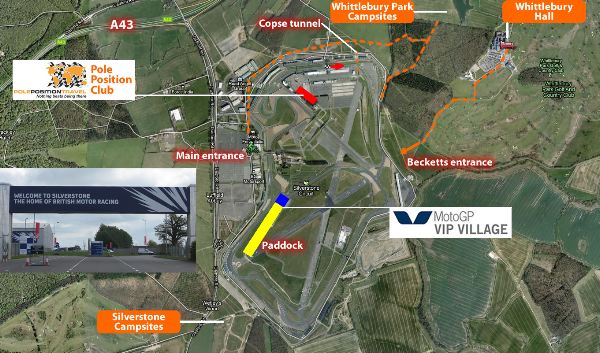 What else to do?
So you don't want to spend 4 days at the Silverstone circuit? Well for non-motorheads, this is a pretty cool tourist destination in its own right.
This is Shakespeare country and it seems there is a castle or stately home in every village. This is also a major golf region, several areas for Karting or off-road driving/riding; and various water sports. If you are staying at our 5* hotel, you are in one of the top spas in the UK!

Silverstone Future...
We (and by this I mean ourselves and about 50% of our customer base) tend to take a rather myopic if not downright self-critical view of the British MotoGP.
Over the past five years that we have been providing services to Donington, we have always remarked on the lack of international customers.
Most of the European events, and ourselves included, attract a wide variety of nationalities. In Jerez, we had customers from USA, UK, Spain, Netherlands, Australia, Italy, Czech Republic, Austria and others. In contrast, the British Grand Prix has always seemed to be a British-only event - in 2008 for example we had 50 VIPs, 48 were British.
Silverstone's goal (as is ours) is to make this a truly international GP. We think it has all the makings of achieving this goal: a falling pound makes it a reasonably priced destination; it is easy (and cheap) to get to; has facilities to match any in Europe; has a management accustomed to dealing with large events (think F1); and will certainly provide top racing!
They are very aware of the fact that the event in June will be a 'pilot' for future MotoGPs; but they clearly have their sights set for the minimum of 5 years that they will operate the event. They are looking at other GPs for inspiration, and of course they have considerable experience with F1 and WSBK.
So expect a few glitches, but cut them some slack: we all hope this will become an event to rival Jerez, Brno, Sachsenring, Catalunya and Valencia in size and popularity!
The Bottom Line
Our recommendation to anyone considering this event: Go!
Even it is raining (hint go 'Platinum' for a covered stand), even if just for the Sunday. We want a lot of people there, as this will put more international attention on the event, and in turn help all concerned to improve and take up recommendations from we, the attendees.
We are more than happy to take the hassle out of your planning and purchasing, but even if you do it on your own; this is an event you do not want to miss! Remember, you only get one chance to attend an inaugural event!
See our full programme here, or contact us for booking.
Looking forward to a great 2010 British MotoGP!
Gordon Howell, Founder & Managing Director.
Pole Position Travel is a trading name of Pole Position Travel SE; a European joint-stock company with seat in Czech Republic and subsidiary office in UK.
Kaprova 13, Prague 1, 110 00 Czech Republic.
t: (UK) +44 191 406 6260 (US) +1 800 501 0302 e: help@polepositiontravel.com
Representatives in UK, USA, Italy, Australia, Russia, Greece.