The Challenge 125 Tour
We are delighted to sponsor MotoVentures in their second mad adventure to Valencia MotoGP! Those of you with us last year will no doubt remember "Viva Valencia" when Danny, Steve Keys and BBC presenter Matt Roberts rode to Valencia on pink R1s and joined our Friday charity party.
This year, Danny and Steve will be joined by the challenge winner George Nickless will be riding Yamaha YBR125s from UK to Valencia - on a total budget of £125 each!! This is all in benefit of Riders for Health.
George was selected from dozens of entries of people who did not previously have a motorcycle license: he completed his license and several grueling tests!
Meet George and the team Friday night at Valencia! The party is included with all package bookings, or you can book separately here (€55).
More about MotoVentures (follow on facebook)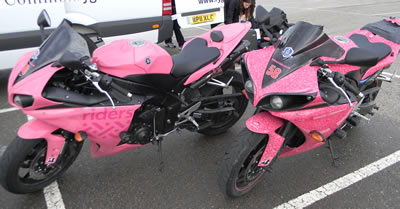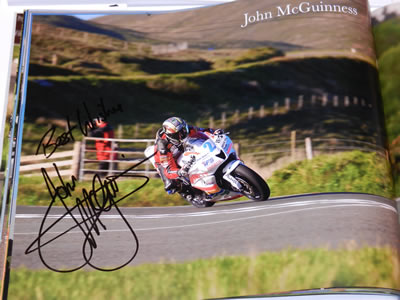 On auction: limited edition TT book signed by John McGuiness (amongst others)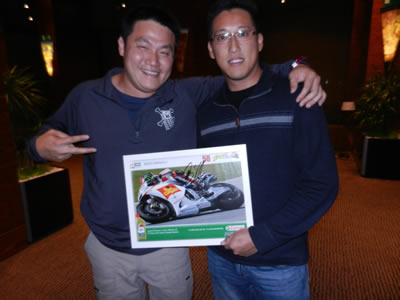 We have just one more signed Marco Simoncelli poster (this from 2011)
So, how do I join the party?!
Incidental to all these shenanigans :-) there is some Grand Prix racing! There is a very good chance that the championship will come down to the final race - in which case you can bet tickets, hotels, etc will be very hard to find (some of you will remember 2006!)
In addition to the Irish Invasion above, we offer 3 outstanding packages:
Classic - in good 3* hotel, 3 nights B&B, guide, merchandise, transfers, opening charity party.

From €395pp

Superior - same as classic but in adjacent 4* hotel & our cool shirts...

From €495pp

Deluxe - everything top drawer, in top hotel in Valencia (and we have tried them all!)

From €995p
All packages are nearly SOLD OUT so act soon! More...
We also offer all tickets, including a very few TEAM EXPERIENCES where you will enjoy the weekend INSIDE the paddock with a Moto3 or MotoGP team! Also the lovely VIP Village with private corner 1 grandstand! You can book tickets with your Package, or independently here.
Finally - try to stay on for Tuesday 13/11 for the first official MotoGP TEST. We will be VIP guests of Team Honda Gresini, INSIDE the paddock and pits! €295pp, VERY FEW places left. (more)
The Party!!!
Finally whether you join the Friday party as one of our package customers, or you come independently, COME!
The party takes place Friday 9/Nov 19:30 at the Novotel (our Superior package hotel). Food, drink, and many special guests including Danny, various Grand Prix riders, journalists, and of course the top MotoGP fans in the world (!) will be there.
We will be auctioning many unique star items, a few of which (subject to change):
Signed Marco Simoncelli poster
Signed Valentino Rossi helmet
Isle of Man TT 2012 shirt signed by many TT riders (and other TT-related items)
Ltd Edition Valentino Rossi hoodie
Dinner for 2 with MotoGP Team
Weekend as team guest of LCR Honda
A day in the paddock as private guest of Cal Crutchlow (personal garage tour!)
and much, much more! In 2011 we raised over €10,000!! Please come along, suport charity and have a brilliant evening! Tickets are €55, book here.
Oh - BTW - the entire thing is being filmed by the BBC! Wave to your jealous friends!