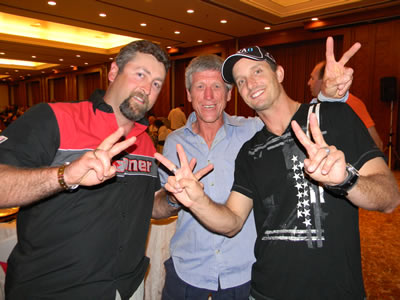 Colin was our "mystery" speaker Friday at Sepang. See him on YouTube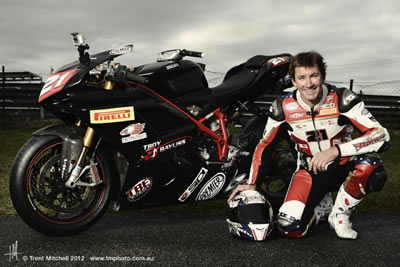 Troy Bayliss joins us in Phillip Island Saturday night for a very special evening!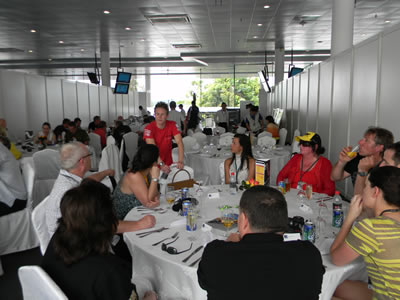 Last year Danny Webb paid a visit to our private VIP Village suite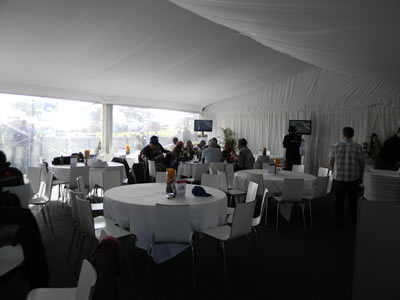 Our pit roof suite last year (at a quiet moment!)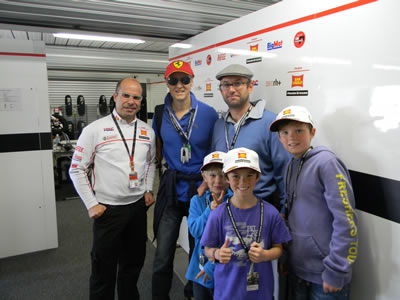 Guests of our suite will get opportunities to visit a garage, such as Honda Gresin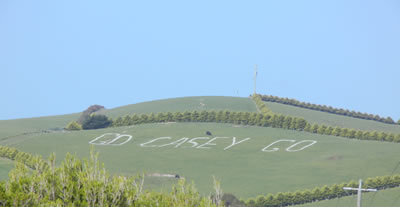 Friday Night in Sepang
Sepang is a wonderful place, and this year we have pulled out all the stops!
FRIDAY night we have our traditional "surprise" party at the Pan Pacific. With past guests including Jeremy Burgess, Lucio Cecchinello, Colin Edwards; it is always an amazing night! Oer 250 people will be there; and we can let out one hint - we have several guests lined up, headed by none other than the superstar Randy Mamola! This is included in all our Sepang packages (of which we are nearly sold out) and you can book one of the few remaining places for €100/AU$127 more...
In addition to our private VIP Village suite, We have a very special air conditioned "Pole Position Club" private hospitality unit looking straight over the start grid and pits. Private PADDOCK TOURS, food, drin k, guest speaker and our hostesses at just €480/AU$610. Last few places! more...
LAST room in our DELUXE package on the Club Floor of the PAnPac rubbing shoulders with many of the riders! more...
And just a few places left in our new BUDGET package and our great-for-the-nightlife CITY packages. more...

Phillip Island goes berserk!
Just check out our programme:
Thu 25/10 - Dinner in support of Aussie rider Anthony West more...
Fri 26/10 - Private Australian "Young Guns" opening party at the circuit on the pit roof- featuring special guest, Two Wheels Magazine managing editor Miles Rangeley & some of the young riders. more
Sat 27/10 - "Legends Evening" with over 200 fans & superstar Troy Bayliss! more...
Sun 28/10 - The last Australian GP for legend-to-be Casey Stoner! We have a special bit of memoribilia we will be handing out to our package customers.
Owing to cancellation we have 1 2 bedroom apartment and one room left in each of our ISLAND and DELUXE packages. Includes the above programme (Troy night discounted extra) 4 nights. more...
Enjoy this all from our Private VIP Village suite situated on top of the pit building with a pit lane walk and PADDOCK ACCESS (only available to our customers) thanks to a partnership with Team San Carlo Honda Gresini! We are down to our last 5 or 6 places at this - book now! AU$1500 (the only VIP still available at PI)
Stay out of the rain! We have a few GP HUB tickets at each facility: Turn 1 and Bass Straight. For AU$99 you get a covered marquee with bar and seating. We also have a few of the coveted SIBERIA grandstand seats. more...
Even if you are already situated, drop by our stand at the Exhibition hall to meet some of our staff and talk about next year!
It's a busy two weeks! Hope to see you at one of our functions or perhaps next year!
n.b. Download our consolidated 2013 MotoGP/SBK/F1 weekly calendar