Announcing the Pole Position Club
Private paddock MotoGP hospitality

Our hospitality in 2014 will be even nicer than this one from 2013...!
We are delighted to announce the launch in Jerez of the Pole Position Club - our private hospitality inside the MotoGP paddock at all European rounds. All team experience guests of ours will be welcome at our base which features:
Canopied facility with CCTV, tables, chairs, easy chairs
Drinks, snacks
Lunch (for Moto3/Moto2 guests)
WiFi internet
Event information/info kiosk
Cool welcome pack with handy goodies
Saturday night dinner (small extra charge)
Childrens' toys
PPT staff on hand
Plus this will be the frequent venue for rider visits from our "boys" in Moto2 and Moto3: Brad Binder, Jakub Kornfiel, Gino Rea & Sam Lowes as well as other friends.
The price as a Moto2/3 guest is normally €650, however until the Jerez round, the price is €595. MotoGP Team Experience customers will also have access (just not lunch) More on MotoGP Experiences soon...!
JEREZ LAUNCH SPECIAL: Join us in Jerez and in addition you will get FREE Saturday night paddock dinner and a very special SERVICE ROAD tour on our new scooter!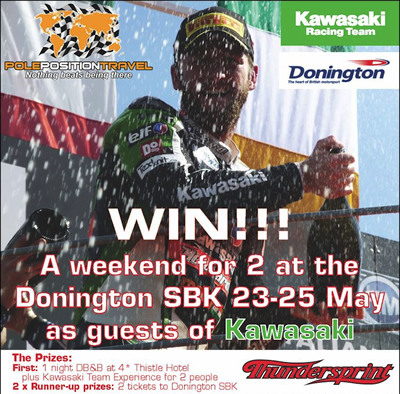 The Thundersprint 10-11 May
We are delighted to be sponsors of the mad, crazy, wild weekend known as the Thundersprint. Join us and many many guests for some cool racing around Darley Moor, epic cavalcades, comic riders, stunt shows, aerial displays and much much more! Many of our friends will be there, including John McGuinness, Scott Redding, Sam Lowes, Danny Webb, Nick Jeffries, Jim Redman, and many many more. Tickets cost £5. Are they mad? Yes.
You can even camp for an extra £10. Book it, come by our stand to say hi, and enter our prize draw... More...
And they're off!!
The pre-season came to a close with the thriling SBK opener in Phillip Island. This weekend sees the return of MotoGP to the grid as we see all the bikes and teams in action in Qatar!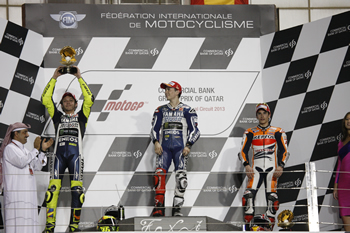 Will Rossi repeat his 2013 triumphant return to Yamaha?
Here a few of the many highlights for the early part of the 2014 MotoGP Season:
Texas 11-13 Apr: Join us Friday night for a great opening dinner with several riders including MotoGP racer YONNY HERNANDEZ. Last few packages left. Team Experiences nearly sold out. More...
Argentina 25-27 Apr: Join us for the inaugural event. So few people are going, we are giving paddock access to ALL our package customers! Superb hotel, just 10 minutes from track, right in town. Not too late! More...
Jerez 25-27 Apr: We launch the Pole Position Club! Anyone booking will get a free paddock dinner Saturday night and a free scooter tour of the service road! Check out our new super-value Beach package. More...
Le Mans 16-18 May: A surprise big seller this year - nearly sold out in our city centre package! Join us Friday for a brilliant evening with tech star Neil Spalding! We look forward to the best restaurant meal of the year! More...
Mugello 30/5 - 1/6: This event has gone berserk! We have sold out of our City package, but offer a great value package in our 3* hotel, a 4* Superior, and if you want the best of the best of the best, experience our Ultra-deluxe package in a Palazzo in the heart of Florence! Mad opening party with LCR Honda! Great value "platinum" hospitality, and down to our last few places in the Pole Position Club and MotoGP Team Experiences. Book this soon! More...
Catalunya 13-15 June: Another one going bananas! We have just layed in another city centre hotel, and we offer a superb value BEACH PACKAGE on the Costa Brava - how about £300/€359 for 4* dinner, bed and breakfast, transfers and grandstand tickets!? Also check out our private suite hospitality just above the pits! More...
| | |
| --- | --- |
| | NOT TO BE MISSED: Saturday night dinner IN the paddock with CAL CRUTCHLOW and others. €250, or €200 to existing VIP, Team Experience or hospitality customers. More... |
Assen 27-29 June: "Crazy June" finishes with a staff favourite! Our super-value DB&B package at the Bungalows is well loved and perfect for bikers. We still have places in our Assen City package. But you MUST make the utterly hilarious annual Beer Trolley tour of Groningen! (see video) More...
Sachsenring 11-13 July: If you've never done Sachsenring, you don't know what you are missing! Opening dinner at the classic Ratskeller with Rob Roston - the man who's job it is to move the paddock! Special offer on our Paddock Club - €50 discount AND you get to meet our sponsored SIDECAR Team, the World Champions Ben & Tom Birchall! More...
And if you think the first half of the season is exciting, the second half will be even better!! Stay tuned!
Download the consolidated MotoGP/SBK/F1 calendar
Check out photos from previous years: 2011, 2012, 2013