special notices
See us at:
4-9 Nov: EICMA - The Milan moto show
Stand R04
27/11-9/12 INTERNATIONAL MOTORCYCLE SHOW, BIRMINGHAM NEC STAND 2C05
Special show-only offers and chance to chat and book!
2009 provisional calendar launched!
2008 prices held! Online bookings will be available soon, meanwhile you can lock in your package and price by contacting us. We will quote 2008 prices with a 100% deposit-back guarantee if the dates change.
Hungary added, China out. We have already sorted out some great packages for the first Hungarian MotoGP! Join us in the beautiful spa resort of Lake Balaton for some great MotoGP action & a super excuse for a short holiday! We are visiting the new site in November, wil let you know our thoughts!
Want a cool European holiday idea? However about the San Marino MotoGP, Monza Italian Formula 1, Hungarian MotoGP for an incredible triple-header! We of course can take care of you through all three weekends!
2008 PAST EVENTS. We have posted trip reports and photos for the fun we have already had this year! (for most events, rest coming) If you were there, or wish you were, take a look:
| | |
| --- | --- |
| | Qatar 9/Mar : The first night race! We had a weekend before the weekend started! Awesome time. |
| | Jerez 30/Mar : Non stop weekend, opening party with Julian Ryder, Rookies double-header, super VIP... |
| | Estoril 13/Apr : Danny Webb & team opened our party, then took incredible 4th and 5th! Great fun weekend! |
| | China 4/May : Two customers were grid girls! Speaker Peter Clifford picked the winner! Alas, the last... |
| | Le Mans 18/May : Great racing! Chris Jonnum (Hayden biographer) set stage, the Cabaret filled it! |
| | Mugello 1/Jun : Rossi does it again! Our private VIP suite tops year with guests such as Giaocomo Agostini |
| | Catalunya 8/Jun : Our beach package a huge hit, and in the city our opening party went to the wee hours... |
| | Donington 22/Jun : Friday we introduced customers to ALL the British 250, 125 and Rookie riders. And Scott! And Randy rides! |
| | Assen 28/Jun : Most fun of the year! (tough call!). Sat beer trolley tour was non-stop hilarity and beer! |
| | Sachsenring 13/Jul : Any weekend starting in a beer cellar with a spellbinding speaker is bound to be good... |
| | Laguna Seca 20/Jul : Best race of the year; incredible atmosphere; awesome Sat party, drinks with John and Ant, war stories from director of Faster! can we go back?! |
| | MORE TO COME |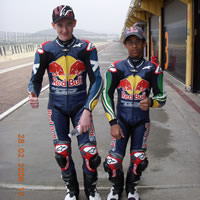 Watch the Rookies! The second year of the Red Bull MotoGP Rookies Cup is showing what awesomely fast kids are coming up, and what thrilling racing! Pictured are our two sponsored riders, Deane Brown from Scotland, and the only Nigerian rider, Alessio Capella, aka the Black Arrow.
Sponsorships for the rookies are available, contact Gordon +44 7973 748591 to discuss options in confidence.
Hard to believe the season is over!!
Our (potted) history of the season... (click on events to get more details of our weekend)
When we sat on the main grandstand in Qatar at the season opener and once again watched the 'red streak' of Casey cruise to another easy victory; and THEN watch the Doctor lose 4th place to newcomer Andrea Dovizioso; we could be forgiven for thinking the season was over before it had started. Another Casey-dominated year? Yawn.
Rossi has (once again) taught us that he is never to be counted out! First, Casey put in a stunningly poor performance at Jerez; and it looked like Dani was going to realise our prediction that he would be the next world champion. At Estoril we got a chance to chat to Jorge on Saturday, wished him the best of luck in the race, and he went on to win! Finally at Shanghai, Rossi made it a 4-horse race with his first and long-overdue win since Estoril 2007! Adding quickly Le Mans and his 7th at Mugello; we knew 'The Doctor' was back with a passion! Catalunya saw Dani back in the saddle with a well-earned win; and a podium to reflect the season: Pedrosa, Rossi, Stoner. Jorge alas had a bad crash in Italy, and another fall in practice ruled him out of Cataluya and perhaps worse, hit his confidence at a critical point in the season.
By Donington, Casey too was looking out of contention, but he wasn't the world champion for nothing! He stormed to a victory and then to prove it was no fluke, repeated the performance at Assen. Rossi had the coolest helmet, but put in his worst performance. At the unusually rain-soaked Germany, we watched Dani blow a sure win; and Casey continued his comback charge with yet another win; but Vale just behind ensured progress for Stoner was slow.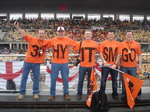 After Sachsenring, there were just 20 points between Rossi and Stoner in third. The season was anyone's. Then we saw THE event of the season, without doubt the turning point of the tournament, and the most exciting motorcycle duel in memory. Laguna Seca had us spellbound (in our finish-line private chalet) as we watched a race that caught everyone by surprise and was my personal high point of the year. Our very special guest was American baseball legend Reggie Jackson at his first MotoGP, and we stood shoulder to shoulder while I narrated the nuances of the unfolding spectacle and he and his family caught the contagious excitement of the event.
I still get chills thinking of the race - proof that this IS the most exciting sport on the planet! (And our advance bookings for Laguna Seca 2009 mean I was not alone!) Rossi's win after Casey's dramatic fall (and even more incredible 2nd) meant that for the first time in 3 years we were optimistic for another Valentino crown.
Vale proved this in Brno in front of the largest crowd and over 1600 of our customers at our flagship event; with Casey's crash cementing our opinion that Rossi was on track for his 8th title. The always-fun San Marino was the event where it became clear that Rossi would be champion - ironically it was at this race in 2007 where he definitely lost the title race. Revenge is sweet! Racing at the edge of a hurricane in the inaugural Indianapolis GP, Rossi put himself further out of reach with the win (and Nicky took a brilliant second to the crowd's delight!). Possibly the best-organised race of the year, we had the top VIP facility in MotoGP; and many special guests came in out of the rain to join us, including the winner of the first ever, thrilling Rookies' Riders Cup, South African Matt Scholtz.
Finally the numbers caught up, and Rossi put on the crown in front of our enthusiastic group at Motegi; again highlighting the irony that this was the event in 2007 where Casey clinched his title. Australia showed that Casey was down but not out, and won the race in front of his adoring home crowd, and incidentally all but guaranteeing himself a deserved 2nd place after Pedrosa's unfortunate lap 1 crash. Frenchman Mike DeMeglio took the 125cc title; after we saw his stunning win in La Mans, he was our prediction for the championship (helped by his superb wet weather skills, in a season notorious for its rain!)
Malaysia saw the final series decided with the genial Simoncelli taking the 250 championship, and a great motogp duel between Hayden and rookie Dovizioso for the 3rd spot on the podium. Andrea took it for his well earned first MotoGP podium.
Finally we have just returned from an action-packed (and exhausting!) weekend at Valencia; while no surprises in the GP classes, is still a great excuse for a weekend-long party! British fans were delighted with the dominant performance of 125cc BSB champion Matt Hoyle, who won the 2nd Riders Cup. The Force is strong in this one we think!
Thanks...
It was another year of great fun, parties, cameraderie. Meeting old friends and making new ones. We helped several charities along the way, raising in excess of £10,000 for Rider for Health at Brno, Laguna Seca and Donington; and over £5,000 for Down Syndrome Ireland, our regular Valencia charity (and a very fun group!) .
This is a very personal business: we sponsored rookies Deane Brown from Scotland and Alessio Capella from Nigeria/Italy, and gave assistance to Matt Scholtz from South Africa and Dylan Mavin from Australia. We sponsored Englishman Danny Webb in the 125cc series, and Italian Alex Baldolini and team Matteoni in the 250. While we were not formally involved, we have developed close ties to other friends and riders in the paddock, notably Bradley Smith and family, Scott Redding, Mattia Pasini, Ant West (sorry to see him off the grid) and our favourite Irishman Eugene Laverty (who left GP late in the season and immediately took a podium in WSB! Well done that man!)
Special guests this year to whom we owe a deep debt of gratitude include the spellbinding Julian Ryder; the encyclopedic Peter Clifford (formerly of WCM and now Rookies Cup coach); hilarious Steve Parrish; the legendary Giacomo Agostini; Chris Jonnum (editor USA RoadRacerX); Mark Neale (director of Faster! and the Doctor, Tornado and Kentucky Kid); The Dutch team de Graaf (Danny Webb, American Steve Bonsey and Hugo van den Berg, racing manager Jarno Janssen and Danny's manager Marlon Fluit; and his parent JIm & Libby); all the afore-mentioned Rookies and adding Steve Hoyle (Matt's dad), Peter and Colleen Scholtz, Adam and Ann Mavin, John Brown, Ivano Cappella, the Norwegian (Sturla) Fagerhaug clan, and all the other rookies whom we have come to love; the always fascinating Liam Shubert of Alice Ducati (motoliam.com), Dave Emmet (motogpmatters.com), Bob Hayes and Jules Cisek of MotoGPod.com, Roger of FAB Racing (Scott Redding's manager), Paolo Tajana and the entire Matteoni team (including Baldolini, Marco Ravaoili and Fredrico Sandi of the Zhongsen team); Japanese Superbike rider (and our special guide) Shinichi Isoya; Harris Barnett and Wayne Gardner; everyone at Team Rizzla Suzuki; Colin Edwards; Jeanette Wragg, Andrea Coleman and everyone at Riders for Health, and too many people to name at Dorna Sports.
We could go on to thank literally hundreds of suppliers,contractors, publishers and others who have all been involved in the great MotoGP circus; but I don't want them to think they are indispensible and raise their rates on us! :-) Seriously, many GP hotels now feel like second homes to us thanks to the superb service by incredibly tolerant staff! (Ok, on the short-list from over 80 hotels that we use, we have to mention: Hotel de la Ville, Misano; Hotel Kris Abadia in Valencia; Antigua Estacion in Jerez; Hotel Continental and Royal Ricc Brno; Hotel Levasseur in Le Mans; Adelhof Bungalow Park in Assen; Hyatt Monterey, EVERYONE in Portugal, and many, many others)
Our main thanks however go to you, our customers, who not only provide us with a great job (if you like very long hours and low pay! :-) but make the team feel appreciated in all we do. And, as I said in the toast at our closing dinner in Valencia; the real star of the season is MotoGP -- the best sport on the planet!
Sincerely
Gordon Howell
Founder and Managing Director
You may purchase the top VIP hospitality for all MotoGP events from us. Our main advantage? We are at ALL events INSIDE the

VIP Village

to ensure you get the top VIP treatment! More...
We are designated travel partner for the Red Bull MotoGP Rookies cup. Support the Rookies families! More...
You can book all products securely online with instant confirmation, or you can phone our UK office 0191 406 6260.
Sponsors of: Danny Webb (99), Team Matteoni (Italians Baldolini in 250cc and Lacalendola in 125cc), Rookies Allessio Capella (The 'Black Arrow' from Nigeria) and Deane Brown ('Deano', from Scotland)
Also sponsoring: The Czech Grand Prix in Brno, Riders for Health

See also what a few of our customers have said. We get a lot of repeat business!
2009 provisional calendar here