special notice
Donington: RANDY MAMOLA ride. Owing to cancellations, we have 2 rides available. These are in benefit of Riders for Health. You take two laps on the back of Randy's Ducati at race speeds. Includes paddock passes for the day. These CANNOT normally be purchased. We will accept the first offer of £2200 for the Friday ride, £2700 for Saturday. Call +44 7973 748591 if interested
Also at Donington: Meet the riders. A chance to meet all the British 'Young Guns' of the 125cc and Rookies cup. (Catch JT at our event in Brno) Friday night; included with all package customers, other customers may buy tickets. Extremely limited space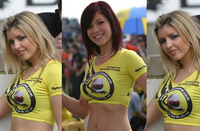 BRITISH SUPER BIKES VIP: Thanks to our relationship with Bike Animal, we can provide BSB Hospitality, featuring the Hydrex Honda hospitality unit with catering, pit walk, paddock access, meet the riders, and more. £189 for the weekend, we have a limited supply for each BSB weekend.

A MotoGP in the Paddock & Pits. Join our exclusive ClubGP and spend time with one of our sponsored teams. This is the only way to truly get 'behind the scenes' More...
2008 PAST EVENTS. We have posted trip reports and photos for the fun we have already had this year! If you were there, or wish you were, take a look:
| | |
| --- | --- |
| | Qatar 9/Mar : The first night race! We had a weekend before the weekend started! Awesome time. |
| | Jerez 30/Mar : Non stop weekend, opening party with Julian Ryder, Rookies double-header, super VIP... |
| | Estoril 13/Apr : Danny Webb & team opened our party, then took incredible 4th and 5th! Great fun weekend! |
| | China 4/May : Two customers were grid girls! Speaker Peter Clifford picked the winner! Alas, the last... |
| | Le Mans 18/May : Great racing! Chris Jonnum (Hayden biographer) set stage, the Cabaret filled it! |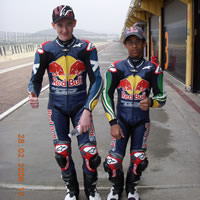 Watch the Rookies! The second year of the Red Bull MotoGP Rookies Cup is showing what awesomely fast kids are coming up, and what thrilling racing! Pictured are our two sponsored riders, Deane Brown from Scotland, and the only Nigerian rider, Alessio Capella, aka the Black Arrow. Deane alas broke his leg in BSB recently and is out of the season until Brno. Come to Donington to offer commisserations! Allessio debuts in Mugello, Vade!
Sponsorships for the rookies are available, contact Gordon +44 7973 748591 to discuss options in confidence.
Sponsors of: Danny Webb (99), Team Matteoni (Italians Baldolini in 250cc and Lacalendola in 125cc), Rookies Allessio Capella (The 'Black Arrow' from Nigeria) and Deane Brown ('Deano', from Scotland)
Also sponsoring: The Czech Grand Prix in Brno, Riders for Health

See also what a few of our customers have said. We get a lot of repeat business!
Download our 2008 calendar here.
As predicted, the 2008 season is shaping up to be a thriller!
We are just back from Le Mans, and this was a weekend to remember! 3 points separating the top three riders! Great action on all four races! Rossi has put himself in the lead at the perfect moment - coming into his 'sweet spot' of four favourite tracks.
Mugello is going to be a madhouse -- we can't wait!
With solid performances from newcomers James Toseland & Andrea Dovisioso and a revitalised Colin Edwards, there's all to play for! Will Kallio run away with the 250 or can Passini catch up along with some of the others? And the 125 is anyone's battle; with 3 Brits punching above their weight - Bradley Smith's points don't reflect his great performance (he'll win one soon, but was a very happy chap to take second in Le Mans!); Scott Redding has come from nowhere to be the surprise hit, and our own sponsored Danny Webb has some great results under his belt. Finally, if you haven't been following it, some of the most exciting races are the youngsters in the Red Bull MotoGP Rookies Cup. We sponsor a couple of the lads, and customers at Jerez, Estoril and Le Mans have met a number of them to cheer them on.
We are working hard to make each MotoGP event a memorable occasion, bringing the sport to the fans and vice versa. With 7 events in 10 weeks you can see why we call it 'Crazy June'! Lots of work, lots of fun. We sleep in December...
Here are some highlights of the season to come. Click on event for more info.
Mugello 1/Jun : Rossi has done it six times in a row, will it be 7? With a slim 3 point lead, the sheer energy from the crowd will give him a 5kph boost! If you can get away at all for this weekend, give us a shout; we have a couple of rooms and tickets left. Also our

top VIP of the year

! See the mayhem INSIDE the paddock! Friday opening party with

Italian team Matteoni

to get you into swing!
Catalunya 8/Jun : Rossi's favourite circuit and the 'deciding' event of last year. We have a Friday opening party in Barcelona with special guest speaker from inside the Alice Pramac Ducati team: Liam Shubert. A few VIP Village remain, as well as a few rooms in our City Centre package and our great value Beach package. We do a Barcelona city tour Friday to help prove this is the coolest city in Europe!
Donington 22/Jun : Join us Friday night for a memorable opening reception - we toast the

British Young Guns: Bradley Smith, Danny Webb, Scott Redding, and introduce British Red Bull Rookies Cup

contenders. Press & special host will be on hand. This is included in our packages (hotel walking distance to track!). Some space still in the VIP Village, and don't miss Thursday Day of Champions.
Assen 28/Jun :

ALMOST SOLD OUT

. One of our most popular events, this is a non-stop party. Thu opening party features reknown 'secret' MotoGP insider

"Kropotkin" of motogpmatters.com

. Friday we coach into the mad mad Assen street party, and Saturday evening we take a 'beer trolley' tour of Gronigen! Options in our lovely 4* hotel in Groningen and our super value Chalets near Assen (perfect for bker groups). Private VIP Village suite and great value hospitality tent!
Sachsenring 13/Jul : The German MotoGP is Europe's secret - fantastic viewing, great food, great beer, and the opening party at the Ratskeller is one of our favourite traditions of the season! Our opening speaker is a journalist who knows many of the riders personally, so come with your questions for an evening of gossip and beer! If you are into

sidecars

, they are run here on Sunday. Very cool!
Laguna Seca 20/Jul : Admit it - you've always wanted to see the Corkscrew in person! This is the year to do it. With the dollar at a low the packages are

fantastic value for money

; and we have 3 hospitality areas. Opening party features

Mark Neale, director of Faster!, Doctor, Tornado and Kentucky Kid

; and we have the season's maddest party Saturday: we create an oasis in the midst of Cannery Row mayhem with live music, open bar, buffet and funny 'game show' with panel featuring Mark, Greg White (SPEED channel), Chris Jonnum (RoadRacerX) and more.
Brno 17/Aug : Our flagship. We are event sponsors, been coming here since 2002. Over 500 hotel rooms, 22 staff, 15 coaches. Private VIP suite and brilliant hospitality tent. Opening trackside party Friday, unlimited beer, live music, pig roast, special guest:

James Toseland

. Saturday night we take over brewery for charity gala for Riders for Health, featuring

Steve Parrish

. Now the biggest event in MotoGP, and 3-time winner of 'best organised'. Cheap beer, beautiful women, Prague, etc...

Coming on bike? Ask us about group ride-out!

San Marino 31/Aug : If you want a holiday with a MotoGP attached in Europe, there is no finer option. Super atmosphere in our coastal Riccione base; this is our 3rd biggest event (after Brno and Valencia). We have 5 packages to suit all styles and budgets, a great opening party with a very special guest lined up (we will announce soon). Stick around for Monday, we take a special trip to the

Ducati Factory

, and optionally

Rossi's home town of Tavullia

!
Indianapolis 14/Sep : The most anticipated event of the year. The only chance to be first. Like Laguna, with low dollar (book NOW before dollar rises again!) looking like great value. Do this one VIP if you can; we have a

private VIP suite

and you will get to see the legendary paddock and pits. Opening party sponsored by RoadRacerX and featuring notorious wiseguy

Steve 'Stavros' Parrish

. GO!
Motegi 28/Sep : Not a lot of people will come to this event from outside Japan, and it will be their loss. We have a "total care" package; employing a current Japanese superbike racer 'Crazy Sam' as our assistant to help you feel inside the Japanese bike community. The circuit is like an amusement park; and VIPs get

unlimited paddock access

. Join our private guided tour of Tokyo & its awesome nightlife.
Phillip Island 5/Oct : Last year the Aussies went berserk welcoming their hero back home. The atmosphere on the island can be cut with a machete, and the track is gorgeous. We have a private VIP suite, with private pit and paddock tours (unavailable even in 'normal' VIP).

Nearly sold out

. We have taken over the top hotel in the area, 2km from the island. Our opening party has a great speaker lined up, and we are doing a Saturday charity party (TBC). Action is non-stop!
Sepang 19/Oct : Judging by our sales this year, the secret is out - this is the coolest MotoGP. Possibly because I rave about it so much... Fantastic destination, perfect for an added holiday. In the interests of decency we will not describe the night life, but don't plan on a lot of sleep! The

best VIP Village

- incredible access to paddock and riders. As usual opening party, speaker TBA; and great package.
Valencia 26/Oct : Anyone think it might go down to the wire? Event certain to sell out. We repeat our super Friday opening party in benefit of Down Syndrome Ireland with some top personalities in attendance and a charity auction. 5 different packages to give you maximum choice. VIP Village SOLD OUT but we might be able to squeeze you in. We have all tickets; options, and a great end of season party. Also the final

Red Bull Rookie Riders Cup invitational Europe/USA showdown

. Be there.

2009 Season

We are taking preliminary reservations for 2009. If you place a booking now we will quote 2008 prices, and you may withdraw without penalty in the event of a date change.

QATAR is already selling well. In addition to usual VIP Village we will have a hospitality tent...

Download our 'guesswork' 2009 calendar here...
You may purchase the top VIP hospitality for all MotoGP events from us. Our main advantage? We are at ALL events INSIDE the

VIP Village

to ensure you get the top VIP treatment! More...
We are designated travel partner for the Red Bull MotoGP Rookies cup. Support the Rookies families! More...
You can book all products securely online with instant confirmation, or you can phone our UK office 0191 406 6260.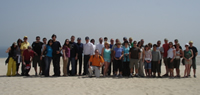 The intrepid desert safari crew in Qatar. Most survived. It's gonna be a great season, and we are going to have fun every day of it!
Have a great 2008!
Gordon Howell, Managing Director.
Pole Position Travel is a trading name of EC1 Ventures ltd
49-51 Brierdene Crescent, Whitley Bay, Newcastle NE26 4AD UK
t: +44 (0)191 406 6260 f: +44 (0)870 130 9207 help@polepositiontravel.com
Representatives in Czech Republic, USA, Italy, Australia.
Most operations carried out by subsidiary company Pole Position sro, Prague, Czech Republic