special notices
Buy full service packages or just tickets online with instant confirmation on www.polepositiontravel.com
Now with Price Promise! We will match or beat any competitor's price on the same product. In addition, for full package or just ticket customers, we will be there at every event if you need help. That's the Pole Position difference!
ECONOMY BLUES BUSTERS
Cutting to the quick: For all our events we offer great value and of course first-class service; however for people really seeking to maximise their cash, here are the best packages:
Qatar


£642/€739



5* hotel, opening party, closing drink party, Dunes...
Motegi


£895/€1040

4* all-inclusive, opening dinner, BBQ, museum tour
Jerez

£516/€590

Includes 3 x dinner & free happy hours each evening!
Le Mans


£413/€475



Includes 1 x dinner, cabaret show, in heart of Le Mans
Mugello


£489/€560



Includes 1 x dinner, and you are IN Florence!
Catalunya


£359/€410

Includes 3 x dinner in 4* hotel across street from beach!
Assen


£440/€504



Includes 3 x dinner, Assen street party, steep discounts for multiple occupancy

Laguna Seca
£499/€570


Includes super opening party (with dinner), tons more...
Sachsenring


£566/€651

4* hotel. Includes 1 x dinner with speaker in Ratskeller!
Donington


£699/€800

No apologies! Top 4* hotel near track; 2 x dinner, party
Brno
£165/€190
No joke. 2* hotel with transfers. + €39 for opening party with unlimited beer!
Indianapolis


£410/€469

Includes Fri dinner/opening party, airport pickup, 3*
San Marino


£465/€539

3* beach hotel incl Friday dinner party, massive fun
Hungary


£297/€339

Incredible value in 3*+ spa hotel 3xDB&B. No tickets
Estoril


£283/€324

3* waterfront incl 1xdinner & party. Special price
Phillip Island


£849/€970

4nts/4* resort AT the Island with 4xDinner&Breakfast.
Sepang


£411/€470



4* hotel with opening dinner party & night life tour. Super.
Valencia


£490/€570



3* hotel city with Charity opening party, happy hours
All prices are for 3 nights per person based on two sharing. Includes breakfast, guide and track transfers; and general admission tickets. Upgrades on everything generally possible.
JEREZ TEST 28-29 MARCH
We have a lovely package taking you into the circuit and paddock to catch up with all the team gossip, and generally soak up the sun and sherry. 3 nights B&B with tickets and many beers & wines just £299/€345. More...

Exhibitions
If you missed the London MCN show, you missed a great weekend. Congratulations to Tammy & Tony Dear for winning our Brno Special weekend package at the Riders for Health auction! Visit us for any questions or place booking (special show-only offers!) at:
27.2 - 1.3: Irish Motorcycle Show Dublin
5-8.3: Dortmund Motorräder 2009
11-15.3: Czech Motorcycle Show Prague
14-15.3: Scottish Motorcycle Show Edinburgh
10-12.4: Russian Motorcycle Show Moscow

GIFT CERTIFICATES: When you place a booking you will receive an email giving you the opportunity to generate a gift certificate that you can print and stuff into a loved one's stocking (or tank bag!).
international reps sought
We already have representative agents in USA, France, UK, Russia, Greece, Slovenia, Australia, and Hungary. We are looking for partners in other markets, either individuals or existing agencies, who would like to get actively involved in MotoGP sales and event and travel management. If you can work part time, in your market, and have a passion for bikes and want to join a winning team, Contact us for more information.

A happy Pole Position Team at Indy!
WE'VE GROWN!
We are pleased to announce that as of January 1, 2009 our Pole Position Group is richer a with a new European joint stock company Pole Position Travel SE, with its seat in Prague.
This is a result of a new investment secured from private equity resources which enables us to expand the current line of business and products as well as to serve you better in our new markets. Our mission always was and will be to offer top services while implementing cost-saving measures to help keep prices down without losing our key benefit of flexibility to your needs.
Our Pole Position team consists of highly motivated individuals of many talents as well as nationalities – British, American, Australian, Czech, French, Italian & Russian in case you are wondering (7 full time). More info in next newsletter … For our British clientele we continue to keep our UK presence – affiliated limited company with all current benefits.
YOUR MONEY
In these times, concern over financial stability and security of any payments is only natural.
Rest assured that EU regulation is in line with UK in that we are required to ensure your money is safe in the highly unlikely situation of business failure. To this end we have taken an insurance policy of international travel protection (a bond) which guarantees refund of any payments made in respect of unfulfilled delivery of our services. The policy is issued by German company etics (Europaische Reiseversicherung AG). We will place a copy of the policy on our web site.
See also what a few of our customers have said. We get a lot of repeat business!

Find us on Facebook! (here)

Skype: polepositiontravel
Check out our movie! (7 mins)
The 2009 MotoGP Season vrooms near!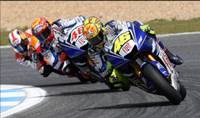 Wow. We have been working so hard over the winter it is hard to know where to start! Make a coffee and start to think about your 2009 GP plans!
As the fumes settle in Sepang, it is already clear that this season isn't going to be a pushover for Rossi. Apart from the obvious threat of Stoner; Capirossi is showing he is not a spent force; and the same for our friend veteran Colin Edwards! With Jorge, Dani, Nicky, and the real wild card Sete and our prediction for spoiler of the year - Dovizioso, this is going to be a hotly contested title!
As usual, our team will be there for all the events, now including the IRTA Test in Jerez 28-29 March. To say we have been busy putting together some awesome plans for the season would be an understatement! Just a few highlights:
We have made a movie! Some of you have starring roles! Watch here... (7 mins)
Brno programme even bigger (is this possible?); already nearing sell-out on our iconic Charity.GP fundraiser Saturday night, this year to feature many motogp personalities! Once again we are event sponsors, and our Friday trackside gala with over 500 people expected will again make this our flagship party!
Rides with Randy Mamola at the Donington GP (in benefit of Riders for Health) and a nostalgic closing dinner
Re-appointment as offical travel partner for MotoGP Red Bull Rookies. If you come to one of the European Rookies Cup events with us, you will meet a number of these young bullets.
A star-studded programme in Laguna Seca, with private screening of The Doctor Tornado and Kentucky Kid with director Mark Neale, a stunning 10 day moto tour culminating in the GP, an insane Independence Day 'beach party' & much more...
Launch of our limited edition 2008 MotoGP Season Review at our party at Jerez, as attended last 2 years by author & walking moto-encyclopedia Julian Ryder
Cooperation with several teams across all classes to help our customers get 'inside' the pits; and hear from the horses' mouths so to speak what racing GP is like (more on this next newsletter. Send us an email to be on priority list.)
And of course we have been re-appointed as one of the very few official MotoGP VIP Village agencies; we continue our commitment to provide our expert service INSIDE the VIP Village, which is just one of many reasons that has made us a top VIP agency for MotoGP.
Following is a summary of highlights for each of the events in 2009. Remember - all our packages are fully serviced - our mission is to make each event a weekend of a lifetime! Guide prices are for the highlighted package, based on 2 sharing, 3 nights (4 in Phillip Island) with general admission tickets.
2009 Season Preview
12/Apr. Qatar. The most unique experience in MotoGP. The night racing is spectacular, and the schedule means you can realy pack a lot in the weekend. We do: with a fleet of 4x4s on a desert safari (with your own chance to eradicate dunes in a quad bike); our opening party, city tour with Dhow cruise, and two great hotels 4* Superior and 5* Deluxe to choose from. We are easily the biggest VIP group there, and now also offer the superb Losail Club hospitality. More...
26/Apr. Motegi. Our surprise hit this year, possibly because after 3 years we have it wired! Our 3 night 4* Special Package features 'Crazy Sam' our Japanese Superbike rider guide, and our total care from the moment you arrive. Heaven for Honda fans, Honda talk at the opening party; a private guided tour of the Honda museum followed by trackside BBQ, and now Monday excursion to the factory (followed by sampling of Tokyo night life!). Make this a real holiday! More...
03/May. Jerez. NEARLY SOLD OUT. We have a handful of rooms in each of our three packages: 5* Deluxe at the stunning Villa Jerez; 4* Superior staying with many teams in central Jerez; and our very popular Special 3* 'Hacienda' package in a rural hotel featuring dinner and total service (incl free drinks on track return!). Very good value, your only expense will be beer at the track! One of our top opening parties, launching Julian Ryder's 2008 MotoGP Review at 15th c Hacienda. More...
17/May. Le Mans. Two packages for totally different experiences: Our super-value 3* Classic package in the heart of Le Mans features a private cabaret that wil leave you rolling in laughter. Another classically French experience is had at our special Chateau package, featuring DB&B, tasting of local wines and the run of the estate! Of course our team, including our French motogp-mad hostess, will take care of you all weekend. More...
31/May. Mugello.

Stop reading. Book it.

Our current best-seller, we have a great 3* package in Florence, pefectly positioned just out of the city centre with secure bike parking & walking distance. Or go for the Superior in a gorgeous 4* Villa; or throw the anchor away in out TOP VIP Package of the year - at a 14th c Palazzo in the heart of Florence and optional Helicopter transfers. We also have the ONLY VIP suite available at Mugello. Awesome location; guests last year included Agostini... More...
14/Jun. Catalunya. Our 2nd most popular package is an incredible value 4* 'Beach' package with dinner, bed and breakfast on the Costa Brava; and of course our guides, opening drinks and the always awesome track experience. In Barcelona our 3* & 4* packages feature secure parking in the heart of the city, and our Deluxe/VIP customers will appreciate our new boutique 5*. All feature our opening party for an insider's view of MotoGP. More...
27/Jun. Assen. As always, one of our most popular biking destinations, our Special package is 3 nights with dinner set in a lovely bungalow park with units sleeping up to 6. Thursday opening party features David Emmet of MotoGPMatters.com; and Friday we take you into the amazing Assen street party. Just in case you haven't had enough beer, on Saturday we do a madcap 'beer trolley' tour of Groningen. Just pedal and laugh. Two hospitality options: VIP Village and the new Assen Club More...
05/Jul. Laguna Seca. The race of 2008 and one of our most requested. We have an incredible programme kicking off Thursday with a ride-in and day in the pits and padock and on the track. Friday Mark Neale, director of Faster! entertains us, Saturday night our legendary celeb-studded VIP Beach Party, 3 great packages (3/4/5*), 3 hospitality areas (go for the Pole Position Club) and newly added 12 day motorcycle tour of the Wild West, ending at the Laguna GP. There's more but..More...
19/Jul. Sachsenring. Always an event that we kick ourselves afterwards for not promoting enough! We have one package, but it is our 4* Superior package in a top hotel where many teams and personalities hang out. Kicking off with a beer or 6 in the Ratskeller, our after-dinner speaker always spellbinds. Great value! Fascinating track with lots of good viewing spots (We like T13 at the bottom of the hill). The VIP is one of the few where you get a guaranteed service road tour! More...
26/Jul. Donington. Sadly the last time here! We'll make it memorable with our Superior package in a 4* hotel 2km from the track; opening party with riders and guests (last year we had ALL the young British riders), special 'Donington nostalgia' dinner, and a hotel bar filled with team members and paddock rats! Thursday we pariticpate in the Day of Champions, and will bring anyone over there, and have a happy hours afterwards. Oh, did we mention

Randy Mamola

rides? More...
16/Aug. Brno. The Big One. Offiicially the biggest MotoGP, winner 2nd time running coveted IRTA 'best organised'; our flagship. We have 500 rooms in 9 packages, all budgets, 16 coaches; awesome Friday trackside party with several roast pigs, bottomless beer, music and guests; Saturday night Charity.GP with celebs, auction and more beer... We do Prague breaks, Karting GPs, city tours. A stunning hospitality tent, and a private VIP Village suite and we sponsor our favourite grandstand.More...
30/Aug. Indianapolis. Stunning facilities and the best VIP Village suite in MotoGP (VIPs have paddock acces!). Superb viewing opportunities all around the track, and in case you get tired (or wet) a fascinating museum on site. We do 2 packages here - a very good value Classic 3* and our Deluxe 5* based in Indy's top hotel. All downtown to catch the buzz of this city. All feature our opening party (Steve Parrish left the Americans in stiches). Stay tuned for more developments on this front! More...
06/Sep. San Marino. Another one of our big ones - we have 4 packages here from beachside 3* Classic, 4* Superior in our 'home' villa hotel; 5* Deluxe in the best hotel in the region, and an all-inlusive Special package in a sublime 4*+ boutique beach hotel. Our opening party features an entire Italian team and riders; and the Sunday closing dinner is always our favourite of the year (what we can remember!) Monday we do a special tour of Tavullia for Rossi lovers & San Marino for shopaholics! More...
20/Sep. Hungary. New this year and more eagerly awaited than a Rossi victory stunt! We're not sure the track will be finished on time, but that won't stop us from having a blast! We have Hungarian guides and already 3 packages lined up, including our incredibly good value 3* Classic package, an all-inclusive 4* Special package and the best hotel in the region for our top VIP Deluxe offering. We don't know about the tickets yet, but you can rest assured we will be on top of it! More...
04/Oct. Estoril. Our personal favourite European destination with super people, great food, wine, sublime hotels and all spectacularly good value for money. The track is guaranteed to produce great racing. We have 4 packages - our veteran 3* harbourside hotel gives us stupendous rates for our Classic Package; we have a 4* Superior and 5* Deluxe package; and new this year, an all-inclusive package in stunnning Sintra in the 2nd oldest hotel in the world.This one's love. More...
18/Oct. Phillip Island. The Pilgrimage. You come all this way, you need to stay on the Island. We have the top hotel around, 4 nights of non-stop entertainment and trackside action. An opening party with guests speakers, we always bump into riders on our club crawls, and penguins Sunday after the races... We have a private VIP pit lane suite with special pit visits. Our Special package is 4 nights dinner, bed, breakfast, transfers & fun! Pair up with Sepang for a mad double header! More...
25/Oct. Sepang. Things tight this year? Choice of a holiday or a MotoGP? Do both together! Malaysia is an amazing destination, inexpensive (and you might be pleasantly surprised at flights) & safe. After enjoying the GP, we can take you to Penang for more sun and sea. But the GP is amazing - our Superior package is in a 4*+ hotel, with opening party, track transfers and hard-researched knowledge of the mad night life! The VIP Village is the best of the year for paddock access More...
08/Nov. Valencia. It can't be over so soon! First off,

if you want to go VIP to Valencia book your tickets NOW!

We are always the biggest VIP agent there, but we seem to spend half the year chasing stray tickets! This is our 2nd biggest event: our Classic package is well-loved; and we also offer a 4* & 5* package. Our tickets are hand-selected, we think the best seats in the 'house'. Gala opening charity party, and our closing party usually goes to the wee hours. Help us celebrate! More...
You can book all products securely online with instant confirmation, or you can phone our UK office +44 (0)191 406 6260, USA: +1 541 255 3236; IE: +353 (0)1 657 1933 or contact us via email
The Survey(s)
We'd like to hear more about your plans for MotoGP attendance this year! If you have 5 minutes, please complete our survey (and enter a chance to win 2 tickets to the event of your choice!) Click here.
(and if you have been on an event with us, and haven't had an opportunity to complete a post event survey, or you just thought of something, please help us make the next on even better by completing our event survey)
Congratulations for reading this far! As a reward, you may use code PPTX03 to take 5% off any package booking until the end of March. You may use this online or reference it when speaking/emailing us.
Looking forward to a thrilling season!
Gordon Howell, Founder & Managing Director.
Pole Position Travel is a trading name of Pole Position Travel SE; a European joint-stock company with seat in Czech Republic and subsidiary office in UK.
Kaprova 13, Prague 1, 110 00 Czech Republic.
t: +44 (0)191 406 6260 f: +44 (0)870 130 9207 help@polepositiontravel.com
Representatives in UK, USA, Italy, Australia, Russia.
Our web sites:
www.polepositiontravel.com - all MotoGP travel
www.polepositionvip.com - VIP and Corporate Hospitality
www.brnograndprix.com - um... The Brno GP!
www.qatar-grandprix.com
Latest press: Dec 2008 - Ultimate Motorcycling. Top MotoGP VIP provider!