The HOT list
5 under £500 with flights
Owing to good flight costs from the UK and our great inclusive packages, a few events are exceptionally good value. Our suggestions:
Event
Out
Ret
Flt
Pack
Tick

Tot

Le Mans
15/5
18/5
£80
£293
£71

£444

Fly London - Paris, then TGV to Le Mans; arrive in time for opening party, 3 nights 3* B&B in city centre, general admission
Catalunya
11/6
15/6
£30
£371
£79

£480

Fly London - Gerona on RyanAir, 4 night 4* beach package with dinner, B&B, grandstands. Our best seller.
Assen
25/6
29/6
£73
£305
£69

£447

Fly London to Eindhoven on RyanAir, train, 4 nights B&B, 3 dinners, opening party, Assen party, general admission (based on 4 sharing)
Brno
13/8
17/8
£80
£150
£39
£269
Fly Luton-Prague, bus to Brno; 4 nights 2* package with transfers and general admission. Splurge with extra £34 for Fri trackside opening party with riders, unlimited beer, pig roast, music...
Estoril
2/10
5/10
£67
£264
£44

£375

Fly London-Lisbon, 3 nights in beautiful Portugal B&B, transfers, opening party, grandstand. Add a day for only c. £36 pp
Prices are valid as of 18.Apr and are per person based on 2 sharing in package with tickets specified. Can upgrade to any ticket, superior packages; extra nights. You book your flights (we will advise). n.b. Prices do NOT include the 5% package discount readers of this newsletter are entitled to!
2009 Season updates

Package rates for many events have been adjusted downward thanks to hotel and product re-negotiation!
12/Apr. Qatar. Finished! You can book 2010 provisionally. More...
26/Apr. Motegi. Last call! All our customers get Paddock access. More...
03/May. Jerez. Special/3* package SOLD OUT. Deluxe/5* package SOLD OUT. We have a few rooms left in our excellent 4* package in Jerez, with fabulous opening party. Also a few of the coveted X0 & X1 tickets. More...
17/May. Le Mans. Incredibly good value, inexpensive to get to (fly to Paris then train). Last rooms in our 3*/Classic package in the heart of Le Mans with intimate opening party with Julian and Neil.

NEW: Meet 250 dark horse sensation Jules Cluzel!

More...
31/May. Mugello.

We have expanded our 3*/Classic package.

Our current best-seller, this was sold out until we put more rooms on; but will sell out again. A few remaining in our 4*/Superior = brilliant hotel. Hot news: we have secured a rare allocation of VIP Village places! More...
14/Jun. Catalunya.

FLIGHTS FROM UK CURRENTLY <£30 RETURN!

We have a few rooms left in our amazing value 4* 'Beach' package making this event the current best value for money of the season. Barcelona 4*/Superior nearly sold out; we have dropped price on our 3*/Classic in Barcelona. Opening party In Barcelona (included for all Barc packages) features Julian Ryder. New Hospitality suite! Great facilities, paddock/pit tours, perfect step up from stands! More...
27/Jun. Assen Groningen Superior package reduced - 4* hotel with 2 great hospitality options; and of course our awesome Sat night 'Beer Trolley' tour! Our Special package featuring dinner, bed, breakfast will More...
05/Jul. Laguna Seca. New Economy package! 3 nights B&B, opening party, tickets all from about £500 / $760 per person! More...
19/Jul. Sachsenring. 3*/Classic package SOLD OUT. We have reduced the price of our great 4*/Superior in a hotel frequented by teams and riders. More...
26/Jul. Donington. Just a few rooms left in our 3*/Classic package; our 4*/Superior is based near the track and always a top hangout for teams. Oh, did we mention

Randy Mamola

rides? More...
16/Aug. Brno. Prices will go up in May... We have 14 hotels, so pretty much something for all! More...
30/Aug. Indianapolis. New VIP charity opening party being planned. Best VIP in MotoGP! More...
06/Sep. San Marino Super holiday destination! Stay for Monday Tavullia. More
20/Sep. Hungary. CANCELLED! Will be back in 2010
04/Oct. Estoril. One of our best sellers. 3*Classic selling fast. Our TOP SECRET package of the year is the Special package in the stunning Sintra hotel just 10 minutes from the track. More...
18/Oct. Phillip Island.Pair up with Sepang for a mad double header! You can fly UK - Melbourne and stop on the way back in KL for about £750 for a fantastic 2 GP holiday! More...
25/Oct. Sepang. One of our surprise hits this year - likely to sell out. NEW 5* Deluxe pakage in KL More...
08/Nov. Valencia. Finally, after years of trying WE HAVE A PRIVATE VIP SUITE IN VALENCIA. For the ultimate way to catch the ultimate race! 3*/Classic packages selling well. More...
You can book all products securely online with instant confirmation, or you can phone our UK office +44 (0)191 406 6260, USA: +1 541 255 3236; IE: +353 (0)1 657 1933 or contact us via email
international reps sought
We already have representative agents in USA, France, UK, Russia, Greece, Slovenia, Australia, Ireland and Hungary. We are looking for partners in other markets, either individuals or existing agencies, who would like to get actively involved in MotoGP sales and event and travel management. If you can work part time, in your market, and have a passion for bikes and want to join a winning team, Contact us for more information.

A happy Pole Position Team at Indy!
special notices
Buy full service packages or just tickets online with instant confirmation on www.polepositiontravel.com
Now with Price Promise! We will match or beat any competitor's price on the same product. In addition, for full package or just ticket customers, we will be there at every event if you need help. That's the Pole Position difference!
See also what a few of our customers have said. We get a lot of repeat business!

Find us on Facebook! (here)

Skype: polepositiontravel
Check out our movie! (7 mins)
The Survey
We'd like to hear more about your plans for MotoGP attendance this year! If you have 5 minutes, please complete our survey.
Congratulations to Les Hart of Ireland as the winner of contest for 2 free tickets to any MotoGP!
(although the contest is finished, we'd still love to hear from you. You will be rewarded with a discount code!) Click here.
And they're off - Miracles in the Desert!
What a weekend!
Without doubt the weirdest MotoGP I have experienced; the opener at Qatar will be remembered for a long time to come.
But for me it was NOT because of the incredible weather, the unprecendented MotoGP race postponement, the shortest 125cc race in history, the long-awaited season opener... No, it was the sheer exuberance, the exhilaration, the pandemonium when the team we have sponsored for the past 3 years put one of the most likeable young riders on an historic first podium for both team and pilot! Frenchman Jules Cluzel took an incredible 2nd place in the 250cc race having battled his way forward from 13th position past most of the top seeded racers! Privateer team Matteoni - both known to many of our customers over the years - achieved their greatest result. I was privileged and proud to be in the pit and then under the podium with a few of our fortunate customers to drink in the moment and the raw emotion that makes this the most exciting sport on the planet!
Apart from Jules, despite being only 13 laps, this race was one of the most exciting we have seen in years, very close, a sweet comeback for Hector Barbera, and an amazing 250cc debut from 125cc champion Mike di Meglio (two French on the podium!). This will be a great series!
The 125cc race saw just 4 laps in the shortest race in GP history. An unprecedented half points were awarded; sure to make this a strange point count! our sponsored British rider Danny Webb (99) put in a good ride to go from 13th to 9th in the short time he had -- this after a poor week of difficult setups and bike issues.
The MotoGP looked like it was just going to get in under the rain -- but our hopes were dashed as seconds after the engines started in preparation for the sighting lap; the heavens burst open. Many of us had gone to the main grandstand for a starting-line view of the race; I regret to report the half-roof was designed to keep out sun, not rain, and we all got soaked! For an idea of what it was like, check out our video on YouTube.
Monday morning we were on the phone contacting all of our VIP and package guests, we were delighted that most of the people in the VIP Village manage to change travel schedules and make the unique Monday night race. Dorna was kind enough to re-open the hospitality and a good time was had by all! Many also made it back to the grandstands.
The rain held off; and Stoner cruised to his predicted victory; with Rossi and Lorenzo proving that this is going to be a 2- or 3-way race all season! What a battle we have brewing!
Qatar is by far the smallest event on the MotoGP calendar -- but once again I am reminded what a 'club' feel it has. Especially at the VIP level where you enjoy full paddock access, private stands and shuttle services, service road tours, and many of our customers got an opportunity to sit on the pit wall for race and qualifier starts! We had one customer who was photographed with every single MotoGP rider; anyone who wanted an autograph of Rossi or another rider found it easy; some saw the race from the service road. If you can make it to Qatar, this is one you want to save up for VIP. We will continue to offer an inexpensive package option to help you save your budget for the important stuff!
The destination itself can be a lot of fun - we did a tour of the old souk, the sublime new Islamic Art museum, and shopping galore! Very family-friendly, this is one I want to bring the kid to! See some photos of the weekend on our gallery. We are taking reservations for 2010 now - it will be about the same time, and will be the first event as well as a night race.
Oh yeah - Qatar took the coveted IRTA 'Best Grand Prix' award for 2008.
Official IRTA Test Jerez 28-29 March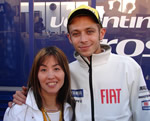 This was fun... Known as 'GP 0' this was the first time we had run a package to the Test, and it won't be the last!
We had the run of the paddock. We met and had conversations with many riders and celebs -- just to name a few: James Toseland, Colin Edwards, Valentino Rossi, Nicky Hayden, Angel Nieto, Giacomo Agostini, Tony Elias, Niall MacKenzie, Steve Parrish, many of the Red Bull Rookies, and a lot more including team members, journalists, and of course each other! We enjoyed (mostly) great weather -- although God did give Casey a BMW when rain hit the track 5 minutes before the end of the 45 minute qualifying shootout!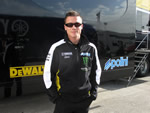 We showed up early - catching the end of the 125/250 tests. Here's where we got a clue that Jules was no longer 'Clueless' when he put in the 3rd fastest lap of the test just at the end. Bradley was second only to Simon -- there's a battle shaping up! And you could have knocked us over when we saw Melandri whizzing around in about 9th position on a bike that was predicted to be dead last and going backward... The new Tech3 livery and JT looked pretty snazzy too! We had a chat with Nicky, who admit he wasn't 100% with the bike yet, but is very confident he will soon master it. Ago was around, he'll be paying us another visit in Mugello.
If you want to have a break, enjoy an early spring, drink wine under the sun, and hear those bikes for the first time in 2010, join us for this unique event next year!

Speaker Lineup 2009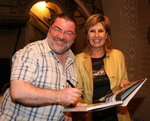 Speaking of Jules Cluzel, customers will have a chance to meet him at San Marino and probably le Mans; plus other riders and personalities through our guest speaker programme.
One of the things that we like to think makes us unique is the fact that "we bring fans to the paddock and the paddock to the fans". In this latter role, we are delighted to announce some very interesting speakers for our opening parties (Fridays usually) at MotoGPs. Some to note:
| | | |
| --- | --- | --- |
| Motegi | Shinichi Isoya | Japanese Superbike rider and veteran 'insider' of Japanese motorcycling |
| Jerez | Julian Ryder | Famous Eurosport commentator, launches our special edition 2008 MotoGP Review book |
| Le Mans | Neil Spalding | Top MotoGP technical journalist. Will be accompanied by Julian Ryder |
| Mugello | Andrew Northcott | Top MotoGP photographer, showing some of his best work over the years |
| Catalunya | Julian Ryder | It is impossible to get too much of this fascinating man...! |
| Assen | David Emmet | Incisive editor of MotoGPMatters.com 'insiders' website |
| Laguna Seca | Mark Neale | Director of Faster! and Doctor, Tornado and Kentucky Kid! (Private screening) |
| Sachsenring | Red Bull Rookies | A number of the Rookies to give insight into this superb race series |
| Donington | British Young Guns | Repeating last year's presentation of all the British 125cc and Rookie riders |
| Brno | Niall MacKenzie, Julian Ryder, Randy Mamola, several riders, ? | Opening party with several riders on hand, Saturday Charity.GP for Riders for Health with several top names |
| Indianapolis | Steve Parrish, others | Opening charity bash with several riders and other personalities |
| San Marino | Team Matteoni | Privateer Italian team Matteoni with riders Jules Cluzel and Lukas Sembera |
| Estoril | Team de Graaf | Privateer Dutch team de Graaf with riders Danny Webb and Swiss Randy Krummenacher |
| Phillip Island | Wayne Gardner, Dylan Mavin and others | Apart from 2 parties, we also have a private VIP suite which had a number of drop-ins last year including Mick Doohan. Dylan is our sponsored Australian Rookie. |
| Sepang | MotoGP team | We have lined up a team from the MotoGP paddock, but cannot announce it just yet...! Pencilled for Sepang (one of our best sellers) |
| Valencia | The Irish | We have an opening charity do for Down Syndrome Ireland, and a number of Irish road racing personalities such as Eddie Laycock always turn up |
Programmes and speakers subject to change.
Our opening parties are included in almost ALL our packages. For some events ticketholders can purchase the parties separately.
Remember - all our packages are fully serviced - our mission is to make each event a weekend of a lifetime!
Hungarian MotoGP
As you are probably aware, Hungary has been canceled this year without replacement. This is a good thing, as it means we are certain to have the event in 2010 and we have plenty of time to prepare for it! Since we have already done a lot of legwork, and we are pretty close to the event, we expect to make Hungary one of our top events for 2010. If you want to be on our spcial 'friends of Hungary' mailing list, please drop us a note!
Congratulations for reading this far! As a reward, you may use code PPTX03 to take 5% off any package booking until the end of April. You may use this online or reference it when speaking/emailing us.
Looking forward to a thrilling season!
Gordon Howell, Founder & Managing Director.
Pole Position Travel is a trading name of Pole Position Travel SE; a European joint-stock company with seat in Czech Republic and subsidiary office in UK.
Kaprova 13, Prague 1, 110 00 Czech Republic.
t: +44 (0)191 406 6260 f: +44 (0)870 130 9207 help@polepositiontravel.com
Representatives in UK, USA, Italy, Australia, Russia.
Our web sites:
www.polepositiontravel.com - all MotoGP travel
www.polepositionvip.com - VIP and Corporate Hospitality
www.brnograndprix.com - um... The Brno GP!
www.qatar-grandprix.com