2010 season
NOW TAKING BOOKINGS FOR 2010!
We have tickets, VIP and packages for ALL events for 2010 now on sale. See our 2010 calendar for all events and on-line booking (n.b. as this newsletter went to press not all events have been configured online - this process should be completed next week, however we can quote all events now)
Prices are virtually the same as 2009 - some packages and tickets are LOWER.
The top 6 most popular events in 2010 so far:
Silverstone 20/6 (by far!) - we have packages (3* and 5*), private hospitality suite, all tickets, VIP Village & paddock hospitality. Many bookings already!
Mugello 6/6 - We have 4 packages, top VIP, and speak Italian! Some customers are doing this back to back with Silverstone!
San Marino 5/9 - The surprise entry on this list! Always a great event: 3 packages, VIP, hospitality, Ducati & Tavullia tour. Back to back with Hungary.
Brno 15/8 - No surprise here... Our flagship attracts a lot of repeats, and while we rave about other events this is still the '800 pound gorilla'! Be there.
Laguna Seca 25/7 -

Mecca.

Qatar 11/4 - Sudden flare of interest - not hard to see why! First outing of the new Moto2 class and of course all the teams; a spectacular event; and not dear!
At all events we offer the usual: top guides, great opening speakers, parties, carefully selected hotels and tickets, top VIP and hospitality, and all the ground transfers you need. You enjoy the action, we take care of the rest!
You can also download our PDF calendar here
To assist your planning, see our improved guide to planning your motogp trip, with 'league tables' of average costs and travel advice.
nec british motorcycle show
We are NOT exhibiting this year at the British Motorcycle show at the NEC (27/11-6/12). However we will have some people there and happy to meet in person to discuss your 2010 MotoGP needs. If you are there, phone +44 7973 748591 to set up an appointment.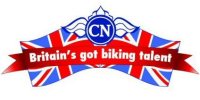 We are also helping the Carole Nash Britain's Got Biking Talent contest - the top prize is a trip for two with us to any European MotoGP! Come see the entries!
We WILL be exhibiting at:
4-7 Feb 2010 London. MCN London Show
20-21 Mar Edinburgh. MCN Scottish show
also find us...
We have just started sharing our experiences with our customers. Here's how to tag along:
Check our our new

video

of the 'Pole Position Travel' experience

Follow us on

Twitter

(just started!)

Check our some of our videos on

YouTube

Our professional contacts are on

LinkedIn

(Pole Position Travel group)
More to come...!

Find us on Facebook! (here)

Skype: polepositiontravel
Check out our movie! (7 mins)
To follow the action from your keyboard, check out our friends at:


2010 calendar updated
FIM has issued an updated 2010 MotoGP calendar. The events Le Mans (+1 week), Mugello (+1 week), Silverstone (+2 weeks) and San Marino (-1 week) have changed. (Brno has NOT changed, and remains on 15/Aug, contrary to the original FIM press release on 10.11. As the top agents for Brno, we recieved news of this directly from the circuit this morning)
While we HOPE this will be the final calendar, it is not yet ratified as final by FIM. Of the three events that fall during the World Cup (Silverstone, Assen and Catalunya) only Silverstone is likely to clash (Assen has been the last Saturday in June since the Stone Age, and Catalunya on 4/July falls on a rest day). If you want to be absolutely safe, don't book flights until the final calendar is published - we will be happy to hold your booking in this case. At any rate we offer a full refund in the event of a date change and you cannot make it.
The calendar is on our website, or download one suitable for your 'fridge magnet here.
| | | | |
| --- | --- | --- | --- |
| 1 | 11/4 | Grand Prix Of Qatar 2010 | Opening race under the lights; fantastic shopping, beaches, tiny crowds. |
| 2 | 25/4 | Grand Prix of Japan 2010 | Exotic location with Honda Museum and carnival atmosphere. Few foreigners. |
| 3 | 2/5 | Gran Premio De España 2010 | European opener and always a madhouse; guaranteed sun and fun. |
| 4 | 23/5 | Grand Prix De France 2010 | Most laid back European event, incredibly picturesque medieval town. |
| 5 | 6/6 | Gran Premio D'Italia 2010 | Craziest atmosphere of all; track invasion at end. Beautiful Florence. |
| 6 | 20/6* | British Grand Prix 2010 | First time in 2010. Famous F1 circuit, organisers pulling out all stops… |
| 7 | 26/6* | Dutch TT 2010 | Longest-running event on calendar; great biker destination. Non-stop party. |
| 8 | 4/7* | Gran Premi De Catalunya 2010 | Best facilities, great track; stay either stunning Barcelona or on beach |
| 9 | 18/7 | Motorrad Grand Prix Deutschland 2010 | Great viewing track, very friendly and inexpensive destination, great beer. |
| 10 | 25/7 | USA Grand Prix 2010 | Totally unique atmosphere; awesome circuit; packed with events & parties. |
| 11 | 15/8 | Grand Prix Ceske Republiky 2010 | The biggest and the best. Our flagship. Best value in Europe, awesome parties |
| 12 | 29/8 | Indianapolis Grand Prix 2010 | Best VIP facilities, easy to get to, Mecca for motor-heads. |
| 13 | 5/9 | Gran Premio San Marino 2010 | Non-stop fun at famous Italian beach resort area. Good family destination. |
| 14 | 19/9 | Grand Prix Of Hungary 2010 | New event in 2010; 2 years in the making; great value beautiful location. |
| 15 | 10/10* | Malaysian Motorcycle Grand Prix 2010 | Best value of all events; superb VIP; tremendous nightlife. Make a holiday! |
| 16 | 17/10* | Australian Grand Prix 2010 | The most beautiful circuit, non-stop party weekend! Double with Sepang… |
| 17 | 31/10* | Grande Premio De Portugal 2010 | Favourite for charm & no stress. Great holiday spot; always exciting racing. |
| 18 | 7/11* | Gran Premio Valencia 2010 | Beautiful 'late summer' at atmospheric event. Grand Irish charity party! |
*Back to Back events
Since there are several pairs of events occurring in adjacent weekends, we are making a special offer to anyone booking packages at BOTH events: 5% off your TOTAL booking for each event (2.5% on VIP Village & hospitality) PLUS special offers on unique activities and transfers between events.
Especially useful if you are coming from overseas!
MotoGP tests
In 2009 we organised tours to the tests at Jerez, Brno and Valencia. These proved to be immensely popular and a great way to see riders and teams in action without the huge crowds and stresses. Our tours feature transport, paddock access, pit tours and meetings with riders and experts to help understand what is happening inside MotoGP.
We will continue this in 2010 with tours to the independent test events in Malaysia and Qatar**; and the post-event tests tentatively scheduled for Jerez and Brno.
If you are interested, put these dates in your schedule and contact us for details:
4-5 Feb, Sepang
21-22 Feb, Sepang
14-15 Mar, Qatar
3 May, Jerez
16 Aug, Brno
9 Nov, Valencia
Valencia, Sepang & Phillip Island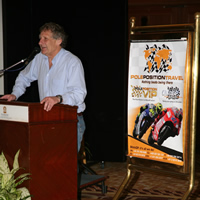 Full reports and photos will be provided for these events shortly. See all past events on our web site.
The year ended on a high with our tour to the Valencia MotoGP. Our Friday Charity.GP bash featured World SuperSport vice-Champion Eugene Laverty and raised in excess of €8500 for the charity Down Syndrome Ireland. Great show all!
A number of guests enjoyed hospitality in the Paddock with our partner team San Carlo Honda Gresini, and Tuesday a group visited the MotoGP test with all the new teams and riders, with a real inside look at 2010... Already a number of customers have rebooked for 2010!
We stood under the podium at Sepang to see Rossi celebrate his 9th world championship. This was a brilliant culmination to a weekend kicked off by our Friday opening party with guest speaker the spellbinding Jeremy Burgess. This is truly one of the magic events in MotoGP - several people followed the weekend with a visit to the beautiful island of Penang...
At Phillip Island we were entertained off track by Wayne Gardner, and were honoured by a visit to our hospitality suite by legend Mick Doohan. Organised visits to those cuties at the Penguin Parade, as well as virtually unique paddock access from our hospitality customers meant all had a spectacular weekend!
Gift Vouchers and Presentation Certificates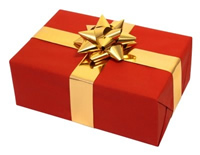 Want a great Christmas present idea? Give a loved one a trip (or just tickets) to a MotoGP! If you purchase any product online, you will be emailed a link to produce your own Gift Certificate! You can modify the special message, print and put in an envelope for a very special stocking stuffer!
Not sure where or when the lucky recipient wants to go? Just purchase a Gift Voucher in any denomination from €50 up. Your voucher can be redeemed against any purchase, These will be available online in the next couple of weeks, but you can request one now via email.
Looking forward to a thrilling 2010!
Gordon Howell, Founder & Managing Director.
Pole Position Travel is a trading name of Pole Position Travel SE; a European joint-stock company with seat in Czech Republic and subsidiary office in UK.
Kaprova 13, Prague 1, 110 00 Czech Republic.
t: +44 (0)191 406 6260 f: +44 (0)870 130 9207 help@polepositiontravel.com
Representatives in UK, USA, Italy, Australia, Russia, Greece.
Our web sites:
www.polepositiontravel.com - all MotoGP travel
www.polepositionvip.com - VIP and Corporate Hospitality
www.brnograndprix.com - um... The Brno GP!
www.qatar-grandprix.com