America the Beautiful!
We are delighted to announce a new North American office! To handle our growing USA customer base we have appointed a full time regional manager Jim McDermott.
Jim is a highly experienced motojournalist, writing for the US based racing web site Superbikeplanet.com, covering MotoGP and WSBK, and has tested many motorcycles, including the 2008 factory World Superbikes. In addition to business development, Jim will be coordinating advertising, marketing and social media in North America, and most importantly, helping customers plan their MotoGP dream vacations.
North American customers can deal directly with Jim from his New York City base, all quotes and transactions will be in USD (we can quote in CAD but payments will be in USD)
Contact: 1 800 501 0302
usa@polepositiontravel.com
The Thundersprint
8-9 May, Northwich, Cheshire, UK
In the UK? Why not pop along to Europe's biggest motorcycling festival? its a huge laugh and a great day out. We will be exhibiting there, and also encouraging our favourite rider Danny Webb to grease the competition in the micro circuit (set up in a car park!)
Best of all: it's FREE!

Brno 15/Aug
A quick note for those of you confused by the announcement from Motorcycle News that Brno was scheduled for 22.August. Rest assured, it remains 15.8 as scheduled!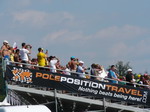 We took our annual planning trip there in March. The event will be bigger and better than ever! Our 'Pole Position Travel' T1 grandstand is being moved to the right to afford an even better view down the 'Stadium'; and the hospitality tent will feature PADDOCK tours, as well as its great location, food, drink (and let's not ignore those Czech hostesses!) And let's not forget the unlimited beer...
We'll do an in-depth preview in a couple of months, but we suggest you take advantage of the cheap flights and book now! More...
Motegi, take 2: 3/Oct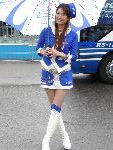 Well, a funny thing happened on the way to Japan...
Within hours of learning of the cancellation (we were informed directly by Dorna before it was public knowledge) we had notified customers and re-booked for October. If you want to attend one of the most remarkable GPs on the calendar, give us a shout. We hit Tokyo, the Honda Museum, have guest speakers, Japanese guides, track side BBQ, and lots and lots of fun! In October we are also laying on a Sunday night 'Volcano Meal' and an intrepid group is threatening to climb Mt Fuji on Tuesday to appease the gods... More...
Multi Currency Card payments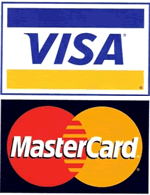 On a technical matter, we are very pleased to announce that we now take credit card payments directly in GBP, EUR and USD. (otherwise we convert to our bank's native currency CZK). We have done this because of a distressing trend for banks (notably British banks) to levy what we consider unreasonable 'foreign transaction' charges. It had come to the point that it was actually cheaper for both us and especially our customers to write a cheque! This also reduces exchange rate risk for customers. If we quote a payment of £500; you will be charged £500 and we take on the exchange rate risk.
We of course still accept bank payments in these currencies; and will quote in these currencies plus AUD, CAN, SFR (you can request either GBP, EUR, USD or CZK to pay in) We add a very low 1.5% to credit card transactions to cover a portion of our costs.
April Fools
We deeply regret to report that the production team for The Paddock (as reported in our newsflash of 1/Apr) tragically chose the Icelandic glacier of Eyjafjallajokull to film the opening credit sequence of the show. Alas the team - and the project - has gone up in smoke.

Skype: polepositiontravel
Check out our movie! (7 mins)
A big newsletter this month... We skipped March; mainly because we have been very hard at work as you can see!
Jerez 2.May last minute -
€100 cash back!
With only Qatar behind us, we are gagging for some more MotoGP action! Here's an incentive to help get you to the 'Best Event of 2009': we will add a €100 note to your package!* This will help alleviate last minute travel costs, or simply help your beer fund! To make it even better, we will offer a free pickup from Jerez airport or train station for any package.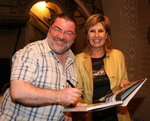 At the time of writing we have ONE room left in our 4* Superior package in Jerez (hotel hosts several teams), ONE room in our amazing Deluxe 5* hotel; and several rooms in our great value 'Hacienda' package - 3 nights (or more) in 3* hotel with dinner, bed, breakfast, evening 'happy hours' (free beer/wine) Thu, Fri, Sat, Sun nights; guide, transfers, opening party and more! All package customers can attend our gala opening party - great food and drink at a 15th century Hacienda with the effervescent company of Julian Ryder. (You may not recognise him!)
You can book online or via email/phone; in any case you must mention this offer to receive the cashback (this ONLY is available to our newsletter subscribers)
We are still seeing decent air fares to Jerez. From the UK our recommendations are:
Stansted - Jerez, Friday - Monday, Ryanair £250 per person return
Stansted - Seville, Friday - Monday, Ryanair £212 per person return
Bristol - Seville, Friday - Monday, Ryanair £90 per person return
Liverpool - Seville, Friday - Monday, Ryanair £145 per person return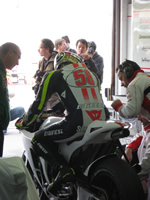 We also have 2 of the coveted X1 tickets and a few A10 tickets to really make this a special event!
We have just a couple of spots left for our Monday MotoGP Test VIP trip - you will be a guest of Team Gresini with complete paddock and pit access for the day, lunch and very special guest speaker. More..
*offer applies to a package booking with tickets for 2 people sharing. SAMPLE Price: 2 people in Hacienda package with A10 tickets: £1148 / €1324 total BEFORE €100 rebate. (And remember this include breakfast, 3 x dinner and free evening drinks!)
Mugello 6.Jun - FREE extra night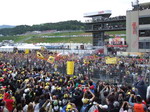 Mugello is always one of the star events on the calendar with an atmosphere that is indescribable. One of the truly unique moments of any MotoGP season is the mad Mugello 'Podium Rush'.
We want to help you really enjoy this weekend, and to make it easier we are offering a FREE extra night on ANY package booking. We have our Classic 3*, Superior 4* Villa and incredible Deluxe 5* (just one room left in this). Just book the package normally online or via phone/email and then inform us which night you would like to add.
The best thing about the free extra night? The air fares are a LOT cheaper! From UK consider RyanAir Stansted - Pisa Friday - Tuesday just £53 pp! (access from Pisa is easy - about £20 on coach or we can arrange pickup)
We have a great opening party with star speaker, ace photographer Andrew Northcott; and of course we take you to the track with our privileged access and top guides! More...
Silverstone 20.Jun - Hospitality nearly sold out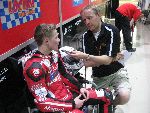 The inaugural race at Silverstone is attracting a lot of attention! As one of their authorised agents, we have sold a huge number of tickets for this event. However if you are going to see this historic event, we strongly recommend one of our hospitality options; both of which are nearly sold out:
VIP Village: top experience in private pavilion near Becketts with private grandstand pit lane walks, paddock tours, and much more, including our own expert guide on hand to make it all go perfectly! £750 for one day £960 for 2 days. More...
Pole Position Club: our own private suite on Brooklands with a commanding panoramic view of several corners, CCTV, large screen TV viewable from our private terrace; food, drink and our own private paddock and pit tours and visits from our 2 supported British riders: Danny Webb (99) in 125cc; and wildcard Kev Coghlan from Scotland, appearing on his Moto2 bike! More...
We have a great weekend planned of course: a 3* package (which is filling up as well) and one of our top Deluxe packages of the year in a hotel adjacent to the track rubbing shoulders with MotoGP teams! Friday night we have an opening party featuring most British riders and Julian Ryder; Saturday a VIP dinner INSIDE the paddock; and a lot more! More...
Assen 26.Jun - New Package & Free Beer!
Assen is always one of our 'party' events, and we have a super value-for-money DB&B package based in bungalows not too far from the track. These are nearly sold out (More info...) and in any case are not quite appropriate for our more VIP guests.
We are delighted to announce a new Superior Package: we have confirmed a top quality 4* hotel half way between Groningen and the circuit, making a convenient and comfortable base to explore this iconic event!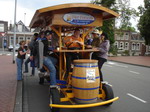 Apart from our usual opening party with ace MotoGP blogger David Emmett (motomatters.com) and transfers, we offer the funniest tour we do in the year - the hilarious 'Beer Trolley Tour' of Groningen! (pictured) More..
OUR SPECIAL OFFER: Anyone booking the Superior package will have the Beer Trolley Tour for free! You need to mention this newsletter...
Qatar MotoGP 2010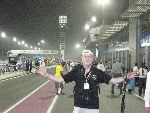 This is always an enchanting event... Too much to report in a paragraph...
We saw the first run of the Moto2. Our old friend Jules Cluzel took another podium! Casey dominated the weekend, then blew it on lap 6. We hit dunes, horses, camels, shopping, souks, our VIPs were 'paddock rats' and were there when Rossi broke his Qatar drought! And we arranged for the bar to stay open at the hotel - those beers at 2am after Sunday night's action were most appreciated!
Check out the video of the MotoGP podium. Sad to say no champagne spray....
Read our report (and see the pics) here...
Coming soon...
March is the month we finalise most event planning and deals, especially our top 5 events. In addition to the Scottish show, we visit Barcelona to review plans for the Catalunya MotoGP; Italy to pay a visit to Mugello (and the Gresini launch in Milan); Brno, after which we will have even more exciting details of our flagship event; and Hungary to catch up on progress and our hotels. A second trip to Silverstone is also planned to check out the new track and facilities.
Finally our North American customers can expect a special announcement in our next newsletter... Stay tuned!
Looking forward to a thrilling 2010!
Gordon Howell, Founder & Managing Director.
Pole Position Travel is a trading name of Pole Position Travel SE; a European joint-stock company with seat in Czech Republic and subsidiary office in UK.
Kaprova 13, Prague 1, 110 00 Czech Republic.
t: (UK) +44 191 406 6260 (US) +1 800 501 0302 e: help@polepositiontravel.com
Representatives in UK, USA, Italy, Australia, Russia, Greece.