Having problems to see this? Click here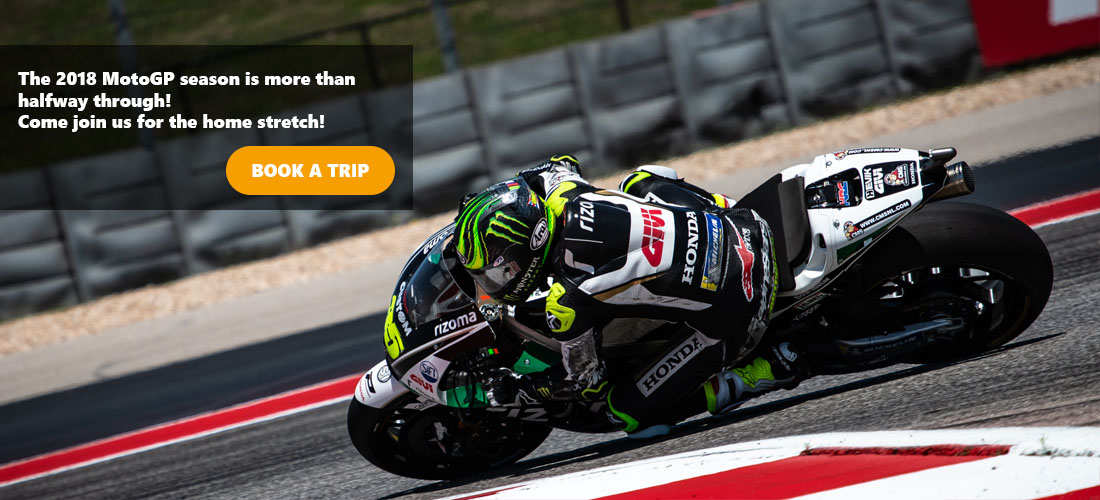 As the season winds down, anything can happen. Come see the riders put it all on the line for the Championship! Check out the following offers we have for the rest of the season and join us to catch some of the action!
Thailand MotoGP™: VIP Village, Hotels, Dinner with Scott Redding!

We have very recently obtained a few more of the coveted VIP Village tickets - in our private suite with special guests and open paddock access! Also a few more rooms in our "Resort" classic package, 4 nights with transfers and Friday opening dinner. The dinner features Scott Redding and other paddock guests in Buriram - included with packages, others may book.
The "Rider Experience" has been added to Aragon & Valencia

Due to the success of the new "Rider Experience" ticket access, we have included it in Aragon & Valencia! Join us and get the chance to meet one of our Moto2/3 Sponsored Riders! A meeting with the likes of Brad Binder, Jakub Kornfeil and John McPhee, just to name a few. For Valencia, you can add a grandstand ticket for a complete experience.
Watch the Sepang MotoGP race in style

Don't miss the opportunity to enjoy the best VIP experience of the tournament at our private VIP Village Suite. You have access to the entire pit roof and to the paddock all weekend. Alternatively, you can beat the heat and humidity at the Malaysian race by joining us in our private air-conditioned Pole Position Hospitality overlooking the sweeping corners to the south. Both suites feature buffet lunch, free beer, wine and soft drinks.
Don't miss the last race in Valencia!

Cheer on your favourite riders and celebrate the final race of the exciting 2018 GP season in Valencia, Spain with Pole Position Travel. Whether you'd prefer to enjoy the amazing view of the circuit from the Yellow Grandstand or to spend your weekend in the paddock as a guest of a MotoGP team, we've got you covered. Tickets are selling fast, so make sure to save your spot!
Find out about any MotoGP, WSBK or Isle of Man TT Race!
This message has been sent by an automatic system. Please, do not answer this email directly.
©2018 Pole Position Travel SE
Kaprova 6, Prague 1, 110 00, Czech Republic, +44 191 406 6260