Event description
As it is the last race event of the MotoGP championship, always one or more of the classes are decided at Valencia. This is always one of our biggest events! Racing, even if the championship is decided, is always thrilling as there are many agendas and currents running through the weekend as racers, teams, manufacturers all try to align themselves for the coming season. We also keep up with the off-track action, with constant news and rumours from the paddock.

The circuit is just 17km west of the city and is situated in a natural amphitheatre, giving a fantastic view from most of the 120,000 Grandstand seats. However only the Yellow, Purple and Orange grandstands have TV views. We have an area of the Yellow grandstands specially selected by us, with what we consider the best viewing in the circuit. All tickets are valid for three days.

VIP Village at this event is excellent - a private pavilion next to the paddock with a private turn 1 grandstand. We also do the stunning VIP Terrace with panoramic views across the track and our private guided paddock tours. We also offer our Team Experience packages in both MotoGP and Moto2/3. Go Platinum for the ultimate experience with grid access and service road tour in a BMW.

Now in our 14th year, we expect over 1000 ticket holders, 4 hotels giving the widest range of options; a small fleet of coaches; and a team of staff speaking several languages. Our opening party Friday features a charity auction for Down Syndrome Ireland, with great food, drink, special guests and and auction of all sorts of unique merchandise. Saturday night we have a very special event: The MotoGP Night - which features full access to the MotoGP paddock and pit, and dinner with the MotoGP team and riders! And if you aren't at this, our Tapas Night is a fantastic and yummy tour of Valencia! Sunday night we finish with our end of season dinner - a toast to our favourite sport and always a night to remember -- especially if you join our after-dinner party at Finnegans for Aidan's Craic!

Valencia itself is a fascinating city - a blend of architectures from Moorish to Modern, and a vibrant atmosphere as Spain's 3rd largest city; this is a great place to spend a few extra days as part of your 'Indian Summer'. We have some great options for extended stays. Thursday you can visit the track for the Two Wheels for Life MotoGP experience -- featuring riders, auction, and access to the paddock. Next season testing will occur starting the following Tuesday, if you want to prolong your visit, we offer a fantastic 'insider' package to the test, as guests of a MotoGP team!

We have a wide range of package options, from our very popular Classic 3*, a great value Superior 4*, and a sublime Deluxe 5*. All packages include the opening party and our priority transport to the Ricardo Tormo circuit.
Circuit information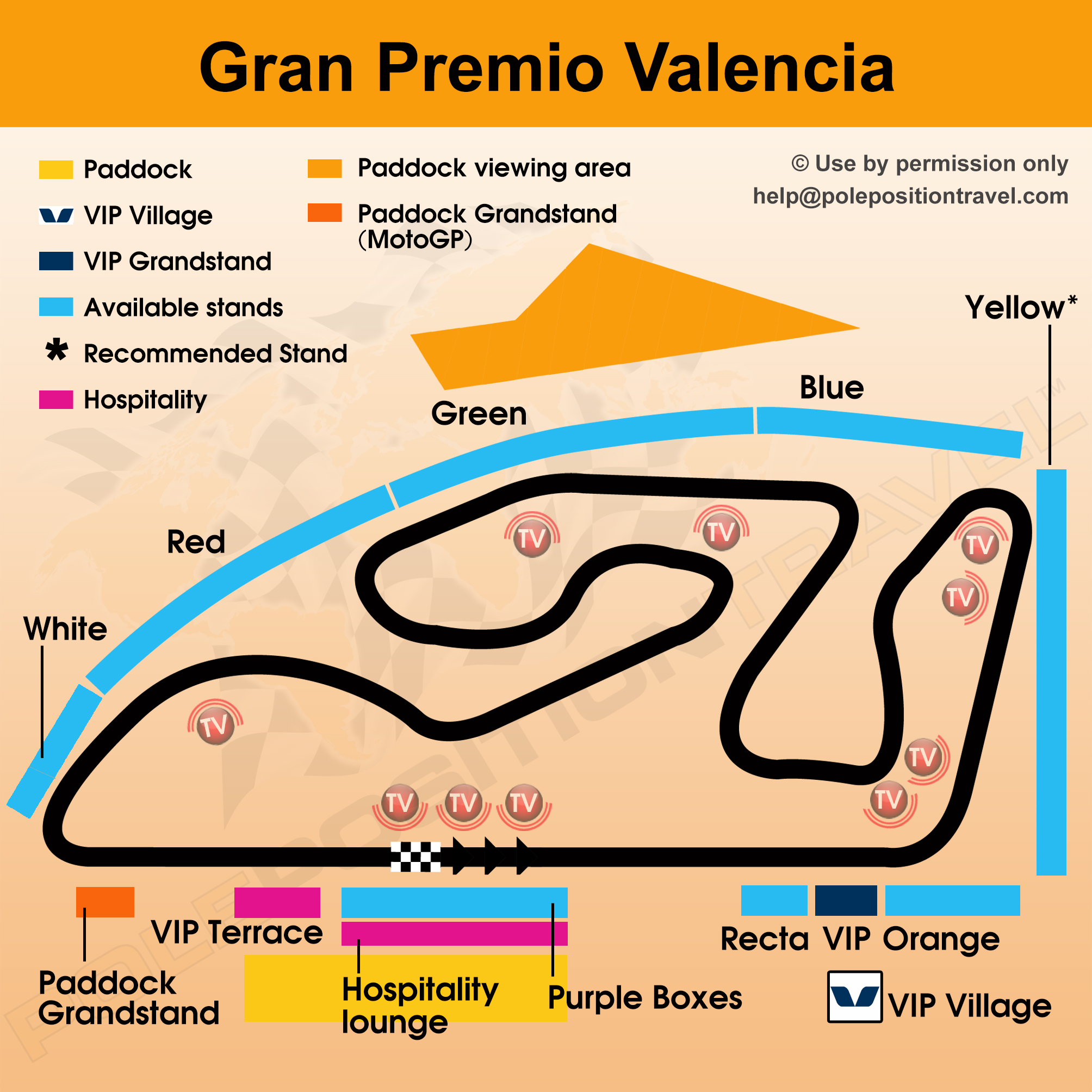 Gran Premio Valencia 2017
10th - 12th November 2017
#ValenciaGP
| | |
| --- | --- |
| Circuit | Circuit de la Comunitat Valenciana Ricardo Tormo |
| On site helpline | +44 131 202 6544 |
| Backup | +44 191 406 6260 |
| Event brochure | |
| Weekend programme | |
| Accreditation guide | |