1. Choosing a GP
Well you have 18 to choose from! It can be a tough call. We get the question all the time: 'which is the best?' or 'which is your favourite?'. Here are some of the most common influencers:
Date
Let's be honest - if you can only get early September off; San Marino suddenly looks like a very interesting GP! This is probably the most common driver. Plan your dates around the GP; and bear in mind that all our packages are totally flexible: we only insist that you stay the Saturday night, and observe the minimum night requirement (usually 3). We can book you for more nights, or add/suggest nights in a nearby destination (Prague for the Brno GP, Penang at the Malaysian GP for example) based on our expert knowledge of the area.
Destination
We are destination specialists - our firm philosophy is that you are here for BOTH the bikes and the location. So "I've always wanted to visit Malaysia" is a great excuse to pick a weekend on which there happens to be a MotoGP. At all events we add some 'cultural' excursion such as a traditional dinner, wine tasting, tour, to help you get to know the destination a little better and feel you have been somewhere, not just in a hotel, bus and grandstand!
Activities
We have heard it rumoured that sometimes couples go to a GP and one of them perhaps isn't quite so keen as the other... While we can't imagine anyone not wanting to see Friday Moto3 warm up practices, if you or part of your party might find that one or two days at the track is sufficient, you might pick an event that supports some of your other favourite activities. We can help organise some cool things at several events, usually on the Friday (Barcelona City tour at Catalunya, 4x4 driving in Qatar, etc). Also note that our favourite charity, Two Wheels for Life, organises some interesting stuff on the Thursday before several events: Day of Champions before Silverstone, similar events at Valencia, Cataluya and perhaps others. We can organise any of these for you.
Circuit
We don't have a favourite circuit, althougn we admit to a bit of a bias for our "home" event Brno. There are some we like best (Brno, Catalunya and Phillip Island are the first ones that come to mind) but ALL are interesting and have their unique characteristics and challenges. Whichever circuit you choose, we will help you with advice on best viewing and other tips.
Cost
Cost to attend events varies widely. More on this below, but if you are bringing the whole family, that extra 100 EUR per ticket adds up! See our advice below on travel costs.
For the package + tickets, here is a rough order of events from the cheapest to the dearests based on our standard 3 night 'classic' (or nearest equivalent) package and lower cost grandstand tickets. This is B&B plus transfers, guide, and all our services; based on two sharing. Not a quote, but just to give you an idea...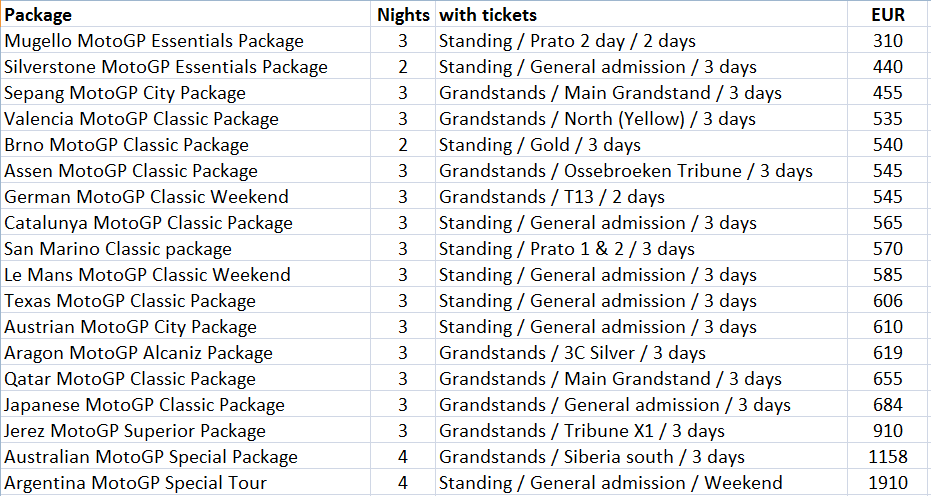 Most events will take triples, in certain events we can take 4-6 people in some packages, greatly driving down the per-person rates.
Note the star rating and number of nights will of course influence the price. 'Economy' packages provide the least service, 'Special' packages usually include a meal or wider programme. Some events (Phillip Island, Argentina, Jerez) we don't do 3* packages or lower packages. Since some events are priced in other currencies, we provide a benchmark equivalent in EUR.
2. Getting there
see also next question on 'Do I buy flights or tickets first?'
Fly
First, we don't provide flights (although we can book flights for a service charge - usually better for groups or long distance) It always proves cheaper and more efficient for you to book flights directly from the web or otherwise. We will be happy to advise you on the best options from your origin.
Ride
If we had the time, we'd like to ride to all the European events, and fly-ride to Phillip Island, Laguna Seca and possibly even Qatar. Alas... We are bikers, which is why we always select hotels with secure parking, and can often advise on some good routes and other tips. You will note our maps are designed to fit in a tank bag window!
We also work with some companies providing riding tours. We are happy to recommend those that use our services at the GP.
3. "Do I buy flights or tickets first?"
A common problem - you don't want to buy that cheap Ryanair flight to Jerez only to find out that tickets and/or hotels are sold out (and vice-versa)
The commodity in shortest supply is almost always the hotel rooms; so we recommend that you secure your packages and tickets first to establish the "shape" of your holiday. Even if you aren't exactly sure of dates, book the package anyhow, we can shift dates/add nights if you need later. It is only the Saturday night that must remain fixed, and you must obey the minimum night requirement (or at least pay for the minimum!)
Also, bear in mind that if you purchase a ticket and/or package from us (except for last-minute, see below), you may cancel the purchase entirely within 3 days without obligation or cost. This gives you a window to sort out your other travel plans, the other parties, who's going to feed the cat, etc. If we issue a quotation, we can also put on hold for a few days. All this means that you have the peace of mind that when you discover RyanAir wants £700 for that last seat to Jerez, you can drop the whole idea and watch the race from your local!
4. What do I buy?
As noted elsewhere, we provide highly flexible packages - everyone has their own needs and special circumstances. We understand this and consider each itinerary tailor-made for you.
Remember the basic equation:
tour = package + tickets + extras
We permit you to choose any ticket with any package (with a very few exceptions) and you can add on (at time of booking or later) any extra excursions, parties, tours, etc we are offering.
We recommend certain tickets with certain packages - mostly because these are the choices that most people go for, and if you don't want to spend hours analysing the circuit it is easiest just to follow our recommendations.
And it goes without saying that our 'extras' are always a blast and well worth it!
5. Families
We are especially sensitive to the needs of families and children (A MotoGP can be a great and memorable experience for children). We almost always have "family" hotel rooms permitting 4 or even more in a room; apartment; or at least adjacent rooms. Many circuits offer child discounts. Unfortunately there are many opinions as to what constitutes a 'child' - in our catalogue we state the rule, and will permit you to purchase child tickets when available. However it is your responsibility to ensure that your child meets the proper age requirement. Age is always measured from the date of first entry to the event.
6. What to bring?
Apart from your usual travelling gear, some other items you should consider:
Hat/sun block
Most events (we hope!) are in pretty sunny climes, 2 days in an uncovered grandstand can really burn you! We provide our coveted 'Event' ball cap to most package customers; you can also purchase one from us.
Earplugs
Well the 800s aren't as loud as the 990s were, but especially if you are sitting near the pit area, you might find ear defenders useful. We provide these to VIP customers free of charge.
Field glasses
Binoculars or similar can be very handy to catch the detail...
Permanent black marker pen
Especially for VIPs in the paddock, if you catch Rossi walking by and you want his autograph, be prepared!
7. Budgeting
Finally, here are a few tips about planning your trip budget.
Triple up and save
We offer triple bed rooms in most events (in limited quantity!). Single rooms can be quite dear, hotels rarely offer single rates during premium GP seasons. Putting three (or more) into a room means you save the single supplement, and we also usually discount the package a bit. You can put up to 6 in some events such as Assen making this a very good value!
Adjust your dates to flights
You might find that arriving a day early (or late) saves you a lot on the flight. We can accommodate by adding nights / shifting your package.
Book well in advance
Unsurprisingly, our best offers tend to go quickly, and of course flights and fares go up as the cheap seats get snapped up. We can book any event, so go ahead and plan Valencia in December! We also offer Christmas and other 'early bird' discounts; and circuits tend to raise prices closer to the event. Rule of thumb is that you want to book at least 3 months out.
We will always try to help you work within a budget, don't be shy to let us know a target price (overall or per person) and we will make suggestions accordingly.