special notices
2009 provisional calendar launched!
2008 prices held! Online bookings will be available soon, meanwhile you can lock in your package and price by contacting us. We will quote 2008 prices with a 100% deposit-back guarantee if the dates change.
Hungary added, China out. We have already sorted out some great packages for the first Hungarian MotoGP! Join us in the beautiful spa resort of Lake Balaton for some great MotoGP action & a super excuse for a short holiday! Double up with San Marino for back-to-back MotoGP thrills.
USA OFFICE
Did I mention that Laguna Seca was a thriller? See some photos on the Laguna gallery page. Indy is shaping up to be the most anticipated event of the year. To capture the growing awareness in North America and better serve our American clients, we are pleased to announce the appointment of USA representative Bobby Casey. Bobby can be reached on +1 541 255 3236 (usually on east coast) or email
RUSSIAN REP
We also welcome Anton to our team. We have been seeing substantial increase in interest in MotoGP from Russia, and Russian fans are always great fun! We will be at the Moscow Superbike round on 31/Aug for something different!

О нас +7 (495) 504 1091
2008 PAST EVENTS. We have posted trip reports and photos for the fun we have already had this year! (for most events, rest coming) If you were there, or wish you were, take a look:
| | |
| --- | --- |
| | Qatar 9/Mar : The first night race! We had a weekend before the weekend started! Awesome time. |
| | Jerez 30/Mar : Non stop weekend, opening party with Julian Ryder, Rookies double-header, super VIP... |
| | Estoril 13/Apr : Danny Webb & team opened our party, then took incredible 4th and 5th! Great fun weekend! |
| | China 4/May : Two customers were grid girls! Speaker Peter Clifford picked the winner! Alas, the last... |
| | Le Mans 18/May : Great racing! Chris Jonnum (Hayden biographer) set stage, the Cabaret filled it! |
| | Mugello 1/Jun : Rossi does it again! Our private VIP suite tops year with guests such as Giaocomo Agostini |
| | Catalunya 8/Jun : Our beach package a huge hit, and in the city our opening party went to the wee hours... |
| | Donington 22/Jun : Friday we introduced customers to ALL the British 250, 125 and Rookie riders. And Scott! And Randy rides! |
| | Assen 28/Jun : Most fun of the year! (tough call!). Sat beer trolley tour was non-stop hilarity and beer! |
| | Sachsenring 13/Jul : Any weekend starting in a beer cellar with a spellbinding speaker is bound to be good... |
| | Laguna Seca 20/Jul : Best race of the year; incredible atmosphere; awesome Sat party, drinks with John and Ant, war stories from director of Faster! can we go back?! |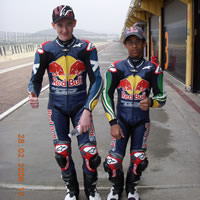 Watch the Rookies! The second year of the Red Bull MotoGP Rookies Cup is showing what awesomely fast kids are coming up, and what thrilling racing! Pictured are our two sponsored riders, Deane Brown from Scotland, and the only Nigerian rider, Alessio Capella, aka the Black Arrow. Deane alas broke his leg in BSB recently and rejoins the fray in Brno.
Sponsorships for the rookies are available, contact Gordon +44 7973 748591 to discuss options in confidence.
BRITISH SUPER BIKES VIP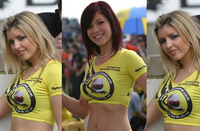 Thanks to our relationship with Bike Animal, we can provide BSB Hospitality, featuring the Hydrex Honda hospitality unit with catering, pit walk, paddock access, meet the riders, and more. £189 for the weekend, we have a limited supply for each BSB weekend.
Can this season get any better?
Rossi wins an unexpected, thrilling edge-of-seat victory at Laguna Seca after Casey takes 3 in a row to put himself firmly back in the contention. Meanwhile Dani blows a sure win in Germany and earns 2 DNFs to drop from the lead to 3rd place... Down, but not out by a long margin!
Meanwhile in the second group, some fantastic results by Chris Vermeulen have placed him and Suzuki into the battle for 4th, against the rejeuvenated Colin Edwards, our choice for Rookie of the Year Andrea Dovizioso, and the injured and perhaps confidence-impaired star Jorge Lorenzo. British MotoGP rookie James Toseland is putting in a very impresive top-10 performance; too bad about Donington, but he has nothing to be ashamed of! We are a LONG way from over -- we are still predicting Malaysia for the championship decider and Valencia for all the other places; be there!
The 250 is looking a two horse race, with Simoncelli coming on like lightning to overtake the early dominant Finn Mika Kallio. The battle for 3rd is hot, with Pasini, Barbera, Devon and Bautista all within 10 points.
And if it is more excitement you crave, as usual the 125cc battle doesn't leave us time to draw a breath. Frenchman Mike Di Meglio has come out of nowhere to dominate, helped by all the wet weather this season and his skill therein. British Bradley Smith could not possibly have worse luck, but we know he will be on the top step of the podium this season. Our own sponsored Danny Webb had a bad fall in Donington, but is racing again in Brno and looking better than ever. And speaking of top steps -- can you believe Scott Redding? The first Brit to win a British GP since 1986** and the youngest ever victor! If he wasn't so cool, I'd say the kid's on fire!
Finally if you haven't been following the Red Bull MotoGP Rookies Cup then you have been missing possibly the most exciting series of all. It looked a sure thing for Spaniard Luis Salom, but his 2 DNFs and a long-sought after win at Germany put Amercian JD Beach in the lead, with Norwegian rising star Sturla Fagerhaug running third in the tournament. With a closing double-header at Brno, and the top 10 off to Indianpolis to challenge the Americans, the tension will be unbearable at Brno.
Speaking of Brno, after the summer break all the bikes will be in top form, the riders healed and rested, and the competition intense with all still to play for. Brno is likely to be the pivotal GP of the year. It's not too late to book...
Here are some highlights of the season to come. Click on event for more info.
Brno 17/Aug : Our flagship. We are event sponsors, been coming here since 2002. Over 500 hotel rooms, 22 staff, 15 coaches. Private VIP suite and brilliant hospitality tent. Opening trackside party Friday, unlimited beer, live music, pig roast, special guest: James Toseland & other riders. Saturday night we take over brewery for charity gala for Riders for Health, featuring Steve Parrish. Now the biggest event in MotoGP, and 3-time winner of 'best organised'. Cheap beer, beautiful women, etc...

HOSPITALITY TENT LAST 2 remain (of 100). Last few VIP Village. Several ticket options remain including our own Pole Position Travel T1 stand. Scattered availability in packages from 2* - VIP. Click here to book.

It's not too late! Here's how: Catch a cheap flight to Prague, ideally on Thursday 14/8; then book one of our packages on line (fastest and saves you a little bit) or contact us for assistance.

One suggestion (from UK) (costs estimated per person in GBP)

| | | |
| --- | --- | --- |
| Thu 14/8 | EasyJet from East Midlands - Prague, return fare | £99 |
| Thu 14/8 | Connecting bus service to Brno | £8 |
| Thu 14/8 | Check into 3* hotel on Special City package, includes: | £325 |
| | 4 nights 3* bed & breakfast in city hotel | |
| | Friday opening party at track (unlimited beer/wine) | |
| | Saturday night Charity party at brewery (more beer) | |
| | Transfers to parties, Sat/Sun to and from track | |
| | Our guides, merchandise, Thurs happy hour | |
| Fri 15/8 | 3 day 'C' infield general admission | £59 |
| Mon 18/8 | Return connecting bus service to flight | £8 |
| | TOTAL PER PERSON (based on 2 sharing) | £499 |

The only thing you need to buy is food (and we cover Fri and Sat night!), beer at the track, and souvenirs (save something for the charity auction!) Many options we can help you with: spend a night or two in Prague; upgrade to grandstands or VIP; join our Sunday evening 'winding down' Moravian Evening; upgrade to 4* or deluxe hotel (or downgrade to 2*)

San Marino 31/Aug : If you want a holiday with a MotoGP attached in Europe, there is no finer option. Super atmosphere in our coastal Riccione base; this is our 3rd biggest event (after Brno and Valencia). We have 5 packages to suit all styles and budgets, a great opening party with a very special guest lined up (we will announce soon).
Indianapolis 14/Sep : The most anticipated event of the year. The only chance to be first. Like Laguna, with low dollar (book NOW before dollar rises again!) looking like great value. Do this one VIP if you can; we have a

private VIP suite

(only 10 places left at time of writing) and you will get to see the legendary paddock and pits. Opening party sponsored by RoadRacerX and featuring notorious wiseguy

Steve 'Stavros' Parrish

. GO!
Motegi 28/Sep : Not a lot of people will come to this event from outside Japan, and it will be their loss. We have a "total care" package; employing a current Japanese superbike racer 'Crazy Sam' as our assistant to help you feel inside the Japanese bike community. The circuit is like an amusement park; and VIPs get

unlimited paddock access

. Join our private guided tour of Tokyo & its awesome nightlife.
Phillip Island 5/Oct : Last year the Aussies went berserk welcoming their hero back home. The atmosphere on the island can be cut with a machete, and the track is gorgeous. We have a private VIP suite, with private pit and paddock tours (unavailable even in 'normal' VIP).

Nearly sold out

. We have taken over the top hotel in the area, 2km from the island. Our opening party has a great speaker lined up, and we are doing a Saturday charity party (TBC). Action is non-stop!
Sepang 19/Oct : Judging by our sales this year, the secret is out - this is the coolest MotoGP. Possibly because I rave about it so much... Fantastic destination, perfect for an added holiday. In the interests of decency we will not describe the night life, but don't plan on a lot of sleep! The

best VIP Village

- incredible access to paddock and riders. As usual opening party, speaker TBA; and great package.
Valencia 26/Oct : Anyone think it might go down to the wire? Event certain to sell out. We repeat our super Friday opening party in benefit of Down Syndrome Ireland with some top personalities in attendance and a charity auction. 5 different packages to give you maximum choice. VIP Village SOLD OUT but we might be able to squeeze you in. We have all tickets; options, and a great end of season party. Also the final

Red Bull Rookie Riders Cup invitational Europe/USA showdown

. Be there.
You may purchase the top VIP hospitality for all MotoGP events from us. Our main advantage? We are at ALL events INSIDE the

VIP Village

to ensure you get the top VIP treatment! More...
We are designated travel partner for the Red Bull MotoGP Rookies cup. Support the Rookies families! More...
You can book all products securely online with instant confirmation, or you can phone our UK office 0191 406 6260.
Sponsors of: Danny Webb (99), Team Matteoni (Italians Baldolini in 250cc and Lacalendola in 125cc), Rookies Allessio Capella (The 'Black Arrow' from Nigeria) and Deane Brown ('Deano', from Scotland)
Also sponsoring: The Czech Grand Prix in Brno, Riders for Health

See also what a few of our customers have said. We get a lot of repeat business!
Download our 2008 calendar here.
2009 provisional calendar here