Wow!

How about sandwiching in a day or two between two stellar Italian motorcycle events on the Misano Circuit as a guest of Ducati? Show up in street clothes, grab a brand new Panigale V4S (other bikes available), suit up and hit the famous Circuito Marco Simoncelli under the tutelage of Ducati experts!

Or simply chill out and enjoy the lovely Italian Adriatic coast!




It's high season at the beautiful beaches at Riccione!

Our tour starts at the Misano WorldSBK from your base in lovely Riccione at our favourite hotel in the heart of this bustling resort. We take you to the track and back where you can opt for grandstands, VIP or be a superbike team guest! Monday we have an optional excursion up to the Ducati Factory, which also takes in the Ducati museum, and we hit the amazing San Marino on the way back (and stop in Tavullia for a taste of Rossi if interested)

Tuesday and Wednesday we have places at the official Ducati track days! So you can hit the track one or both days, or just come up to watch your partner. Or stay home and hit the beach!

Thursday we drive you to Mugello, free of charge. Alternatively we can arrange for you to go up sooner if you are not interested in the Ducati days and prefer the delights of Florence over the beaches of Riccione.

At Mugello you will be based in our lovely 4* Villa hotel in Florence, and again we take you to the track all three days. The true Ducati fans will want to be team guests of our partner MotoGP Team Gresini Ducati; alternatively opt for grandstands or the super Platinum Terrace.

We can collect you from the airport (usually Bologna) and take you to your hotel in Misano and return after Mugello if you need.

TO BOOK:
Place your booking for the package at Misano SBK. (Link below) You may add any tickets, airport collection*, Ducati Factory tour, Ducati Track day(s), and if you want to join us on the trip to Mugello, choose that option.

Place your Mugello booking separately or ask us to do it.

APPROXIMATE COSTS:
Presuming you arrive Thursday, making your own way to Riccione, and take our shuttle Thursday to Mugello. For two people sharing:

Misano SBK:
€695pp tour package 7 nights 3*+ double B&B
€155pp grandstand ticket with paddock (Team Experience = €600pp)
€0pp Thursday transfer to Mugello

Mugello MotoGP:
€911pp tour package 4 nights 4* double B&B (there are 3* and 5* options)
€255pp Poggio Secco grandstand 3 days (MotoGP Ducati Gresini = €2350pp)

TOTAL = €2016 per person based on two sharing.

Options:
Monday Ducati Factory tour: €150
Ducati Misano ride day: €3295 per day (discounted €400 if do both days)**

*n.b. it is far cheaper to take the train to Riccione (change in Bologna). Alternatively let us know your flight times and we may be able to organise a shared van

**This is an official Ducati event with very limited places. They provide everything, including lunch!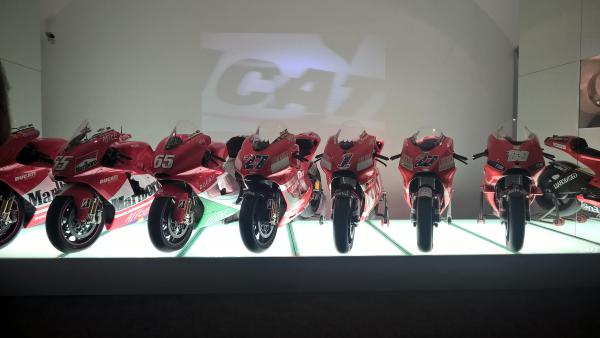 Ducati museum