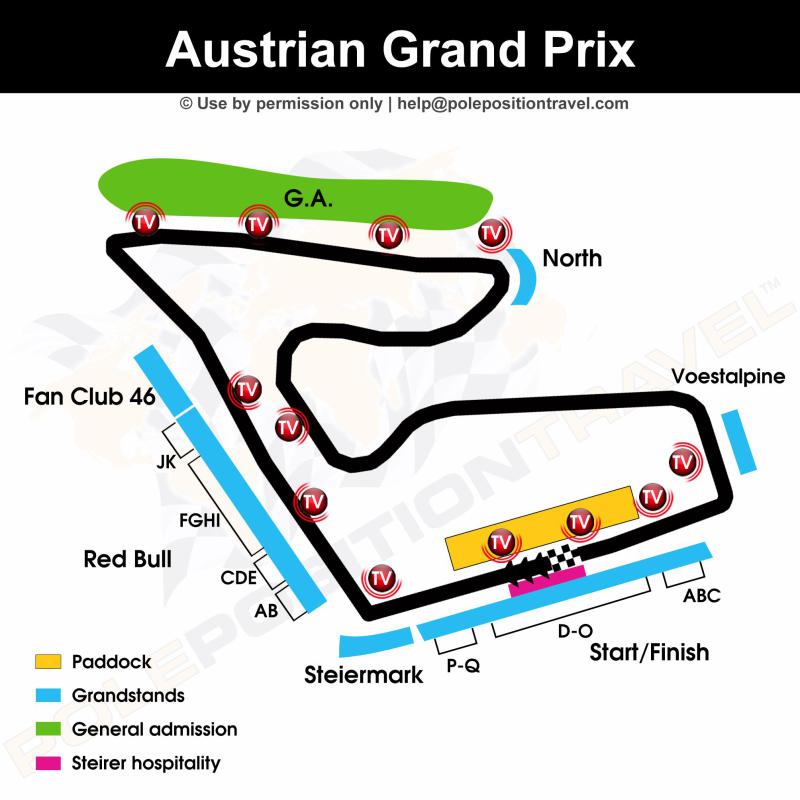 Your main choice is between grandstands, hospitality or a Team Experience in the paddock.

For Hospitality, the top choice is the VIP Village. Situated above the pits, you will have the best service, and great viewing. We have a guide in the village, and will take you on a private paddock and garage tour!

A step down, but great value is the Steirer Club Hospitality above the main grandstand (with a grandstand seat). Super facility, open bar and once again our guides are on hand to take you into the paddock and pits.

In addition to General Admission, we have 4 Grandstand options. You may opt for the covered Main Straight, the Red Bull stand with great views of the long uphill climb from Turn 1, the covered North grandstand on the Rauch corner, or the Red Bull Mobile stand on the final turn. The North and Red Bull Mobile stands are reserved for our package customers.

Finally an option to consider is a Team Experience. This brings you into the paddock as a guest of a MotoGP team for the weekend. You will have open access to the paddock and hospitality all the time and plenty of opportunity to visit the pits and stand on the edge of the pit lane. We also offer our very own paddock hospitality: the Pole Position Club. We have a VERY limited number of Platinum places in each - putting you on the start grid! (Moto2 or Moto3 for Pole Position Club, MotoGP for a MotoGP Team)

(n.b. We always recommend a grandstand seat, which we offer as a discount along with the team experience)

NOTE: if you are booking a Package, then you should NOT purchase your tickets here - you will be able to select tickets when you place your package booking.