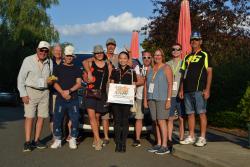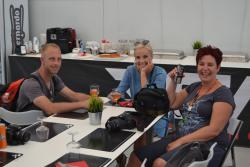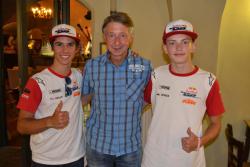 See all published photos
Motorrad Grand Prix Deutschland 2019 is published!
Event review - Motorrad Grand Prix Deutschland 2018
We moved into the town of Gera on Thursday getting ready for the MotoGP ahead. We had a new lass on the team, Tomoko, along with the old timers Radek and Patrick as guides for the weekend. The weather was looking great and the drive out from Prague was beautiful, riding over the Sudetenland.

We hosted our Thursday evening Welcome drink in town at the Penta Hotel. Only a few had arrived as most were coming on Friday. We had dinner and got ready for the race weekend.

Friday evening we all gather in Gera town centre at a lovely Steakhaus. Our special guests were two Red Bull Rookie, Dan Jones #11 UK, and Sean Kelly #40 US. They gave us some great insights into the Red Bull Rookies cup and how they both came to be in the Championship. It is always great to learn about the youngsters and watch their progression through the years.

Saturday we managed to catch our sponsored rider John McPhee and invite him over for a surprise birthday celebration. We had cake and a great catchup with the lad and he was over the moon.

Saturday evening we had a group in the paddock for the MotoNight. We were hosted in SAG and our special guest was Manuel Pecino, a journalist from Spain. The immense insights he brought to the table about the sport and the politics around it really opens your eyes to the intricacies of the MotoGP circus.
The rest of us gathered on the lawn at the back of the Classic hotel for drinks and dinner. Herr Jacques looked after us and became our favourite staff member.

Sunday night we finished off with dinner in town with the whole crew. It was a beautiful evening and even the curt restaurant staff didn't ruin our mood.

A really good weekend at the German MotoGP.

And for those travelling with Patrick from the Classic hotel we found out that ferrets had chewed into the cooling pipes allowing the liquid to leak. Thanks again to you all for helping out on the highway with an overheating engine. Nothing like a bunch of South Africans to sort out your engine for you!
Picture gallery - Motorrad Grand Prix Deutschland 2018
See our photos of the event on Flickr here Or check out ALL of our past event galleries here