Event description
The TT Circuit Assen is known all throughout the motorcycle world as a twisty, technical circuit with banked corners that make for sticky cornering and superb spectator viewing from the grandstands or earth banks that surround the circuit. Combined with a 970m top-speed straight and an unconventional track design dating from 1955 that keeps riders' fingertips gripped on the levers, it is easy to see why thousands of MotoGP fans from all over the world flock to "The Cathedral" of motorcycling, year after year, on the last Saturday in June.

Recent modifications to the current circuit considerably reduced the original 1955 track length from 7.705km to the current 4.555km, giving us the A-Style Assen TT Circuit that we know of today. Always an exciting venue.

Friday and Saturday are general admission days, you will want to use the time to explore the circuit's many excellent viewing locations. Choosing grandstands for Sunday is a harder choice - do you like the amplified sound of the Start/Finish straight in the Hoofd Tribune or prefer the opening loop - a great panoramic view of this is best seen from Ossebroeken Tribune. Join the Rossi fan club in Stekkenwal Tribune for great viewing of the back corners. The VIP Village is superb - landing you across from Winterdijk with private grandstands, pit walks, paddock tours and luxury catering.

Or perhaps you would care to be a guest of a team? You can join one of our MotoGP Team partners, or our own Moto2/3 Pole Position Club, to catch all the action in the paddock and garages with hospitality.

Our Assen City Package runs out of Assen in a great 4* hotel, not far from the circuit and a short walk to the Saturday night Assen street party. Many teams and riders of the lower classes reside here for the weekend. All in the city centre. Of course all packages offer welcome packs, transfers, guides and include our Friday night opening dinner. This takes place in Assen, and we bring several great speakers along for an insightful evening with food and drink.
In conjunction with MCi Tours, we are also offering their riders package as the Groningen Biker's Package. This is separate from our tour.

Those of you not ready to rest your heads Sunday after the races, join us on our maddest post-race excursion of the year -- pedalling the beer-wagon tour of Groningen! You will not stop laughing!

See you at the "Cathedral of Speed"!
Circuit information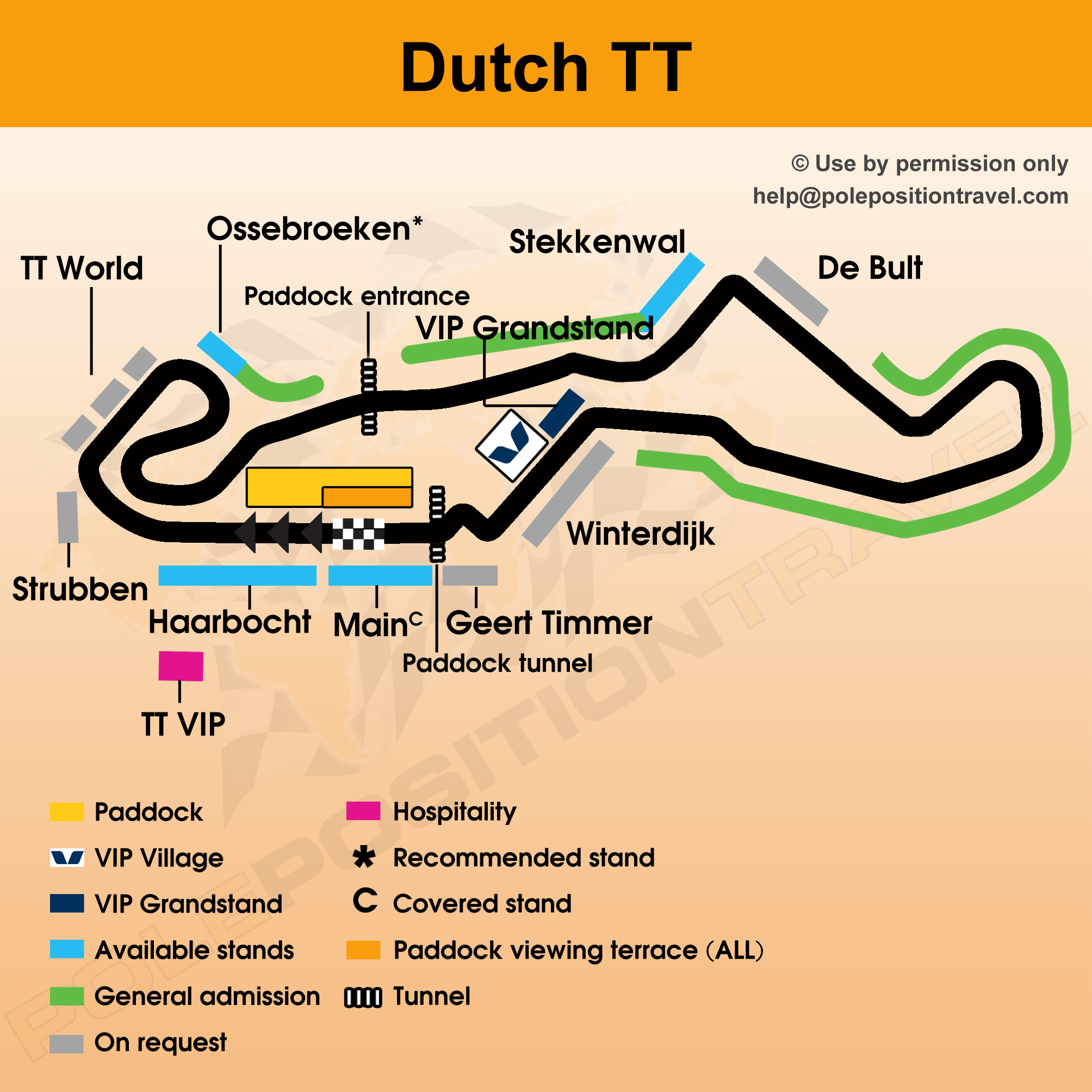 Dutch TT 2017
23rd - 25th June 2017
| | |
| --- | --- |
| Circuit | TT Circuit Assen |
| On site helpline | +44 131 202 6544 |
| Backup | +44 191 406 6260 |
| Event brochure | |
| Weekend programme | |