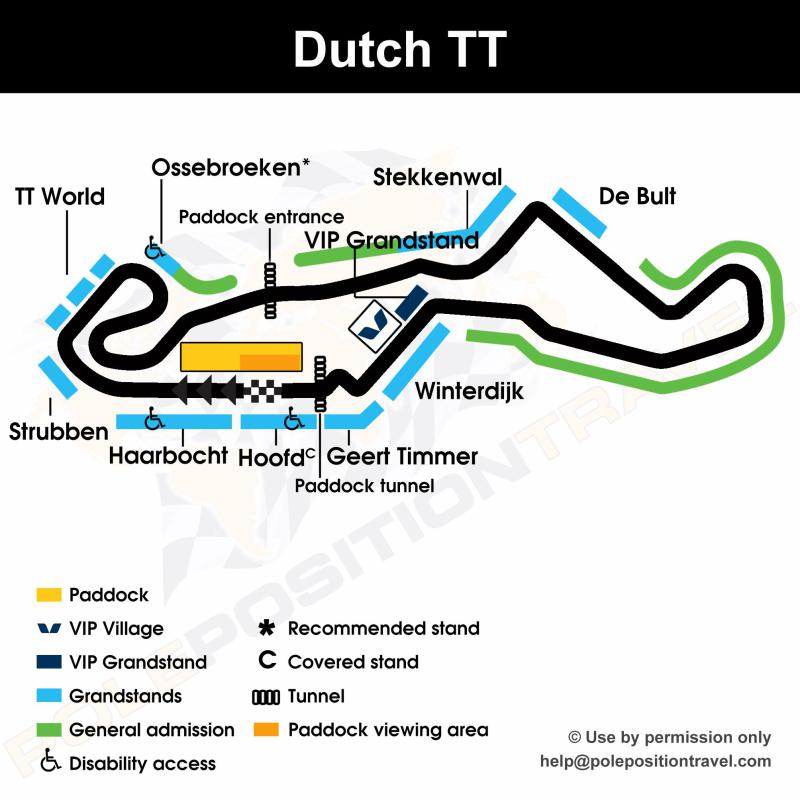 Also see the PADDOCK GUIDE for access and viewing for Team Experience guests (2022 guide so subject to change)
You first choice is: Hospitality, Grandstands or Paddock?

MotoGP VIP Village: the top facility - with a private pavilion inside the infamous Ramshoek corner, you get great viewing and total luxury, paddock tours and pit lane walks

For grandstands Assen is one of the odder tracks for ticketing. On Friday and Saturday all tickets are general admission and permit you to go anywhere. You just purchase a grandstand ticket for race day. We tend to choose just three stands: Ossebroeken for a great view of the northern loop; Haarbocht or Hoofd if you like start straights; and Stekkenwal for the back corners and Rossi fan club. Grandstands are currently set to 0 EUR until prices are confirmed by the circuit. You can make your reservation, and we will update you as soon as we receive pricing.

This is a track where general admission is pretty good as well - although fair warning: the crowds here get a bit crazy!

TEAM EXPERIENCE: Our special Team Experience packages are available for this event. This sets you up as a guest of one of our sponsored teams for a day or the weekend, with paddock access, pit visits, rider meetings, and more! MotoGP teams Gresini Aprilia, Petronas Yamaha and LCR Honda, or our own Pole Position Club Moto2 in the paddock. Upgrade to PLATINUM for start grid experience!