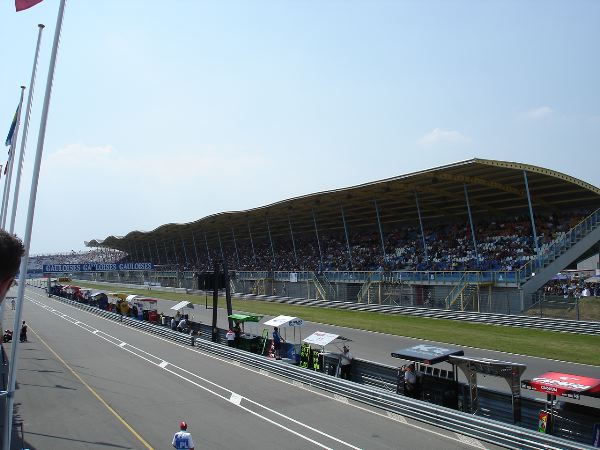 Dutch TT Assen Tickets
Assen is the Grand Dame of motorcycle racing, having been staging motorcycle races since 1925, and is the oldest circuit on the tournament. It is a firm favourite of fans and riders alike! The track has lots of good viewing areas, but we recommend Hoofd and Strubben (all only available to package customers) or Ossebroeken and Stekkenwahl (Rossi Fan stand). Grandstands are valid for a Sunday race day reserved seat. For Saturday and Friday you have general admission and unreserved seating for many grandstands. We supply tickets with lanyards and of course you have access to on-site Pole Position guides for any issue. Assen also has some great concessions and merchandise, so be prepared to shop!
Discounted when booked with package!
Grandstands (Charge basis: per person)
Hoofd Tribune - 1 day
€130 / $146
Main stand (Hoofd) at start/finish. TV view. Only available with package booking
Tickets valid 1 day and admit 1 person

Hoofd Tribune - 3 days
€175 / $196
Main stand (Hoofd) at start/finish. TV view. Only available with package booking
Tickets valid 3 days and admit 1 person

Strubben Tribune - 1 day
€120 / $135
At first turn, northern loop. TV view. Only available with package booking
Tickets valid 1 day and admit 1 person

Strubben Tribune - 3 days
€165 / $185
At first turn, northern loop. TV view. Only available with package booking
Tickets valid 3 days and admit 1 person

Haarbocht Tribune - 1 day
€105 / $118
Haarbocht tribune at starting straight. We are at righmost end, closest to start grid for full-throttle view! TV view
Tickets valid 1 day and admit 1 person

Haarbocht Tribune - 3 days
€150 / $168
Haarbocht tribune at starting straight. We are at righmost end, closest to start grid for full-throttle view! TV view
Tickets valid 3 days and admit 1 person

Ossebroeken Tribune - 1 day
€90 / $101
Permanent stand at new part of North loop, great panoramic view over entire loop and critical exit. TV view
Tickets valid 1 day and admit 1 person

Ossebroeken Tribune - 3 days
€135 / $151
Permanent stand at new part of North loop, great panoramic view over entire loop and critical exit. TV view
Tickets valid 3 days and admit 1 person

Stekkenwal Tribune - 1 day
€80 / $90
Grandstand on Stekkenwal chicane, home of Rossi fan club! TV view
Tickets valid 1 day and admit 1 person

Stekkenwal Tribune - 3 days
€125 / $140
Grandstand on Stekkenwal chicane, home of Rossi fan club! TV view
Tickets valid 3 days and admit 1 person

Standing (Charge basis: per person)
General admission - 1 day
€55 / $62
General admission/standing. Many areas with TV view, but gets crowded!
Tickets valid 1 day and admit 1 person

General admission - 2 days
€90 / $101
General admission/standing. Many areas with TV view, but gets crowded!
Tickets valid 2 days and admit 1 person

General admission - 3 days
€100 / $112
General admission/standing. Many areas with TV view, but gets crowded!
Tickets valid 3 days and admit 1 person

Geert Timmer - 1 day
€135 / $151
Seat in tribune, usually reserved. 'Choice' stands are personal favourites/best value. All have TV view unless noted. We sell recommended stands but can usually get others. Tickets may be valid 1, 2 or 3 days (3 days if not specified)
Tickets valid 1 day and admit 1 person

Geert Timmer - 3 days
€180 / $202
Seat in tribune, usually reserved. 'Choice' stands are personal favourites/best value. All have TV view unless noted. We sell recommended stands but can usually get others. Tickets may be valid 1, 2 or 3 days (3 days if not specified)
Tickets valid 3 days and admit 1 person