Event description
Although the Red Bull Ring in Spielberg has been around for some time, it has only been brought up to international standards in the past 3 years. We are excited to see MotoGP back at this amazing venue for its second year, twisting through the forests and hills. Viewing is spectacular and the setting is gorgeous.

We are fully embracing the 'Alpine' nature of the circuit, with our special Alpine Package in a 3* Alpine resort just 45 mins of breathtaking roads away. With dinner, bed and breakfast and track transfers we take care of you throughout. If you have some spare time at the hotel, check out the Trials Biking school there - you can organise a bike or a lesson for a few hours!

For a more elite experience, we have a Deluxe package based in the best hotel in Graz, about a 1.15 hour drive from the track. Also in Graz we offer a City Package based in several city centre hotels from 2* - 4*+ (a good alternative to our Deluxe package).

All include our Friday opening party - drinks with a view and a great opening speaker after dinner. And all also have our welcome packs, which include your "Austria MotoGP" merchandise!

At the track, we have grandstands in several selected locations. The best seats we have reserved for our package customers. We also offer two hospitality options: the VIP Village, for the top experience of the event, and the circuit's own Steirer Club lounge atop the main straight. Either option would be the perfect way to enjoy the MotoGP race in Spielberg!

We also offer our Team Experiences: spend the weekend as a guest of LCR Honda, Aprilia Gresini or Aspar Ducati and really see MotoGP from the inside. Else opt for our own Pole Position Club at the Moto2/3 level. We do our famous Saturday night paddock dinner with the teams (this is included in with our Team Experience). We also offer our Thursday Insider's Night dinner in the paddock - a brilliant first opportunity to see the MotoGP paddock behind the scenes!
Circuit information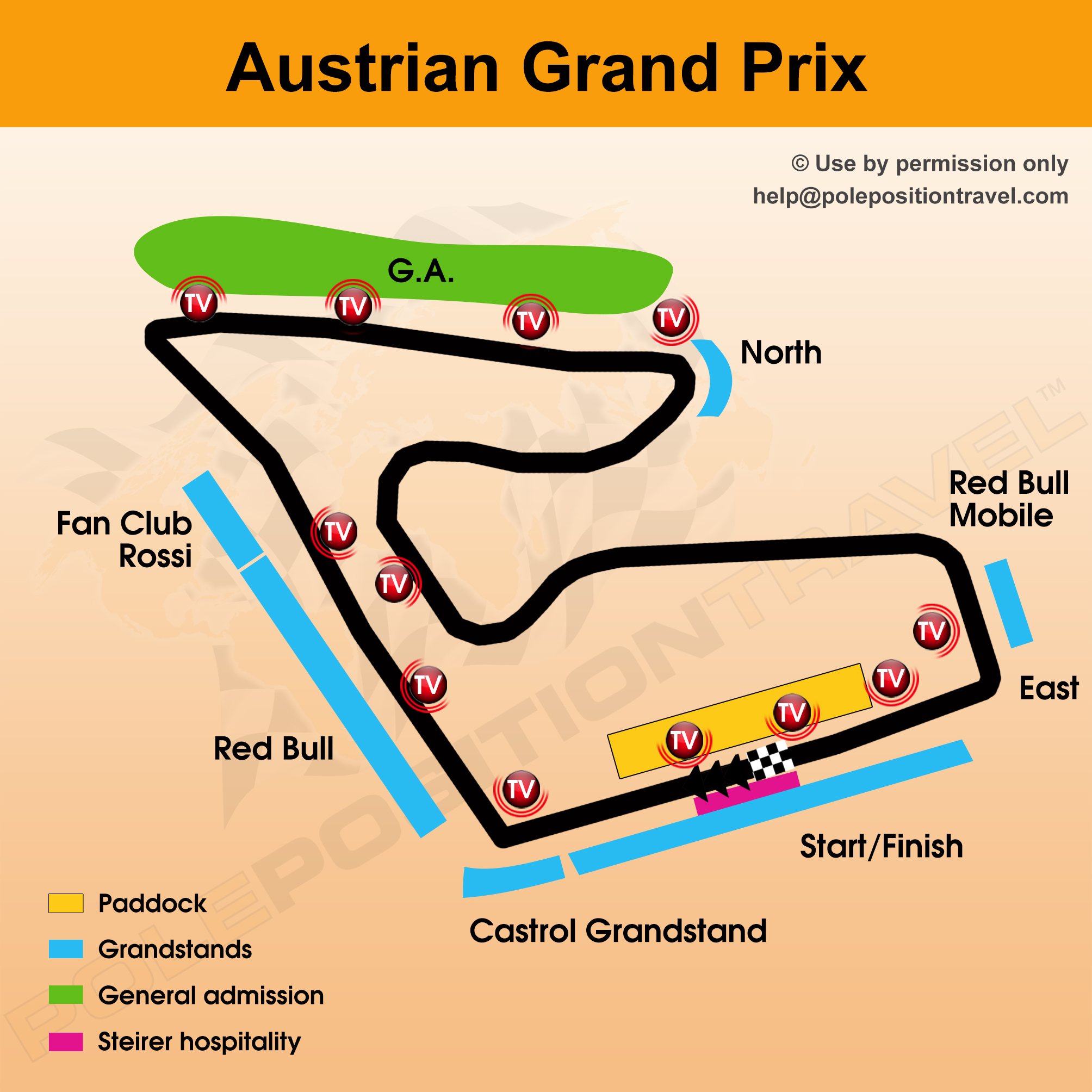 Austrian Grand Prix 2017
11th - 13th August 2017
| | |
| --- | --- |
| Circuit | Red Bull Ring |
| On site helpline | +44 131 202 6544 |
| Backup | +44 191 406 6260 |
| Event brochure | |
| Weekend programme | |