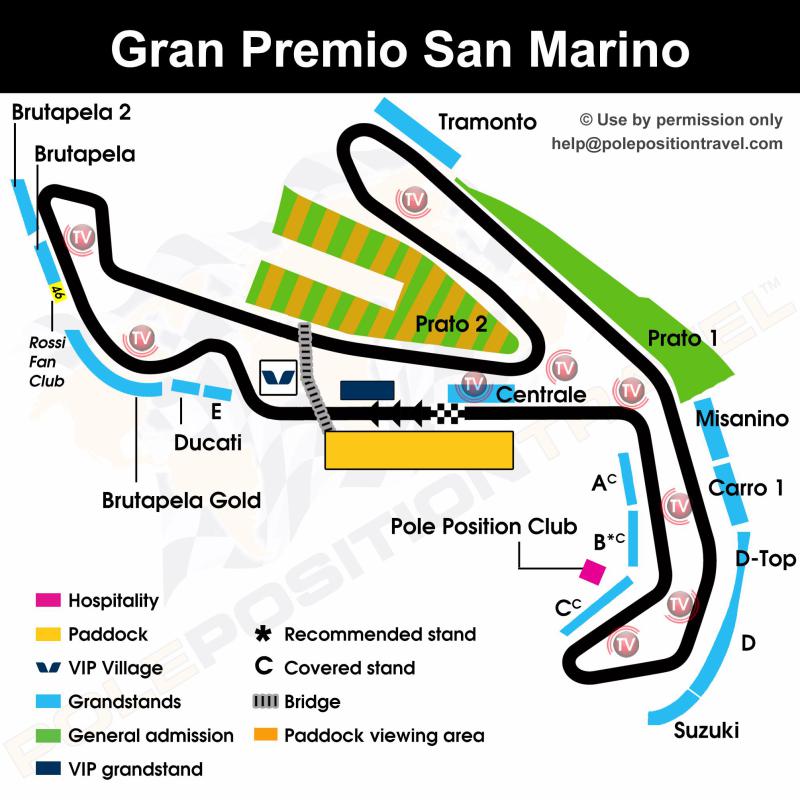 We have all classes of tickets for Misano. Your first decision is Team Experience, VIP Village, Hospitality, Grandstands or standing.

TEAM EXPERIENCE: Our special Team Experience packages set you up as a guest of one of our sponsored MotoGP teams - LCR Honda, Aspar Ducati or Aprilia Gresini - for the weekend, with paddock access, hospitality, pit visits, rider meetings, and more! Alternatively join our Moto2/3 Pole Position Club in the paddock.

VIP Village: Located in the infield of the circuit, right at the end of the Start/Finish Lane and on one of the most exciting corners of the circuit. On top of world-class gourmet food and thirst-quenching cocktails served all day, you also have access to the private VIP Village grandstand, pit lane walks, paddock tours.

Grandstands: Spoiled for choice really - The covered A, B and C stands are most comfortable and you avoid the Italian sun. D has a great view and less expensive. Brutapela on the 1st and 2nd corners is also the main hangout of the Rossi fans. Grandstands are reserved on Saturday and Sunday. If you attend Friday you may go to any Prato or grandstand.

Note: You can not move between the grandstands and prato areas on Saturday and Sunday. Your ticket only allows you to access your chosen area on those days.

Standing: The circuit has 3 general admission areas. Prato 1 and 2 are now available by purchasing 1 ticket and allows access to both. Prato 3 is accessed by a separate ticket and does not offer access to Pratos 1 and 2. Prato 2 has some excellent vantage points and a big screen visible from some areas. Prato 1 is largest, with a long stretch along the back straight, but not much TV view.