We have been avid supporters of the Rookies Cup since its inception in 2007 (won by Johan Zarco!). Some of "our" boys have included Brad Binder (MotoGP winner & Moto3 World champion), Sean Dylan Kelly (MotoAmerica Supersport champion), Rory Skinner (British Talent Cup winner), Billy van Eerde Asian Talent Cup winner), Darryn Binder (rider in Moto3, Moto2 and MotoGP) and many others.

We are very proud to work with 16 year old Eddie this season. Coming from Leicestershire, he has been riding bikes since he was 4 years old, racing since 6! A super friendly and funny guy, we are sure he will be charm many of our guests at European rounds. Eddie will be speaking at several events this year.

We are his only sponsor, we would be very happy to facilitate anyone who wants to get behind young British talent such as Eddie - give us a shout.

We can take a very few people this year as special guests of Eddie, enjoying the paddock, our hospitality and of course a close-up view of the thrilling rookies in action!

Eddie runs #8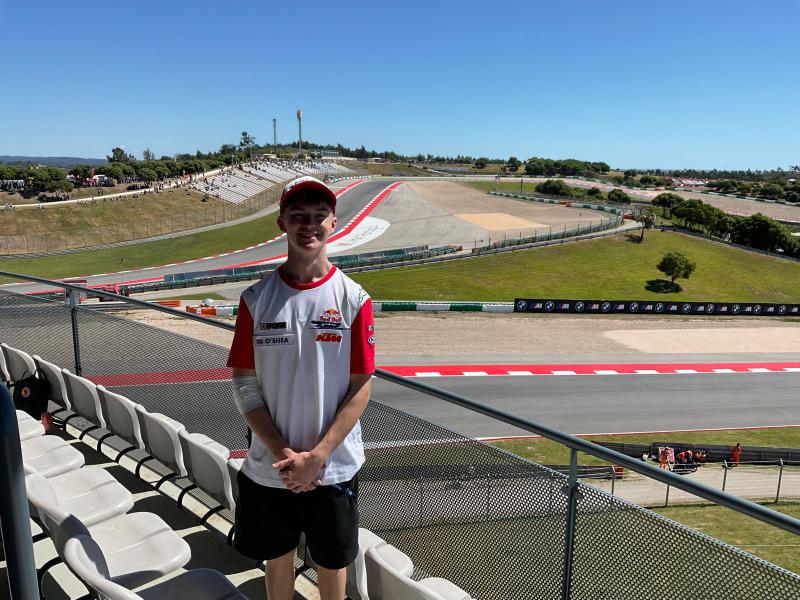 Eddie joins our VIP at Portimao to show us the finer bits of the track!



Eddie & Gordon (And Eddie's unmissable helmet with our sticker...)