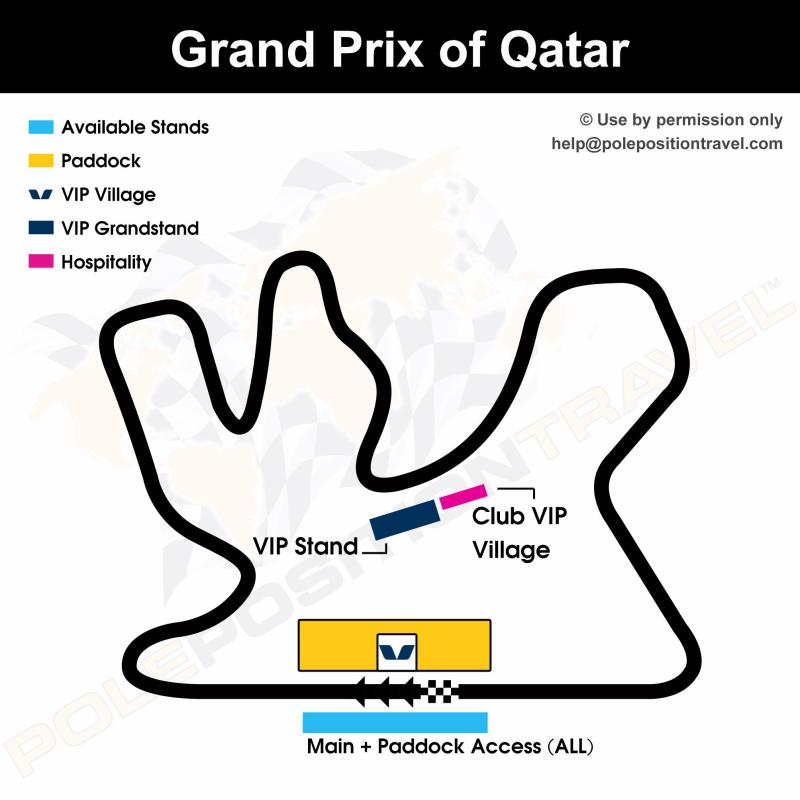 Also see the PADDOCK GUIDE for access and viewing for Team Experience guests (2022 guide so subject to change)
For Qatar there are three choices of tickets:

The Grandstand is covered, unreserved seating, but there is little else do do - you cannot see the rest of the track although the TV screen is excellent. This is the place to be at the start and the podium of course; however there are very few merchandise stalls and just one restaurant. Bring a sweater or jacket. Prices are set at 0 EUR until confirmed by the circuit. You may make a cancellable reservation, and we will charge you once prices are released.

If you can afford it, go MotoGP VIP Village. You have OPEN ACCESS to the paddock! Also pit lane walks, service road tours and a private grandstand. This you can not get anywhere else. The service road tours are fantastic (especially at night!) and of course the food and drink is first class (and includes beer & wine). We will bring in a speaker or two, as well as our own people on hand to help out. If you purchase the "2 day" (Silver/Gold) this is valid for all four nights, including paddock access!

PLEASE NOTE: the circuit offers a 'VIP Village' itself. This is a similar facility (essentially the next suite over) but NOT the 'official' Dorna VIP Village. It has the main disadvantage of no alcohol (and in our experience, the official Dorna facility that we sell is less crowded, and is of course where our guides and customers sit - we cannot provide services into the circuit's facility)

TEAM EXPERIENCE: Our special Team Experience packages are available for this event. This sets you up as a guest of one of our sponsored teams for a day or the weekend, with paddock access, pit visits, rider meetings, and more! This also grants grandstand access. At MotoGP level there is also a small hospitality -- you eat with the mechanics and riders!

You can also opt for PLATINUM Team Experience which includes full team access, VIP Village and the MotoGP GRID!