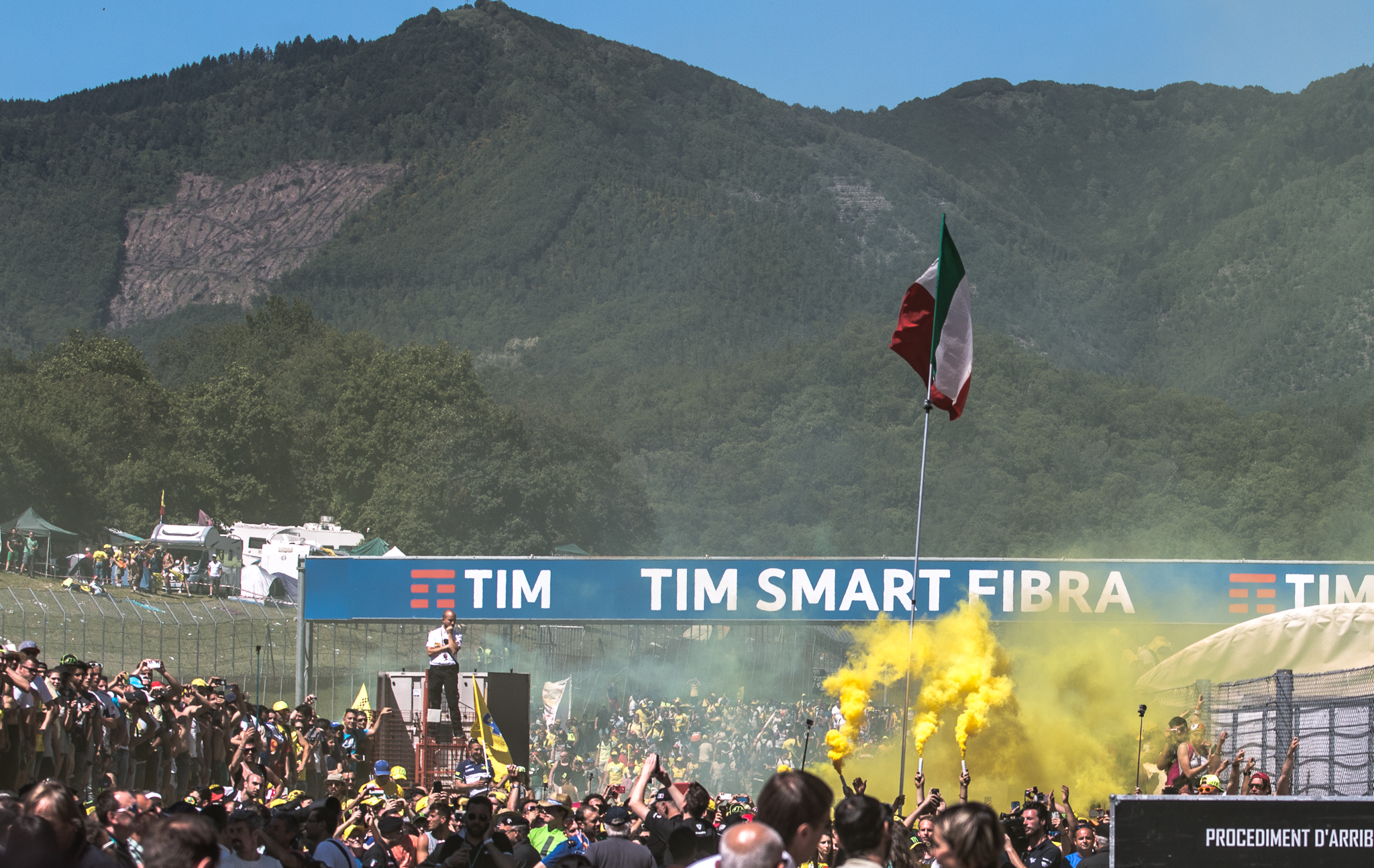 Mugello MotoGP Tickets
Always the race with the biggest 'buzz' of the tournament, probably because the Italians are such moto fanatics! This event is likely to sell out this year, book early! All grandstands have TV view, also visible from parts of the standing areas. However, be warned: this event gets crowded like no other, we strongly recommend grandstands if you don't want to fight for your spots! Centrale is excellent to view the start/finish and the podium (always a mad rush after Rossi wins!) and it is covered (Silver is the top half of the grandstand and Bronze is the bottom). The best stand of all in our view is Biondetti - covered, reserved and great views to the northern turns. Also one of these or the Centrale tickets are essential if you want to access the prato or merchandise areas from the paddock or VIP. Poggio Secco has a great view & is the home of the Rossi fan club, with wide panoramic views and great atmosphere.
Discounted when booked with package!
Grandstands (Charge basis: per person)
Centrale "Silver Pit Lane" 3 days - 3 days
€350 / $392
Covered grandstand Centrale Silver "Box" (higher rows) with TV at start.
Tickets valid 3 days and admit 1 person
no child rate
Centrale "Silver Pit Lane" 2 days - 2 days
€300 / $336
Covered grandstand Centrale Silver "Box" (higher rows) with TV at start.
Tickets valid 2 days and admit 1 person
no child rate
Centrale "Silver Pit Lane" 1 day - Sunday (race day)
€265 / $297
Covered grandstand Centrale Silver "Box" (higher rows) with TV at start.
Tickets valid 1 day and admit 1 person
no child rate
Poggio Secco 3 days - 3 days
€210 / $235
Open grandstand with TV at Poggio Secco turn. 3 days
Tickets valid 3 days and admit 1 person
no child rate
Poggio Secco 2 day - 2 days
€200 / $224
Open grandstand with TV at Poggio Secco turn.
Tickets valid 2 days and admit 1 person
no child rate
Poggio Secco 1 day - Sunday (race day)
€170 / $191
Open grandstand with TV at Poggio Secco turn.
Tickets valid 1 day and admit 1 person
EUR 70 for children under 13 yrs at event
Centrale "Silver Biondetti" 3 day - 3 days
€390 / $437
New grandstand behind Centrale overlooking Biondetti and that region of track. TV view
Tickets valid 3 days and admit 1 person
no child rate
Centrale "Silver Biondetti" 2 day - 2 days
€320 / $359
New grandstand behind Centrale overlooking Biondetti and that region of track.
Tickets valid 2 days and admit 1 person
no child rate
Centrale "Silver Biondetti" 1 day - Sunday (race day)
€270 / $303
New grandstand behind Centrale overlooking Biondetti and that region of track.
Tickets valid 1 day and admit 1 person
no child rate
Centrale "Bronze" 3 days -
€285 / $319
Covered grandstand Centrale Bronze (lower rows) with TV at start.
Tickets valid 3 days and admit 1 person
EUR 225 for children under 13 yrs at event
Centrale "Bronze" 2 days - 2 days
€225 / $252
Covered grandstand Centrale Bronze (lower rows) with TV at start.
Tickets valid 2 days and admit 1 person
no child rate
Centrale "Bronze" 1 day - Sunday (race day)
€205 / $230
Covered grandstand Centrale Bronze (lower rows) with TV at start.
Tickets valid 1 day and admit 1 person
no child rate
Materassi Tribune 3 days - 3 days
€275 / $308
Open grandstand with TV at Materassi turn
Tickets valid 3 days and admit 1 person
EUR 220 for children under 13 yrs at event
Materassi Tribune 2 days - 2 days
€250 / $280
Open grandstand with TV at Materassi turn
Tickets valid 2 days and admit 1 person
EUR 200 for children under 13 yrs at event
Materassi Tribune 1 day - Sunday (race day)
€205 / $230
Open grandstand with TV at Materassi turn
Tickets valid 1 day and admit 1 person
EUR 170 for children under 13 yrs at event
Standing (Charge basis: per person)
Prato 3 day - 3 days
€190 / $213
Standing area / general admission. No reserved seating.
Tickets valid 3 days and admit 1 person
EUR 152 for children between 13 and 16 yrs (<13 free) at event
Prato 2 day - 2 days
€145 / $163
Standing area / general admission. No reserved seating.
Tickets valid 2 days and admit 1 person
EUR 116 for children between 13 and 16 yrs (<13 free) at event
Prato 1 day - Sunday (race day)
€105 / $118
Standing area / general admission. No reserved seating.
Tickets valid 1 day and admit 1 person
EUR 84 for children between 13 and 16 yrs (<13 free) at event