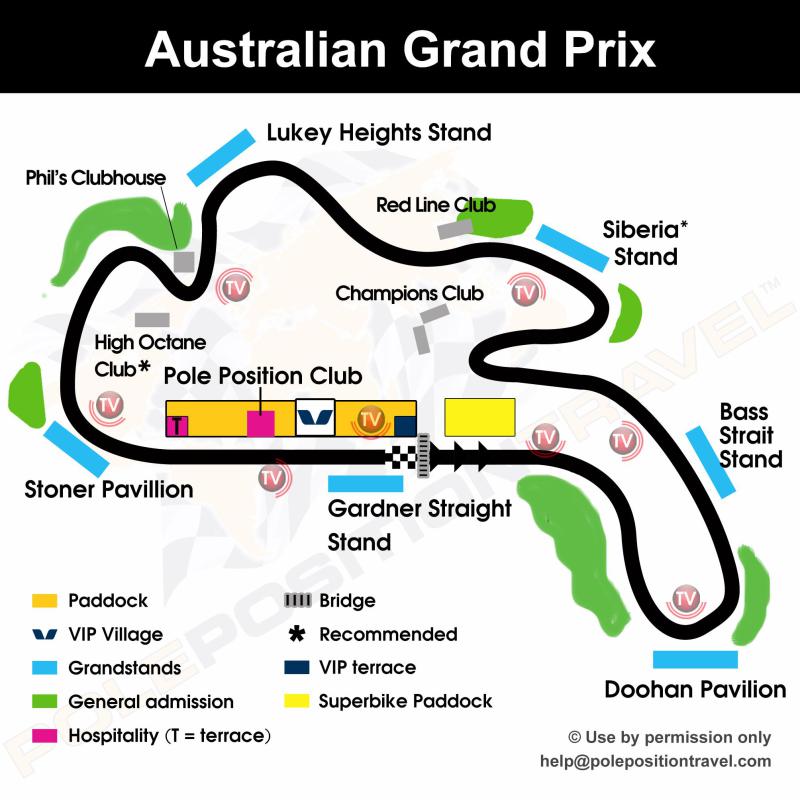 Also see the PADDOCK GUIDE for access and viewing for Team Experience guests (2022 guide so subject to change)
PLEASE NOTE ALL TICKET PRICES HAVE BEEN SET TO '0' UNTIL THE CIRCUIT RELEASES TICKETS. Your booking is a no-obligation reservation, and once the ticket prices are known you will be sent an invoice for the correct amount. You will be able to cancel your booking without obligation if you wish. 2022 prices are listed 'RRP' for guidance.


All tickets allow you to go everywhere in general admission at this circuit. However if you want a better view and a reserved place, take a grandstand seat. All have TV and good views. We like Siberia for the curves, Lukey Heights for a great vantage point, Bass Strait sees a lot of track and turn around for some great sea views! The main straight is where you want to be for pit and start grid views, and to see the podium. Also consider adding the GP Hub for an oasis of calm and shelter.

HOSPITALITY
Our hospitality options include the top Platinum VIP and the High Octane Club. Upgrade from both to our Team Experience to get paddock access and a garage visit.

TEAM EXPERIENCE
Our special Team Experience packages are available for this event. This sets you up as a guest of one of our sponsored teams for a day or the weekend, with unlimited paddock access, pit visits, rider meetings, and more! You can do Moto2/3 or MotoGP.