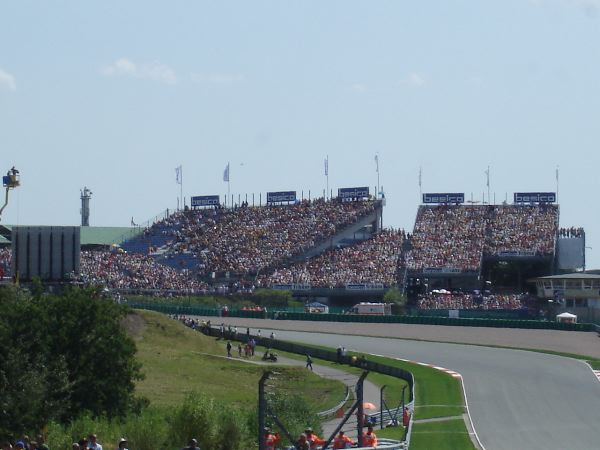 German MotoGP Tickets
Sachsenring is about the shortest, most technical circuit of the year, with riders fighting hard for every millimetre. You can see why there is action at all points of the circuit. With its hilly, compact terrain there are some brilliant sight-lines. The back corner at T13 is always a lively spot; catching the bikes on the downhill big left sweeper. Finally if you like a start view and join the fans who go wild when Rossi takes it, choose T1. As the best grandstanded circuit of the tournament, this is not one to go standing. Some of the best food concessions are here - especially if you like bratwurst und bier that is. Tickets are in electronic format so are delivered by email around 1 month before the event.
Discounted when booked with package!
Grandstands (Charge basis: per person)
T1 - 3 days
€230 / $258
T1 Main granstand at start/finish. TV view.
Tickets valid 3 days and admit 1 person
no child rate
T2 - 3 days
€230 / $258
T2 Grandstand on first corner. TV view.
Tickets valid 3 days and admit 1 person
no child rate
T8 - 3 days
€230 / $258
T8 Grandstand. TV view.
Tickets valid 3 days and admit 1 person
no child rate
T10-1 - 1 day
€185 / $207
T10/1 Grandstand. TV view.
Tickets valid 1 day and admit 1 person
no child rate
T10-1 - 2 days
€205 / $230
T10/1 Grandstand. TV view.
Tickets valid 2 days and admit 1 person
no child rate
T10-1 - 3 days
€215 / $241
T10/1 Grandstand. TV view.
Tickets valid 3 days and admit 1 person
no child rate
T12 - 2 days
€180 / $202
T12 at bottom of back downhill straight, TV view
Tickets valid 2 days and admit 1 person
no child rate
T12 - 3 days
€190 / $213
T12 at bottom of back downhill straight, TV view
Tickets valid 3 days and admit 1 person
no child rate
T13 - 2 days
€205 / $230
T13 at bottom of back downhill straight. TV view.
Tickets valid 2 days and admit 1 person
no child rate
T13 - 3 days
€215 / $241
T13 at bottom of back downhill straight. TV view.
Tickets valid 3 days and admit 1 person
no child rate
Standing (Charge basis: per person)
T16 - General Admission - 1 day
€115 / $129
General Admission access to areas T16.
Tickets valid 1 day and admit 1 person
no child rate
T16 - General Admission - 2 days
€135 / $151
General Admission access to areas T16.
Tickets valid 2 days and admit 1 person
no child rate
T16 - General Admission - 3 days
€145 / $162
General Admission access to areas T16.
Tickets valid 3 days and admit 1 person
no child rate