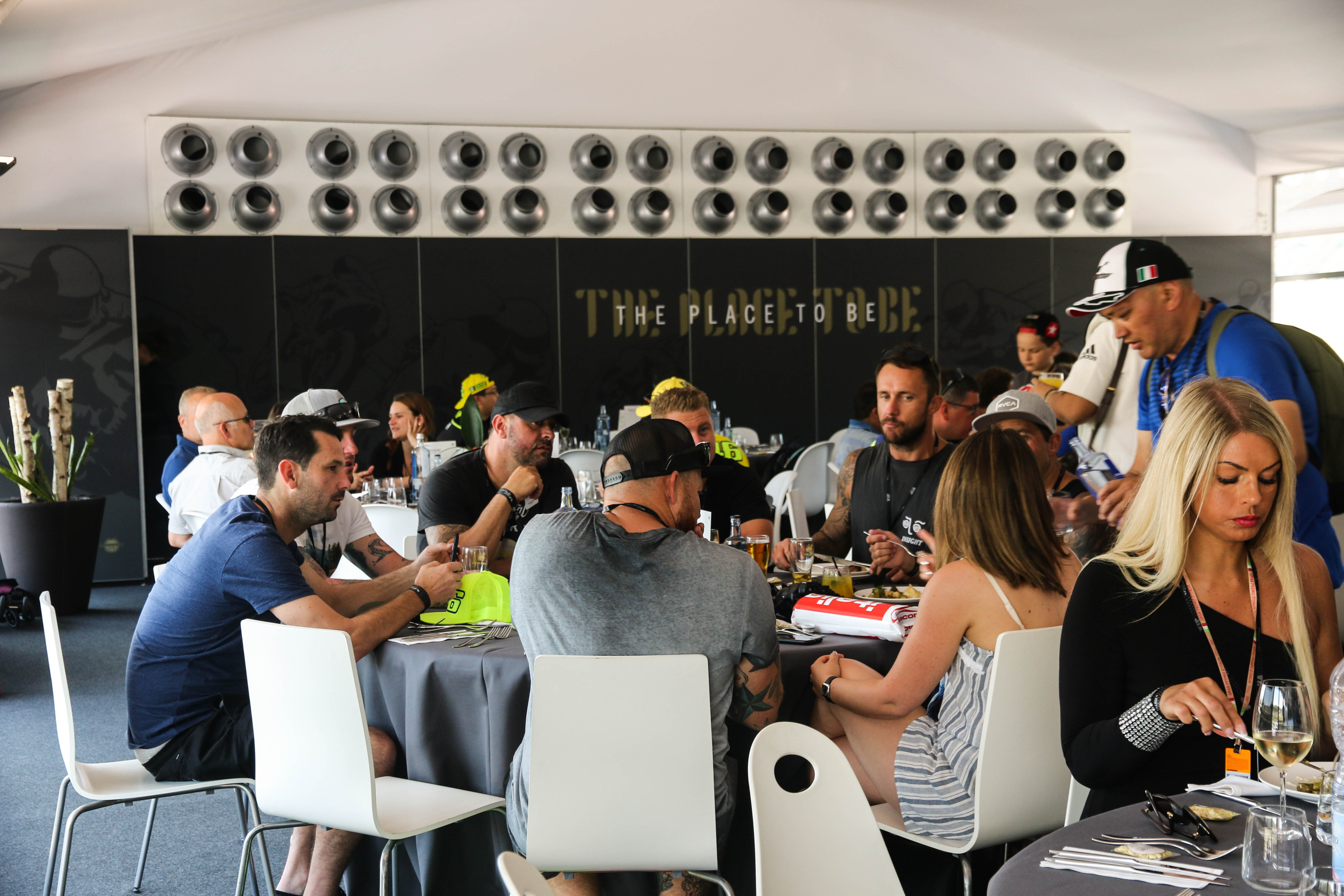 The VIP Village is open on Saturday and Sunday. At some venues (Europe and Argentina) you may purchase Sunday only. If you wish Friday access, you will need to purchase a Friday ticket for some venues, or you can opt for the Pole Position Club Friday as a guest in the paddock of our Moto2 team.
What do you get in MotoGP VIP Village™?
Superb climate-controlled facility (location varies by event: pit roof terrace, infield marquee, pit building suite, ground level marquee)
VIP parking pass (based on 1 pass per 4 guests, as available)
CCTV throughout. Additional viewing facilities vary by venue (private grandstand, viewing terrace, others)
Open bar with wine, beer, spirits (specifics vary by event)
Breakfast, gourmet lunch and all-day snacks and sweets
Escorted paddock walk
Pit Lane walk Saturday and Sunday
BMW X5 service road tour (included in some events, on raffle basis at others)
VIP raffle prizes (merchandise, pit wall, service road tours, MotoE Grid, more...)
Official event programme (only distributed on Sunday - for a copy on Saturday please ask your PPT guide)
Private lounges available for groups (50+ depending on venue. Please enquire.)
Added benefits with Pole Position Travel
Booking with us means you get further benefits above the already superb VIP Village "standard".
Professional and deeply experienced PPT guide available to maximise your experience*
A private paddock tour and visit to the garage of one of our sponsored teams**
Guest speakers/riders***
Handy accessories to improve your experience: ear plugs, poster tubes, lanyards, "sharpies" - anything you might need just ask your guide!
Optional "Team Experience" as a guest of one of our sponsored teams for Friday or all weekend
Personalised place settings. Customised tables for parties of 10 or more.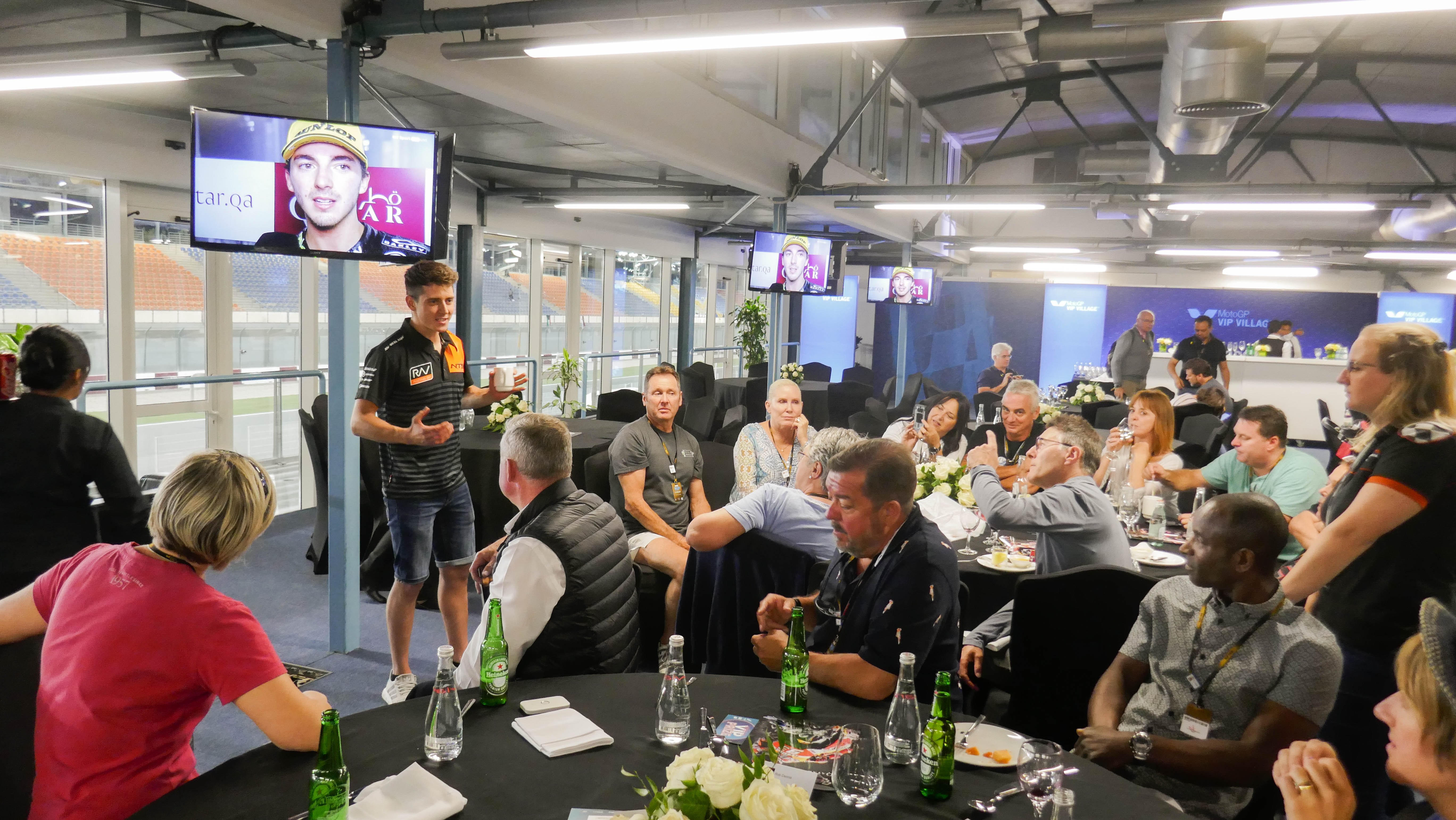 *At events with 10 or more guests, a PPT VIP Village guide will be permanently assigned. For fewer guests, the guide will check in periodically and you will have a cell phone number for any questions.
**Only at events where permitted by current Dorna restrictions (in 2022 was only at some non-European events)
***Only at events with sufficient number of guests and subject to circumstances; otherwise you will meet rider(s) on your private paddock tour.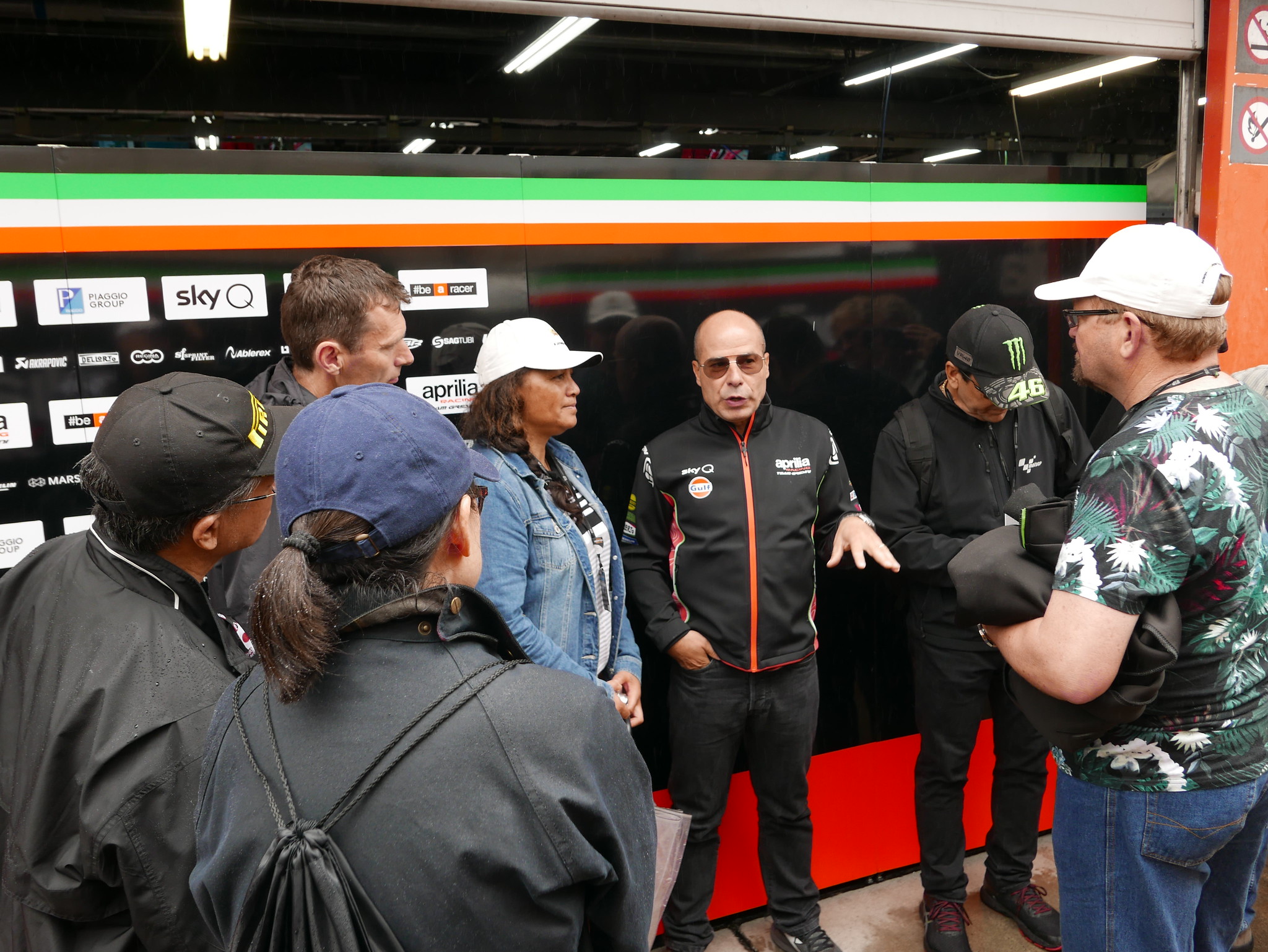 VIP++ : The Team Experience option
How can you make an already great product even better?
As an added benefit, booking through Pole Position Travel, you may add a "Team Experience" as a guest of one of our sponsored Moto2/3 or MotoGP teams. This sets you up as a guest of the team while still retaining all your VIP Village benefits. Options are:
Moto2/3 You are part of our "Pole Position Club", with all benefits apart from lunch Saturday and Sunday. You will be able to visit our team unit at any time using your paddock pass. You may participate in garage tours and 'meet the rider' sessions. You may request items from our club (as available): draw string bags, poster tube, ear plugs. We also have USB phone chargers and WiFi.
MotoGP You may upgrade to be a guest of one of our MotoGP™ teams. You will visit the garage, have a session on the service road (where present), have lunch in the paddock on Friday, and we organise a garage tour or rider meeting. n.b. there is no "team hospitality" per se at fly-away events.
Platinum - the ultimate upgrade: For either team experience, you may opt for one of our very limited "Platinum" upgrades, which adds access to the start grid in your class